UK-based RED specialists KipperTie have just announced the Revolva – an intelligent lens mount in both PL or EF, featuring an integrated ND filter wheel that can also facilitate a diffusion cartridge specifically designed for S35 sensor RED DSMC2 cameras. Cinema cameras such as those made by RED naturally come without built-in ND filters, as 99% of the time these cameras would be rigged with matte boxes. However, in run-n-gun situations, or when shooting with handheld stabilizers where operators need to shed every extra ounce from the setup, having a built-in ND filter system can be a blessing.
Well, if you are a RED Scarlet-W/Epic-W/Weapon owner you can now get the benefit of built-in filters thanks to the Revolva. In general, by getting filters behind the lens mount, lens flares and reflections are virtually eliminated.
The Revolva will be available in PL and EF mount versions and benefits from extremely precise and beautifully machined components with iData for PL and lens communication for EF are supported.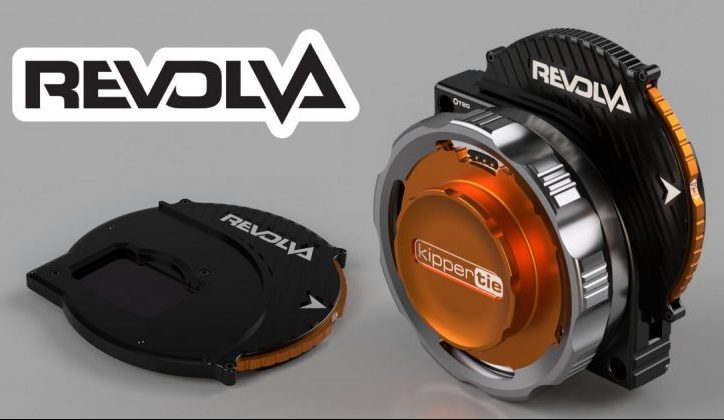 KipperTie Revolva Summary
Includes complete PL or EF mount for RED DSMC2:

2 x cartridges covering ND 0 (clear) to 2.1 ND in 1 stop steps

Slot in upper right side of mount receives easily swapped cartridge
Each cartridge has 4 filter positions, changed by rotating orange wheel
Always quick to return to clear filter
No back-focus shift
Most PL and all common EF lenses compatible
PL and EF both have OEM circuitry and firmware support
Designed and made by KipperTie in the UK
Pre-orders open Dec 2017
Pre-order price: £2,000 (either EF or PL Mount)
Shipping in Q1/Q2 2018
The KipperTie Revolva system is comprise of the actual lens mount, and a cartridge that contains 4 high quality FSND (Full Spectrum ND) filters and/or a range of diffusion options exist for maximum flexibility. This means that the visible and near-IR light is controlled and reduced to precisely the same degree.  As a result, colour shifts otherwise caused by invisible IR pollution are intelligently minimised.
The filter wheel snaps magnetically between positions, locks positively, and clicks convincingly into the mount.
No stranger to making filters for RED cameras, KipperTie say their Revolva features state-of-the-art backfocus compensation design ensures that maximum clearance for a wide variety of lenses.
Backing up the smart optics and tough engineering, Revolva features complete camera firmware integration, captive mounting screws and will not ship until approved by RED.
KipperTie's established range of diffusion is now also available in a convenient Revolva cartridge with Clear, Gold, Pearl and Carbon, matching their current OLPF products for RED cameras. It is worth to note that according to KipperTie, their new Revolva system does not replace your OLPF so can be combined with Low-light, Standard or Skintone calibrations.
Unfortunately this system is not compatible with pre-DSMC2 bodies and also not compatible with the RED Raven as it has a fixed EF mount. Be sure to check out the extensive Q&A section that KipperTie have provided on their website to ensure compatibility with your lenses.
To learn more and get your pre-order in head over to KipperTie.
Claim your copy of DAVINCI RESOLVE 16 - SIMPLIFIED COURSE with 50% off! Get Instant Access!