Content creators are constantly faced with one major challenge – opting for an effective way to store the ever-increasing number of media and project files while having instant access to these assets all at the same time. Yet, finding a storage solution that is fast, efficient, and reliable enough can take a meaningful amount of your time and energy since there are so many brands, models, and configurations for storage devices to choose from and test out.
Fortunately, renowned computer storage manufacturing company Western Digital has recently rolled out another enticing solution with the introduction of the latest iteration of their My Book Duo Raid Array, that you can check out in the HardwareCanucks video review below.
Apparently, the My Book Duo would attract any creator or computer enthusiast with a taste for sexy hardware. The enclosure features a slick design with the upper half being a black glossy finish (regrettably a fingerprint magnet) and the bottom half featuring subtly striped patterns alongside diagonal striping on the sides. Plus, the device has a compact form factor that will fit comfortably on almost every desktop.
Spec-wise, the My Book Duo is cross-compatible with both PC and Mac and can be configured up to 20TB (which would come with two of Western Digital's 10TB Red Drives). With the included software, you can even set up the drives in a RAID 0, RAID 1 or JBOD configurations for increased speed or redundancy.
While the RAID array can be ordered preconfigured, you can easily switch out the drives if necessary using the included tool. Note that if you are planning to do this, the unit must be powered off due to the lack of hot-swapping features.
When it comes to I/O, the My Book Duo has a plenty of options to offer as well. In the back of the device, you will find two USB 3.1 Gen 1 Type-A ports, a single USB 3.1 Gen 1 Type-C port, and of course a power input jack for use with the included power supply. In addition, Western Digital comes with a USB Type-C and Type-A cable in the box.
The hard drive array also offers a proprietary software that helps elevate its use on a daily basis. For instance, you will have access to features such as 256-AES password encryption, RAID configuration and status monitoring, auto-backup controls, and much more.
Looking at the benchmarks, the My Book Duo performs surprisingly well, granted that it uses conventional spinning drives. When it comes to the Crystal Diskmark and Atto Disk Benchmark, the WD Duo outperforms a lone WD Blue Drive by a significant margin with speeds ranging from 250MB/s to 380MB/s on read and write performance respectively. In a real-world situation, you can expect to transfer 50GB worth of files from the drive to the computer in a mere two minutes, averaging at 280-300MB/s.
WD My Book Duo Hard Drive Array Highlights
4TB, 6TB, 8TB, 12TB, 16TB and 20TB models packed with two WD Red Hard Drives
Two Drive Bays
USB 3.0 Type-C & USB Type-A Interfaces
Supports RAID 0, 1, and JBOD
Configured as RAID 0
Sequential Read Speeds of up to 360 MB/s
2-Port USB 3.0 Hub
Formatted NTFS for Windows
Reformatting Required for Mac
256-Bit AES Encryption
Prices: Ranging from $259.99 to $799.99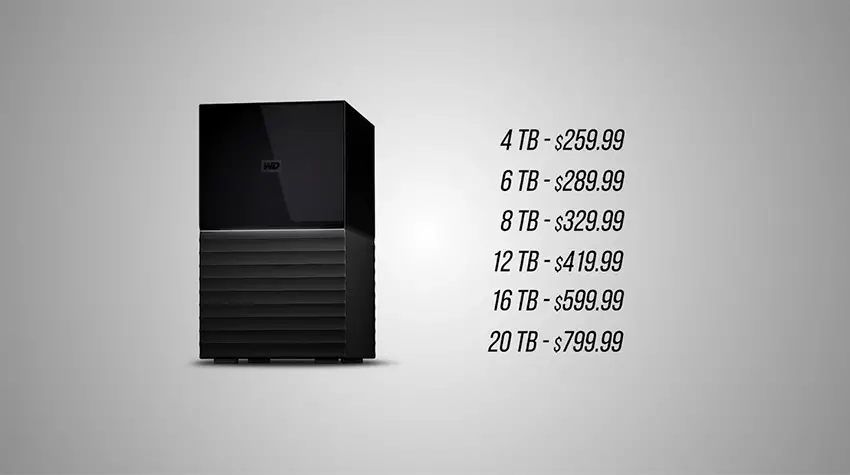 While the 20TB version is a bit pricey at around $800, you can purchase the drive in different configurations from 4TB to 20TB with the 4TB model starting at just $259.99. If you want to learn more about the product, head over to WD's official website.
[source: HardwareCanucks]
B&H Order Links:
Claim your copy of DAVINCI RESOLVE 16 - SIMPLIFIED COURSE with 50% off! Get Instant Access!