Ikan say their Saga line of LCD monitors is designed to help you tell your story and get the best image possible out of your camera. Their latest Saga SX7 is a new 7″-inch super bright on-camera monitor designed with high end features, durability, and field use in mind. The ikan Saga SX7 is viewable in even the brightest conditions with its super bright 2000 nit LCD panel. Built to last thanks to its aluminium chassis and protective gorilla glass, the SX7 is able to survive any production shoot. The monitor's high end software features such as scopes and 3D-LUTs help you get the right shot the first time.
The high-brightness market has been growing in the past year with competitor companies such as SmallHD and Atomos releasing high brightness of their own first, however the interesting thing here is the price of the ikan Saga SX7, which is $999 USD at the moment (link here), making it substantially more affordable than most high-bright solutions out there (for example the SmallHD 503 is smaller and a bit brighter, but costs $2,499; of course, there is a lot more to it than the price, but I am simply pointing out the price advantage of Ikan in this particular instance).
Oh, and the Atomos monitors are also very nice and they can record too (I do own a Shogun Flame and l am quite fond of it), but the good thing for us shooters is that, now there are even more options, which eventually drives prices down.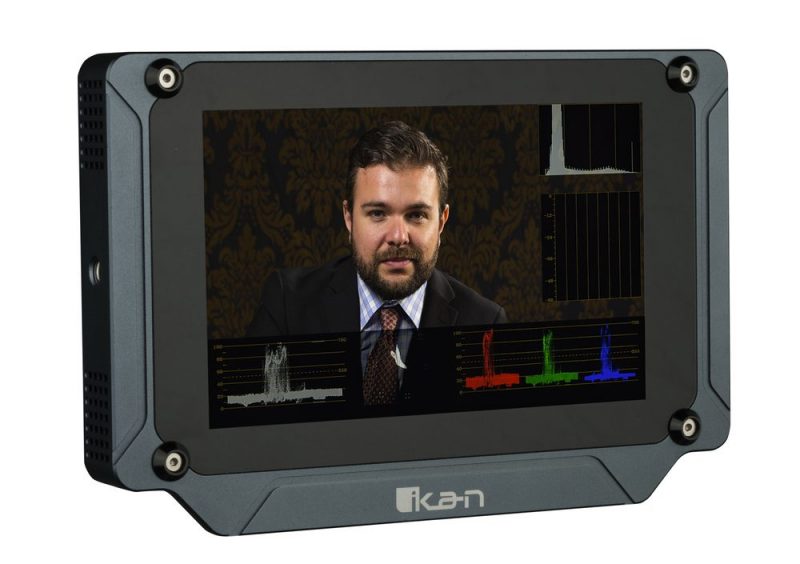 ikan Saga SX7 High Bright Monitor Highlights
1920 x 1200 Panel resolution
2000 nit Super High Bright IPS LCD Panel
Custom 3D-LUT Support
HDR Preview
Waveform, Vectorscope, RGB Parade, Histogram
3G-SDI / HDMI Inputs and Outputs
IPS Screen for More Accurate Color & Viewing Angles
Peaking, False Color, Clip Guides, & Pixel to Pixel
Headphone Output
Video Inputs
Price: $999 at B&H
Availability: Early January 2018
The big feature in the Saga SX7 is of course the impressive IPS LCD panel that cranks out 2000 nits of brightness, which is about 4 times as bright as most monitors. And according to Ikan, it is not just super bright, the monitor is also very sharp and accurate thanks to its 1920 x 1200 resolution.
The Ikan Saga SX7 is packed with video analysis features one'd expect from a high-end monitoring device such as – highly accurate Waveform, Vectorscope, RGB Parade and Histogram. The SX7 also has up to 8 channel audio level meters.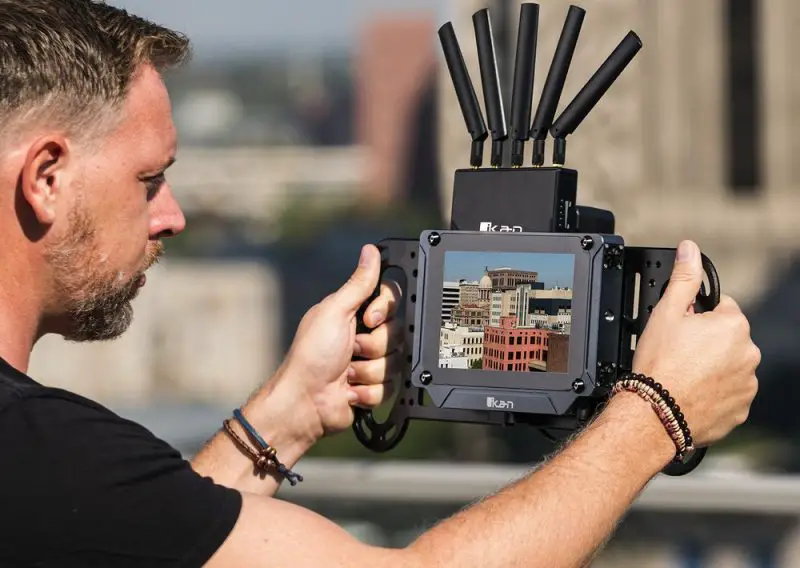 Other than the scopes, another major feature often requested by shooters is 3D LUT support, and the great news here is that Ikan has included such in the Saga SX7, which supports custom 3D-LUTs. Users can load LUT files from a USB stick and the SX7 also comes pre-loaded with profiles for popular cameras.
Now, if you can live without the 3D LUT support and the 2000nit high brightness, Ikan also make a Saga S7H 7-inch monitor, which is slim and lightweight, and also more affordable at $599 US. It still features false colour, peaking, and histogram can run and can run off 2 x Canon LP-E6 or Sony BPU batteries. Ikan class the Saga S7H as a high-bright monitor with a 700 nit brightness.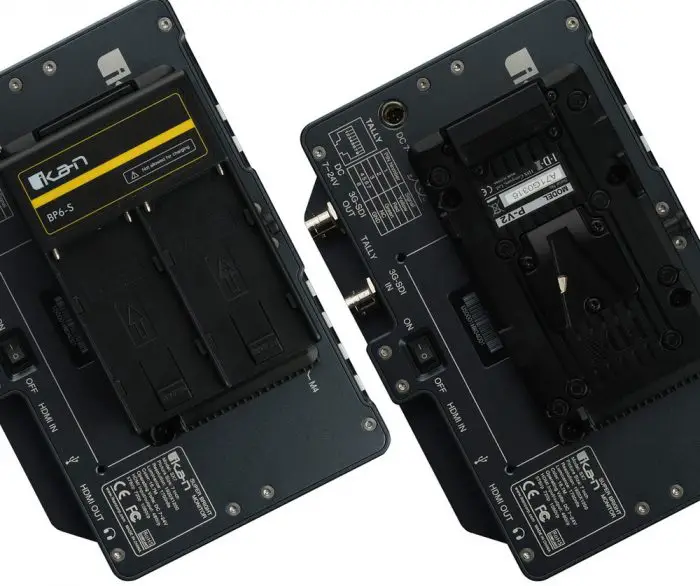 The S7X is equipped with both HDMI and 3G-SDI inputs and outputs. In addition, the monitor also has a 3.5mm headphone output so you can monitor your audio from the S7X. Tally is also included as well as a USB port for software upgrades and importing 3D-LUTs. The 5V from the USB port will also power various 5V devices.
The S7X supports both V-mount and AB batteries, as well as Sony NP-F style batteries. The monitor also features a mini-XLR power input for a secure connection. The cool thing here is that the V-mount plate is already attached the unit, you don't have to buy it as an extra item, and the NP-F adapter slides on top, if you prefer smaller batteries. It runs off of 2 x NP-Fs though. You also get a hard case included, which is a really nice addition, and it really should be a must for any monitor of this class from any manufacturer.
Saga SX7 Specifications
| | |
| --- | --- |
| Aspect Ratio: | 16 x 10 |
| Backlight: | LED |
| Brightness: | 2000 cd/m2 |
| Build Material: | Aluminum |
| Color Depth: | 16.7 Million |
| Color System: | PAL/NTSC/SECAM (Auto-Detected) |
| Contrast Ratio: | 1200:1 |
| Dimensions: | 8.5 x 5.7 x 0.9 in. |
| Dimensions (Metric): | 25.6 x 14.4 x 2.2 |
| Input Voltage: | DC 7V – 24V |
| Inputs: | HDMI, 3G-SDI |
| Operating Temperature: | 0°C ~ 50°C (32°F ~122°F) |
| Outputs: | HDMI, 3G-SDI |
| Pixel Pitch: | 0.07875×0.07875 (mm) |
| Power Consumption: | TBD |
| Resolution: | 1920 x 1200 |
| Response Time: | 20ms |
| Screen Size: | 7 in. |
| Shipping Dimensions: | 10.7 x 8.7 x 4.7 in. |
| Dimensions (Metric): | 27.1 x 22 x 11.9 cm |
| Shipping Weight: | 6 lbs |
| Shipping Weight (Metric): | 2.7 kg |
| UPC Code: | 847983023493 |
| Viewing angle: | 178° horizontal/178° vertical |
| Weight : | 2 lbs |
| Weight (Metric): | 0.9 kg |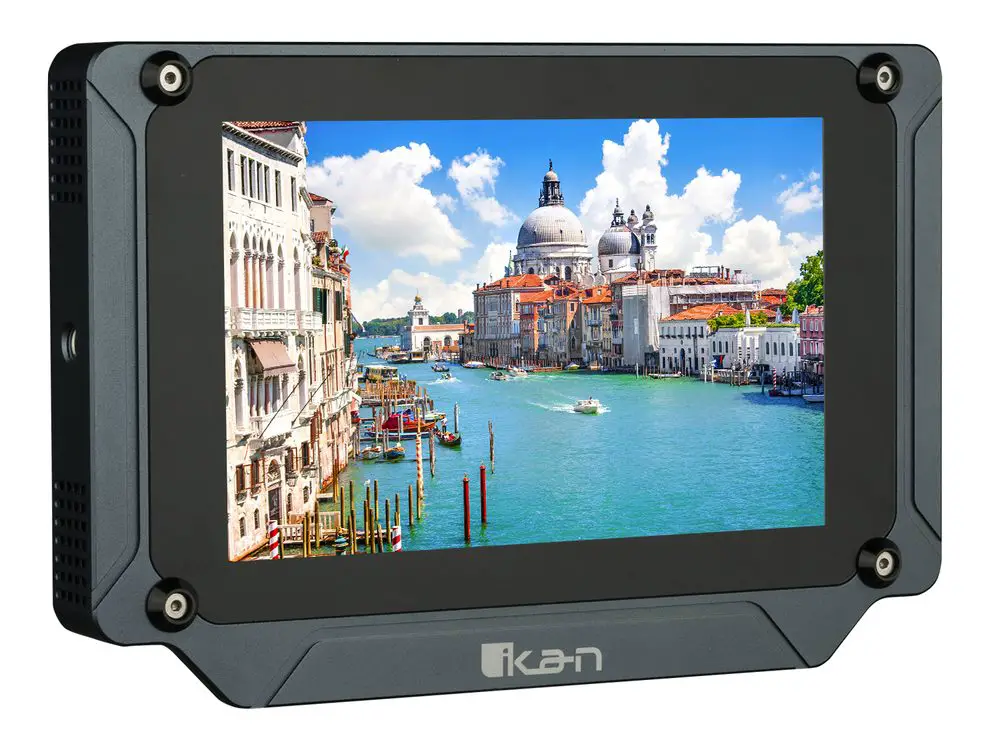 What's Included:
1 x Dual Sony "L" Battery Adapter

1 x Hard Case

1 x Mini-XLR To P-TAP

1 x Saga X7 Monitor

1 x V-Mount Plate (Attached)
Do you own a High Bright on-camera monitor? If so, which one? What do you think of the new ikan Saga SX7? You can order one from B&H, which are listing it for $999, which saves you a cool hundred from the list price listed on Ikan's wesbite.
[via Ikan]
Claim your copy of DAVINCI RESOLVE 16 - SIMPLIFIED COURSE with 50% off! Get Instant Access!