Apparently a few weeks back, Canon launched a new full-frame camera – they call the ME20F-SHN. Some of you may recall that Canon already has a very similar model called the ME20F-SH – which is a sort of a very niche low-light camera that can pretty much see in the dark. You can read more about the previous model in our write-up here.
So, the new ME20F-SHN is basically the network camera version. Canon also go on to say that the new models is "a sister product to the ME20F-SH". The new Canon ME20F-SHN now features network capability, thus further enhancing Canon's Multiple Purpose camera line-up with a solid proposition in producing full colour and Full HD resolution images in limited light scenarios.
Canon is pitching the new network enabled model as "…perfect for critical surveillance operations, the ME20F-SHN packs incredible low light performance, network capability and built-in video analytics into a lightweight and compact body".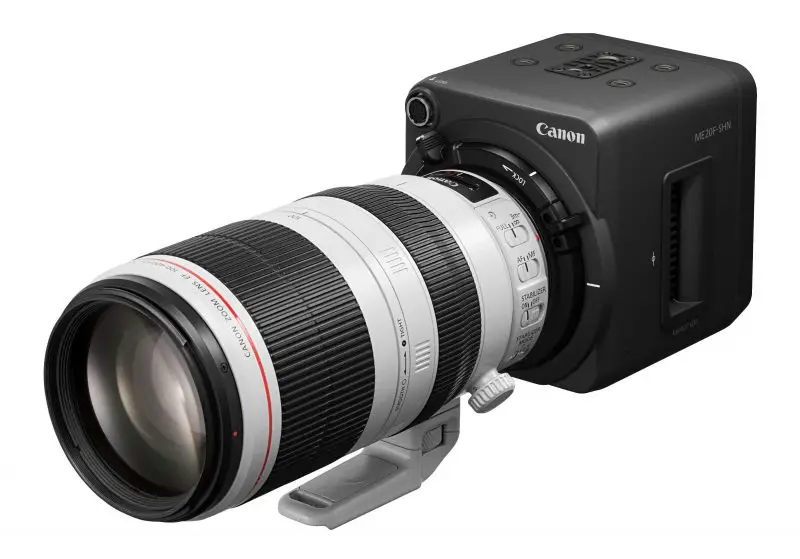 Canon ME20F-SHN Highlights/Features
2.26MP 1080p Full-Frame 35mm CMOS sensor
Canon EF mount with Cinema Lock
Built-in ND filters 2 stage:
Manual Focus and One Shot AF
Digital Tele Converter:
DIGIC DV 4 Processor
Canon Log and WideDR
Sharp, low noise colour video in extreme low light
Network capable remote configuration and monitoring
Supports a wide range of surveillance applications
High-quality Full HD output
Flexible installation
Much like its sister camera, thanks to its Full Frame 35mm CMOS sensor and DIGIC DV 4 processor, the new ME20F-SHN is capable of delivering sharp, low noise, Full HD colour video in extreme low light conditions. With a maximum ISO in excess of 4 million, the ME20F-SHN can capture subjects illuminated with less than 0.0005 lux. Even greater detail can be captured in low-light environments by removing the IR cut filter when shooting in infrared mode.
Canon Log and Wide DR are present, which enables the camera to delivery a wide dynamic range of up to 12 Stops. In addition, the Custom Picture menu has been upgraded, with the addition of the Crisp Img function, which obtains sharp images in well-lit environments and low noise image under low light conditions. These features are invaluable for users needing to capture clear and accurate images.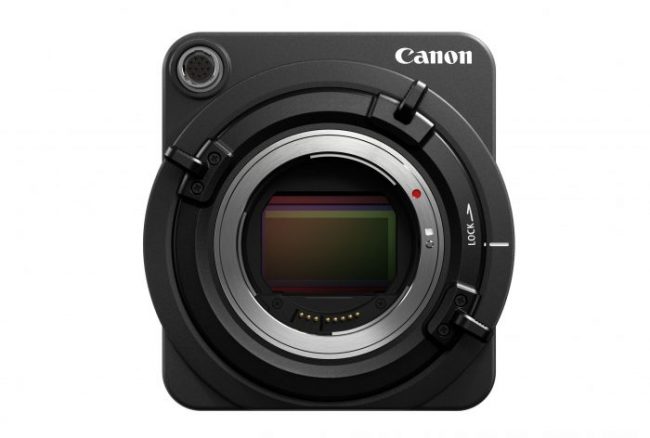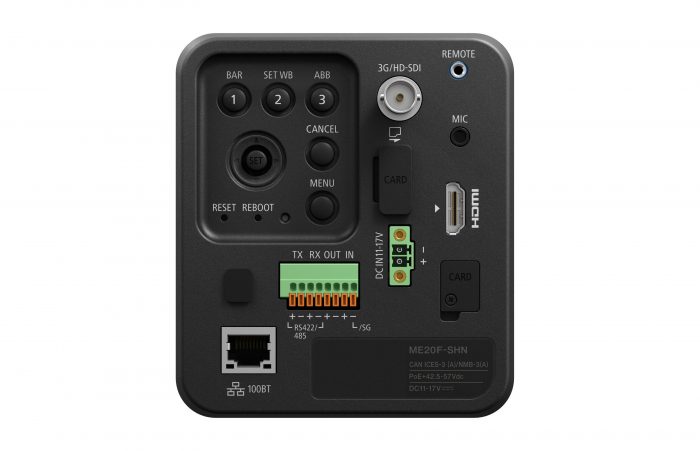 With Ethernet, 3G/HD-SDI and HDMI ports, the ME20F-SHN has pretty much all basis covered. For monitoring, the ME20F-SHN has 3G/HD-SDI and HDMI ports; while an Ethernet connection enables remote operation of camera settings, monitoring and recording via web browsers, mobile devices or other video management software.
The microSD card slot supports record and playback directly from a microSD card. For unmanned and cost-efficient surveillance, the 6 built-in video analytics functions and Alarm I/O interface enables automated recording and output to external devices triggered by video motion detection and alarm input.
With the Area-specific Data Size Reduction (ADSR) function, the ME20F-SHN enables users to capture absolute detail in selected areas of interest while reducing bit-rates in the other areas of the image to save network bandwidth. For ease of integration into existing video surveillance systems, the ME20F-SHN supports a wide range of video management software through Canon WebView and ONVIF protocols.
PoE+ support, data transmission via Ethernet and power supply are provided with a single LAN cable, which facilitates simple and rapid installation of the camera. The compact body and lightweight design are invaluable for users needing both a fixed and portable camera.
Canon ME20F-SHN Specifications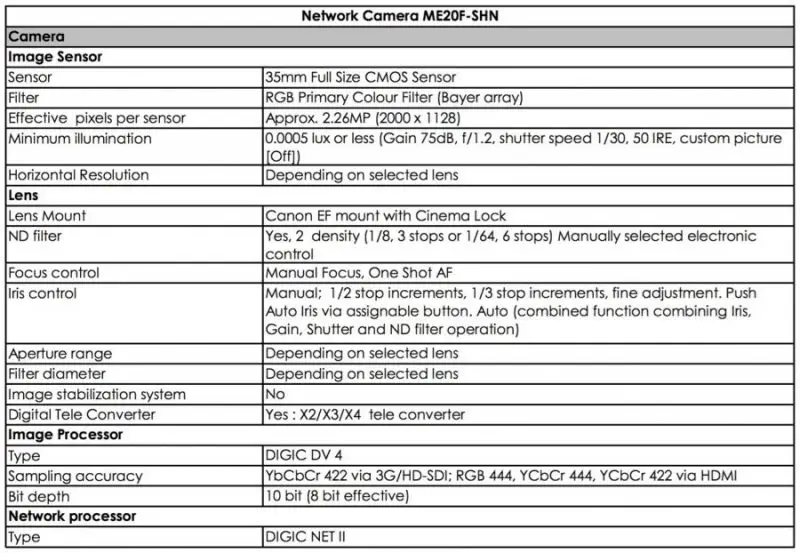 The ME20F-SHN, much like its sister camera, and also the Super 35mm version – ME200S-SH, which was announced back at NAB 2016, does require additional equipment such an external recorder and a remote control for full operation.
Something like the Atomos Shogun Flame can do the job when it comes to recording onto ProRes or DNxHD, and a remote control such as the Canon RC-V100 gives you access to all functions and menus, however it does bump up the cost of the whole package.
There is no mention of an official price yet for the network version, but given that the ME20F-SH costs $20K, I'd expect the networking version to be priced around the same mark.
Claim your copy of DAVINCI RESOLVE 16 - SIMPLIFIED COURSE with 50% off! Get Instant Access!