Earlier today at NAB 2018, DJI introduced two new cinema grade devices – DJI Master Wheels and DJI Force Pro. These new products offer filmmakers reliable tools that help capture complex shots with ease while adding a cinematic quality to any type of scene they might be working on.
Master Wheels and Force Pro are specifically designed to control DJI's Ronin 2 and Ronin-S gimbals, thus expanding the creative possibilities for cinematographers regardless of their skill set and experience level.
In essence, the DJI Master Wheels is a professional level, high-precision gimbal control system that applies a 3-wheeled form to control pan, tilt and roll.
The unit utilizes three weighted wheels to adjust pan, tilt and roll with extreme accuracy. The built-in ultra high-resolution optical encoders detect the subtlest of wheel adjustments while complex algorithms translate that movement to enhance the level of accuracy of the gimbal.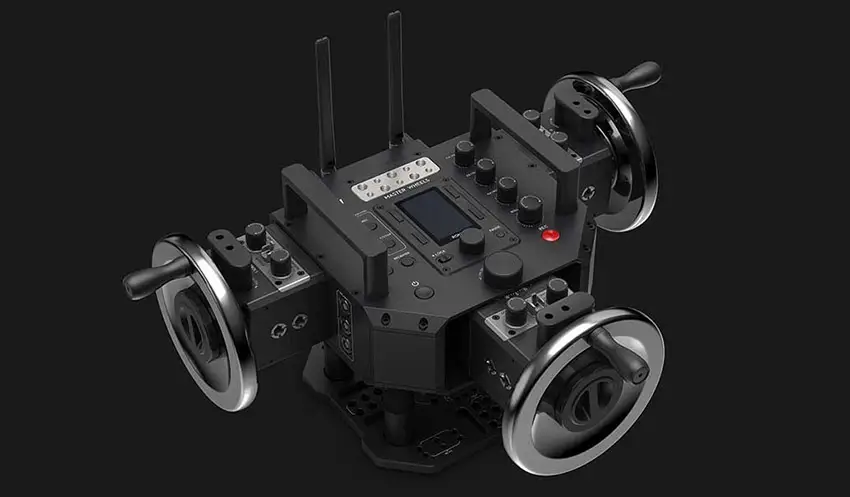 Master Wheels employ the latest sensor positioning technology along with dual-band low latency 2.4/5.8GHz wireless transmission technology to ensure a stable and reliable connection from the main console to the moving rig with a latency as low as 10 milliseconds and an operating distance of over 1.9 miles.
The product has an intuitive user interface offering quick access to gimbal settings along with the status of equipment. In addition, the system provides three user-customizable buttons that offer the ability to save shortcuts. There's also an on-board motion capture storage that enables filmmakers to easily repeat the motion of the rig. Users can also attach various accessories using multiple 1/4" and 3/8" threads located on the main console.
DJI Force Pro, on the other hand, is a motion sensing system that uses DJI's industry-leading remote-control technology to precisely synchronize the movement of Force Pro with the gimbal, helping capture cinematic scenes with ease. Intuitive and easy to learn, Force Pro breaks down the barriers that come with understanding the operation of more complex gimbal control systems.
Force Pro also comes equipped with an embedded compass and Inertial Measurement Unit (IMU) that work simultaneously to ensure precise movement and prevent the gimbal from drifting to maintain a consistent frame.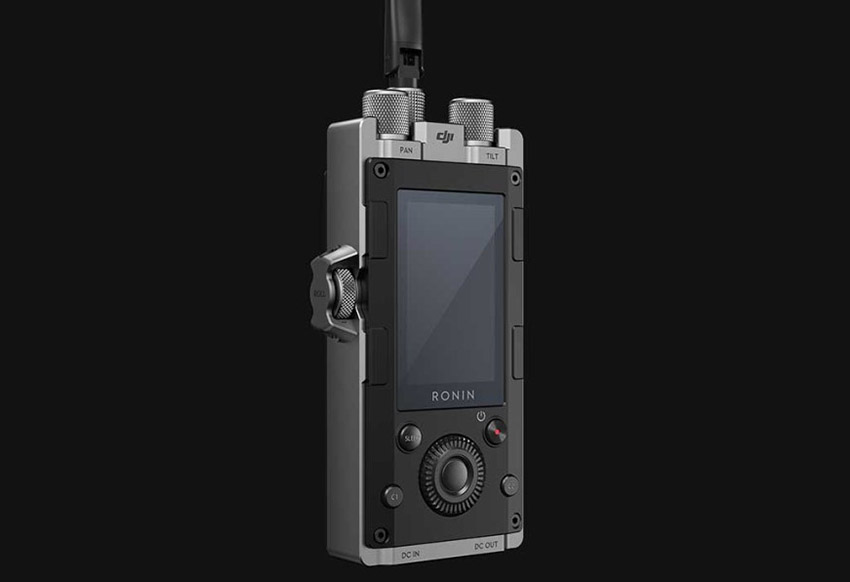 The unit's low latency dual-band 2.4/5.8GHz wireless transmission system offers near real-time control with a communication latency as low as 10 milliseconds. Force Pro can also be physically tethered to the gimbal using a CANBUS cable offering a 200Hz signal to eliminate any chance of connection interference while on set.
Operators can conveniently set two custom speed profiles and a built-in ultra-bright OLED screen provides equipment status along with the ability to control gimbal and camera settings for fast adjustments to a changing scene. Force Pro is also compatible with DJI Ronin 2 and Ronin-S gimbals along with other third-party systems.
Master Wheels and DJI Force Pro will be available for pre-order on April 10th, 2018. Master Wheels will come in three versions as the complete 3-Axis Model will retail for $8,000, 2-Axis Model for $6,000 and Single Wheel Control Module for $2,500.
DJI Force Pro will be selling for $1,200 and will start shipping in June 2018. For more information on all the new features and capabilities of Master Wheels and Force Pro, head over to DJI's official website.
[source: DJI]
Claim your copy of DAVINCI RESOLVE 16 - SIMPLIFIED COURSE with 50% off! Get Instant Access!