Popular pro gear maker Vocas went to NAB 2018 with quite a few new products they've developed for the pro video market for just about every scenario from handheld work, to tripod work and even "pro" vlogging, whatever this means. Vocas also showed off their Sony VENICE accessories, which we wrote about in this post here, and their kit for the Panasonic AU-EVA1.
Vocas are known for their handheld rigs, and have now redesigned the range of their shoulder rigs making for a totally multi-functional camera rig. The new flexible camera rig has been designed to support a wide range of cameras ranging from Panasonic GH5, to Canon 5D IV, to the handheld Panasonic AG-UX180 and even the Sony PXW-FS5.
New Vocas Flexible Camera Rig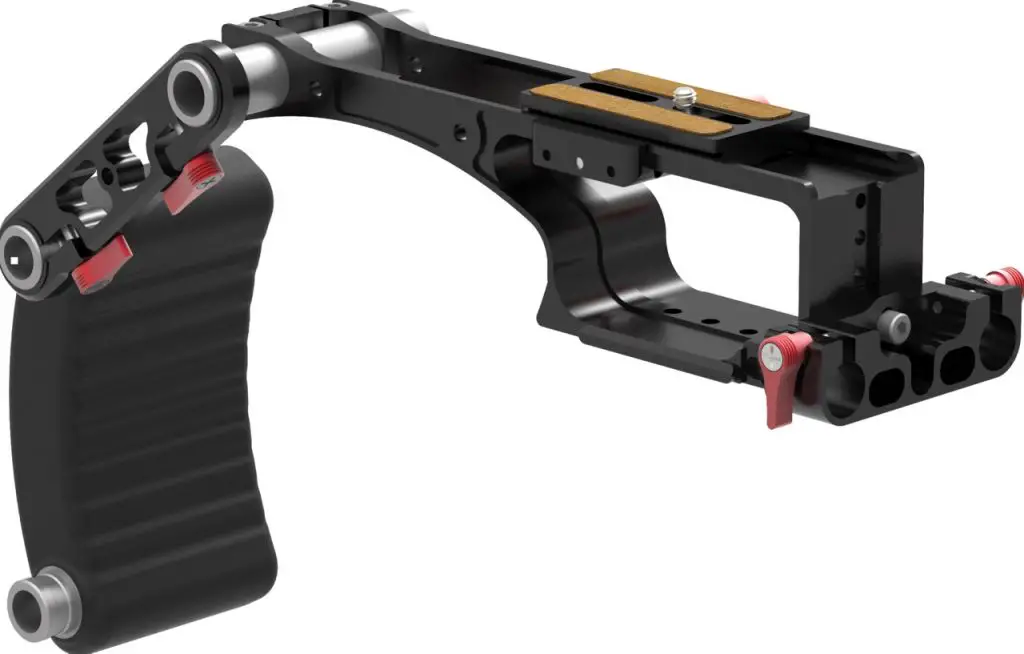 The shoulder rig is designed in a way that cameras can be operated on top of your shoulder and in an offset position. This flexibility offers shooting options for using both the camera's external viewfinders and LCD screens. The rig has a 15 mm height adjustable rails support which enables compatibility with almost any camera. The Arca Swiss sliding system offers quickly adjustable balancing options.

The optional top handle enables you to mount any third party VF or LCD screen via the Vocas NATO rail solutions. To the back of the rig, a counterweight or battery can be mounted. The new flexible camera rig is available in kits with or without top handle, viewfinder bracket, handgrips, counterweight and more, all with maximum stability in mind without the extra complexity and bulk of "frankenrigs".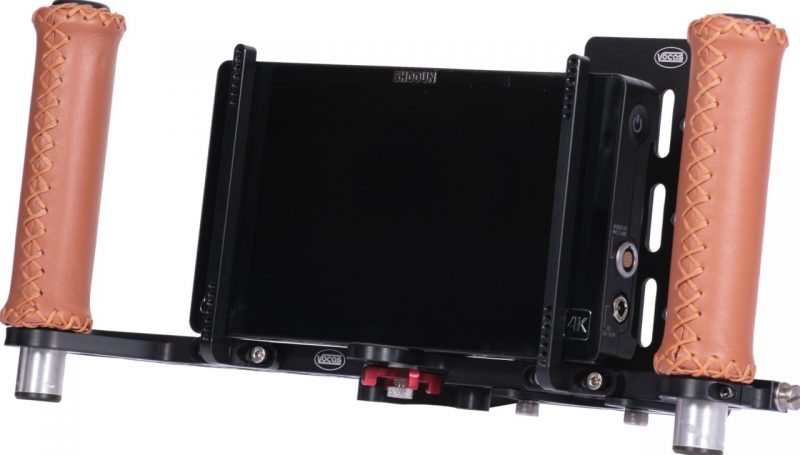 New Vocas Director's Cage
Vocas have a new light weight, one-piece director's cage developed from customer feedback and monitoring the market needs for such a product. The Vocas director's cage comes with leather handgrips and a lot of 1/4" and 3/8" mounting points; optional accessories are a battery or video receiver plate, tripod plate for light stands and wedge plate for tripods (0400-0001) and an adjustable sunshade.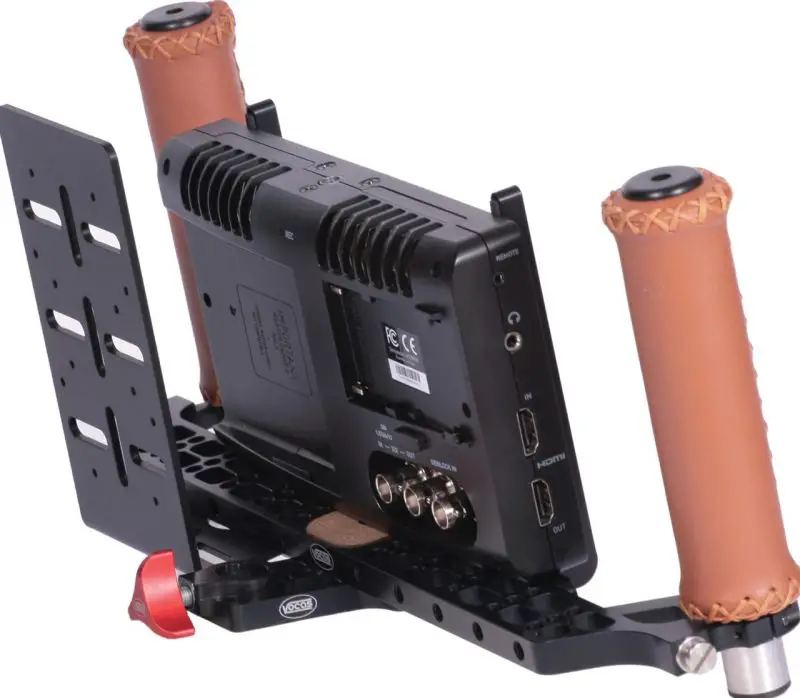 Users can fit monitors up to 7" in the Vocas director's cage, so whether you are after a SmallHD 702 or Atomos Shogun Inferno, the new Vocas cage has you covered. The leather handgrips provide the director's cage with a stable base when placed on a table or desk. On both sides of the director's cage treaded holes are available to mount strap pins (Vocas Product code: 0350-1470) for the use of a carrying strap (0850-0010).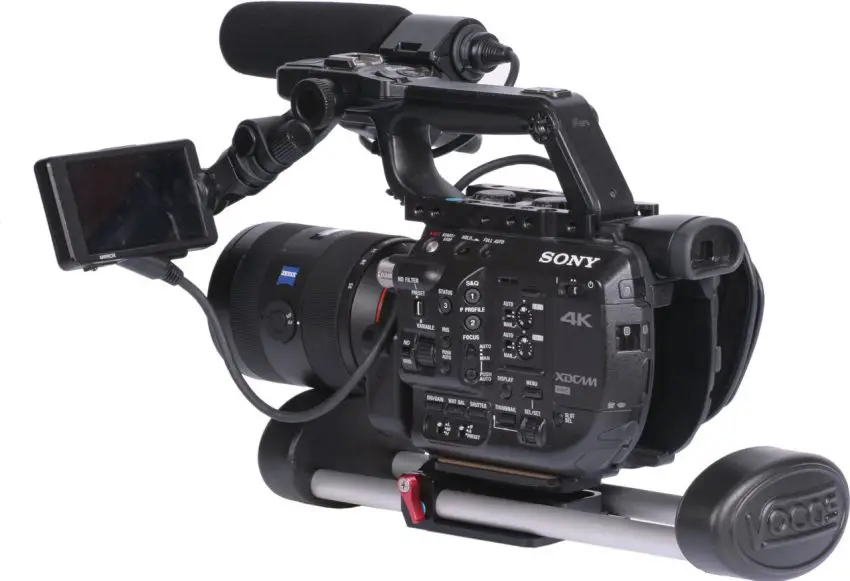 New Vocas 'Belly' support
The new Vocas 15 mm rubber belly support is quite simple, but very useful and can be used on any standard 15 mm rails. You can just put this support at the rear or even at the front end of your rig. At the front end it can function as a palm support. At the rear it protects your body from the 15 mm rails when shooting from a hip position or any other position making it perfect for run-n-gun shooting!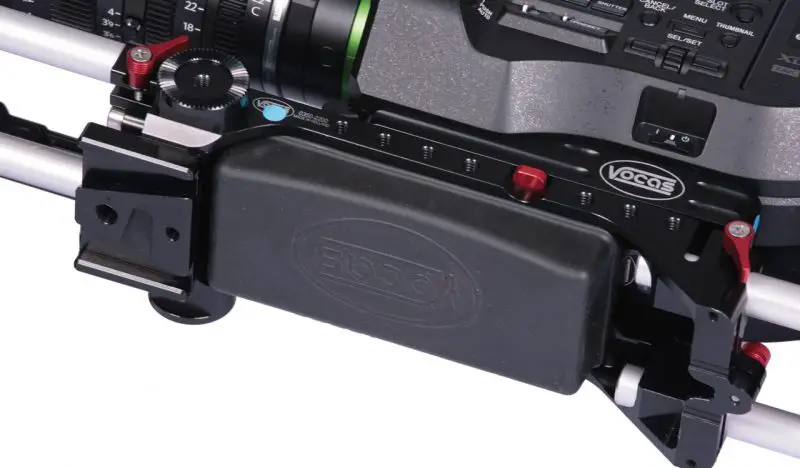 New shoulder pad for USBP MKII base plates
The Vocas base plates of the Vocas Sliding System and in particular the USBP-15 MKII (0350-2200) base plate have proven very popular with pro shooters. Vocas has dedicated versions of this base plate built for the Sony PXW-FS7II (0350-2207), Canon EOS C200 (0350-2202) and ARRI Alexa Mini (0350-2201).
Vocas have upgraded their USBP MK II base plates with a new softer shoulder pad, designed for a more shoulder-friendly experience when using long and heavy lenses and going handheld.
These new products are expected to ship soon and pricing is to be finalized. You can learn more by visiting Vocas' website.
Claim your copy of DAVINCI RESOLVE - SIMPLIFIED COURSE with 50% off! Get Instant Access!