Zacuto are releasing new single and double flip-up Trigger Grips for popular Canon C-Series cameras such as the C300 II and Canon C200, in addition to Sony FS5/FS7, as well as the Panasonic EVA1. The new single and double trigger grips can also be purchased as part of the new Zacuto Recoil rig systems. As with all Zacuto rigs, the focus with the new Recoil rigs and trigger grips is quick adjustability on the fly as well as proper ergonomics to help you get a more balanced rig when shooting handheld and reduce fatigue.
Due to their new design, it appears that the new Trigger Grips are faster, smoother, and also more affordable. With the new Trigger Grips, Zacuto are ditching the current ball-joint design for a faster and more ergonomic rosette-based trigger mechanism that can be adjusted with a single press of you thumb. This new feature greatly enhances the speed of adjustability allowing you to adapt your shooting style quickly to any scenario.
Another cool new feature is that you can flip the handles upwards with a single click allowing you to pack your rig in a large camera bag in seconds. You can see a demonstration of this feature in the Zacuto video further down below.
Depending on your needs you can get either a Single Trigger grip or a Double Trigger Grip, and the right side of the trigger grips feature a connection for the different types of supported cameras – C100 II, C200, C300, C300 II and C500 from Canon, as well as the FS5/FS5 II, FS7/FS7 II and the Panasonic EVA1 – all of which use a different connection to the the grip base.
Zacuto Trigger Grips Features
New Single Trigger Push Mechanism
Single-handed 360° rotation with the simple press of a trigger
Slide onto standard 15mm rods
2 x handles rotate independently of each other
Flip them down for a low, rock-solid handgrip or
Raise it up for more of an Aaton style position
Flip them both all the way up to set your camera flat on the ground in a case
Adjustable length by loosening a red lever and pulling the grip out or pushing in
Can be used with Zacuto Recoil Rigs or your own 15mm rod rig
Can be either ordered with:

Single wooden grip, or 2 x wooden grips
1 x Camera Specific Grip and 1 x wooden grip
Or just a Camera Specific Grip
Or just a Single Wooden Grip

Supported cameras (for the grip side):

Panasonic EVA1
Canon C100 II, C300, C300 II, Canon C200, C500
Sony FS5, Sony FS5 II, Sony FS7/FS7 II

Can be used with any camera (wooden grips)
Example of the Sony FS7 Trigger Grip: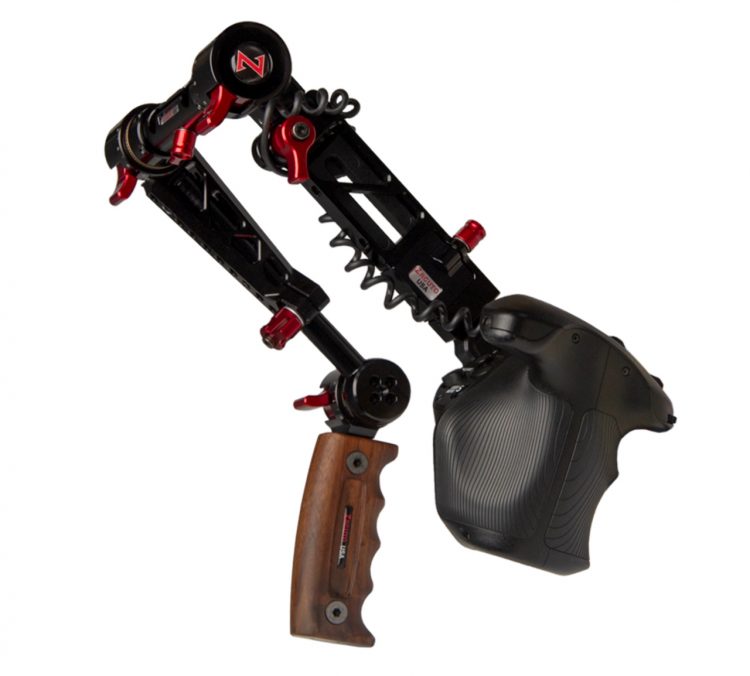 The new Trigger Grips are 15mm rod mount compatible so even if you don't have a Zacuto Recoil Rig, you can basically adapt them to your rig as long as you have 15mm rods. The right trigger grip also allows for angular adjustment, which can be done via the lever on the top of the grip near the baseplate.
In case you missed the Zacuto Facebook livestream where they debut the new Trigger Grips, you can catch up with below:
In addition, Zacuto announced another new product called Shorty Trigger Grips, which they demoed in the video above with a Raven rig. The new Zacuto Shorty Trigger Grips are more basic, but come with some sweet 8" dual wooden handgrips that are comfortable and quick to flip into position. The Shorty Trigger Grips also slide onto 15mm rods.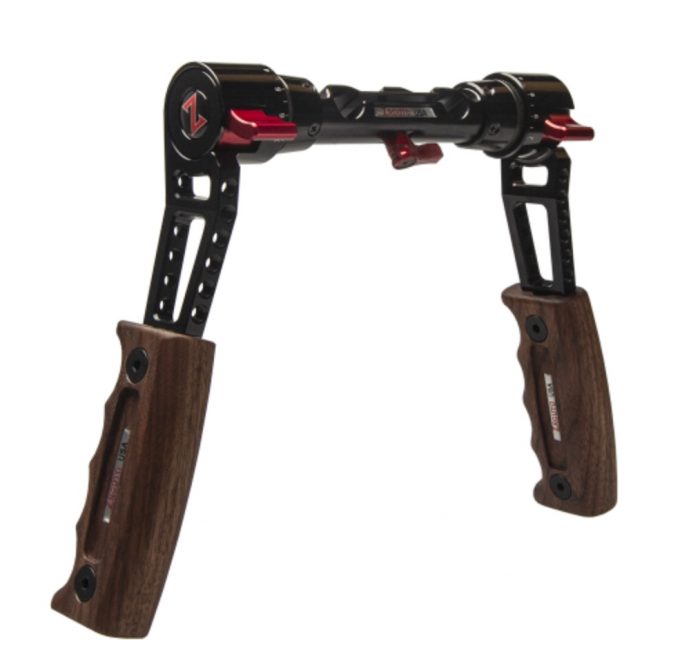 Much like the other Trigger Grips, the Shorty Grips offer a single-handed 360° rotation with the simple press of a trigger. The two handles rotate independently of each other. You can flip them down for a low, rock-solid handgrip, or alternatively raise it up for more of an Aaton style "cat on the shoulder" position.
The Zacuto Shorty Grips are priced at $525 US and you can order then from Zacuto here.
Zacuto Trigger Grip Pricing:
To browse through all the new Trigger Grips and Recoil rigs head over to Zacuto.
Claim your copy of DAVINCI RESOLVE - SIMPLIFIED COURSE with 50% off! Get Instant Access!