After launching a new set of lighting modifiers, Aputure is back with the official release of their much-awaited Aputure LS 120d II LED light. According to Aputure, the new 120D II  a complete re-design of the original Light Storm 120d, which quickly became a huge hit among indie shooters, and based on the improvements they've done on the new 120D II, I can see the mark II becoming a huge success shortly in its own right.
Compared to the original 120d, the new 120D II is more powerful, features a combined power and controller in a single unit, a re-designed yoke construction and now with built-in creative lighting FX.
While the original 120D was rated at around 6000K, the new Aputure 120D II gets a more industry standard 5500 Kelvin rating for easier matching with daylight and other fixtures, while still retaining the versatility of the universal Bowens mount, ultra-silent temperature control system, wireless remote, and the same carrying bag.
Aputure 120D II Features/Highlights
25% Brighter than Original Light Storm 120d
CRI & TLCI 97+
DMX Capability / 100m Remote Control
Seamlessly dimmable from 100% to 1%
Built-in Creative Lighting FX

TV flicker
Paparazzi
Fireworks
Lightning 
Fire

1000-watt Tungsten Equivalent
18 dB Quiet Fan, Onboard DMX
Integrated Power/Controller Box
Wireless Remote with 328′ Range
V-mount Battery Plate
Built-In Handle
Includes Dedicated Carrying Bag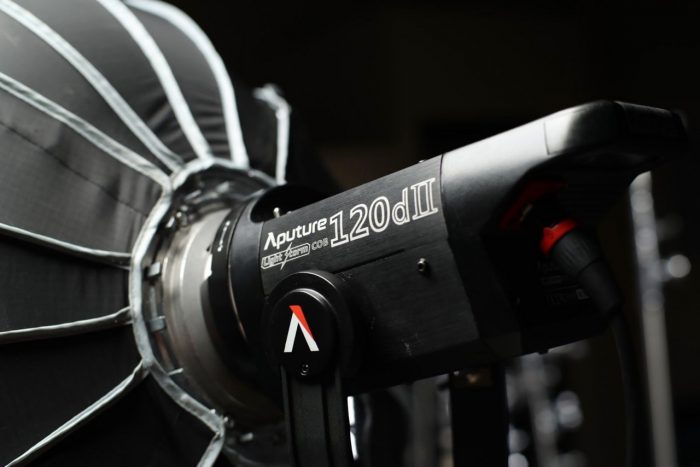 The new Aputure 120d II boasts an incredible luminance of 88,000 lux at .5 meters away with the Aputure Fresnel. With an approximate brightness equivalent to a 1,000 watt tungsten light, the 120d II is nearly 25% brighter than the 1st gen 120d, making it competitive with some of the highest-grade studio lights on the market.
Aputure say their new 120d II has gone through intense colour quality testing using not only CRI ratings, but also, and more importantly using the industry standard Television Lighting Consistency Index (TLCI). In both tests, the 120d II scores over 97, giving you high-quality clean light that will not present issues in the grade.
For me, one of the best new features of the 120d II, is the ability to dim the light from 100% all the down to 1%, (wheras the original 120D and 120T could go down to 10% max) meaning the 120d II is capable of being both the brightest and dimmest light on your set.
The 120d II comes with DMX512 capability, allowing studio creatives to maximize their range of uses for their lighting arsenal. The 120d II's DMX system is also pre-programmed with special lighting effects (i.e. thunder, fireworks, etc) and allows users to to input their own effects, creating a light that has truly limitless possibilities.
One of the most notable upgrades to the 120D II is its new integrated controller/power unit. Made of aircraft-grade aluminium but maintaining its lightweight build, a single power unit means less cabling and power components so filmmakers spend less time setting up their light, and more time being creative.
Color coded Neutrik cable systems allow for more flexibility in where your light can be placed, and advanced locking systems ensure maximum safety, no matter your set's challenges and environment.
A re-designed yoke construction accommodates an expanded range of motion with over 330 degrees, letting you angle and point your light anywhere needed. An improved user-friendly handgrip design also allows for highly intuitive controls. And while the 120d II boasts an impressive studio grade build quality, it still weighs in at just over 2kg (4.8lbs) allowing filmmakers to easily take this light anywhere without having to worry about the transportation issues that frequently come with larger tungsten fixtures.
For full specifications and to order head over to Aputure's website here, or alternatively use the links here to order from authorised US dealers such as B&H and Adorama.
Claim your copy of DAVINCI RESOLVE - SIMPLIFIED COURSE with 50% off! Get Instant Access!