September is quite a busy month for trade shows in the photography and pro video/Film/TV equipment industry with major exhibitions such as IBC 2018 in Amsterdam, which is sadly already behind us, there is the smaller CINEC in Munich (happening right about now) and then next week 26-29th September, there is the "NAB of the Photography world" – Photokina. The Cologne-based mega trade show is switching to an annual schedule as of this year (Photokina 2019 is happening in May next year), up to now it was a bi-annual affair, and the show promises to be quite something.
Rumors are floating around that Panasonic will announce a full-frame mirrorless camera, and hopefully Sony bring out an A6500 successor or better yet the unicorn that is the A7s III. Next week is gearing up to be quite interesting and jam packed with new announcements, but of course, Photokina is just as much about new lenses as it is about new cameras.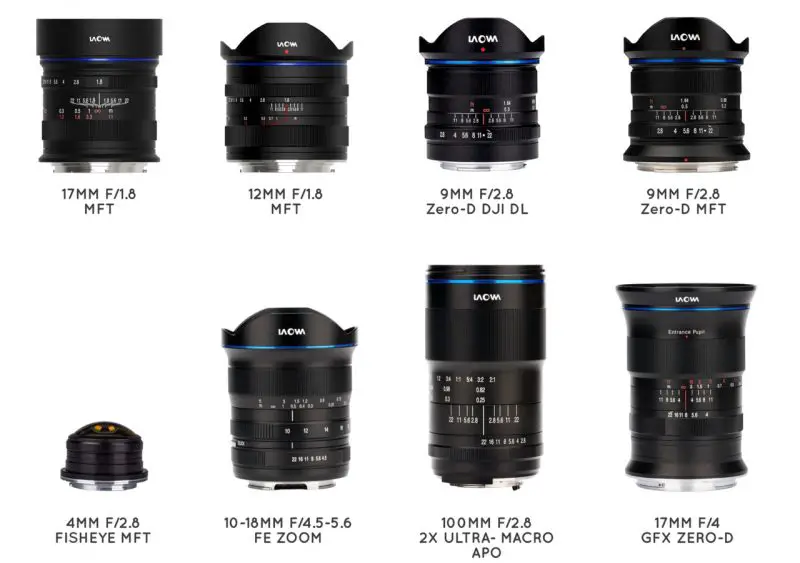 Venus Optics, the Asian lens manufacturer who had previously launched a number of unique Laowa camera lenses, on which we reported here and here (that probe lens is really nuts!), will proudly unveil 8 new and unique lenses at the Photokina exhibition in Germany next week. Some include cine-vized versions of existing cine lenses, others are new cine lenses.
See a quick summary of the new glass below.
Laowa 25-100mm t/2.9 Cine Lightweight Zoom
Laowa 12mm t/2.9 Zero-D Cine PL
Laowa 7.5mm t/2.1 Cine MFT
Laowa 9mm t/2.9 Zero-D Cine Sony E mount
Laowa 17mm f/1.8 MFT
Laowa 12mm f/1.8 MFT
Laowa 9mm f/2.8 Zero-D (DJI DL)
Laowa 9mm f/2.8 Zero-D MFT
Laowa 10-18mm f/4.5-5.6 FE Zoom
Laowa 100mm f/2.8 2X Ultra Macro APO
Laowa 17mm f/4 GFX Zero-D
Laowa 4mm f/2.8 Fisheye MFT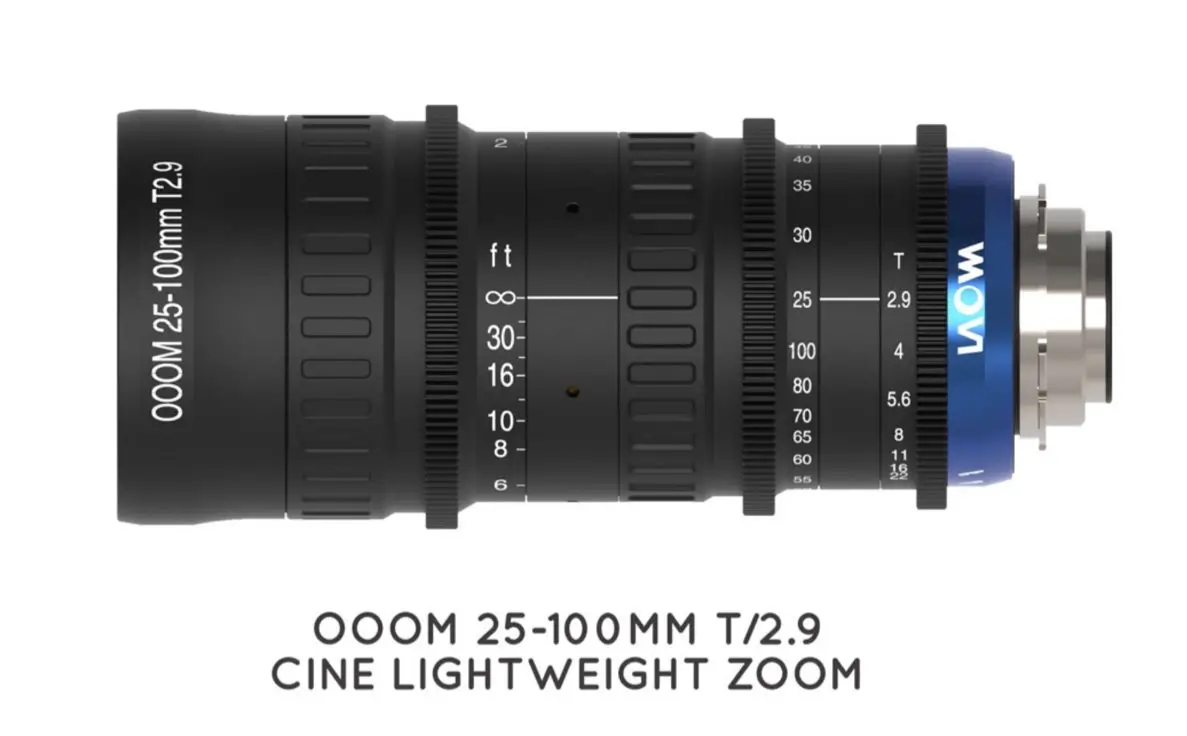 The biggest surprise of the bunch are the 12mm T2.9 Zero-D PL mount cine prime and most of all – the Laowa 25-100mm T2.9 lightweight zoom, which features a range that is very similar to the Zeiss 21-100mm lightweight cine zoom.
Officially titled, the Laowa OOOM Cine, the 25-100mm T2.9 is the company's first pro lightweight zoom designed for cinematographers. The lens features a wide 25-100mm zoom range, making it a one-size-fits-all lens for different types of productions. Venus Optics say that unlike some cine lens in the market which were re-engineered from a photo zoom lens, their new Laowa OOOM Cine lens is designed for digital cinematography in the first place with an optical design comprised of 20 elements in 16 groups, which is a lot of glass indeed.
They also say that the lens is "truly parfocal", which I will take as a grain of salt, since no lens is truly parfocal, however, it is entirely possible for this lens to have minimal breathing, meaning the focus won't shift noticeably when you zoom in or zoom back out. It is also said this lens is designed to have nearly zero focus breathing throughout the whole zoom range, with a maximum aperture of T/2.9 at all focal lengths. Speaking of the aperture, it is 9-bladed, which is great if you want to get round and pleasing bokeh.
Venus go on to say in their press release that the OOOM 25-100 T2.9 is built with the true cinema level mechanics. It comes with a stepless, t-stop independent aperture ring with an industry standard 0.8 mod /32 pitch gears. The 270° rotation flow provides room or precise focus pulls and the iris is of course smooth, enabling buttery iris pulls.
The lens weighs about 5 pounds and change (2.5 kgs), which is quite alright for a lightweight zoom. Minimum focus distance is 60cm, and you only get a PL mount option (at least for now). The lens covers only Super35 and not full-frame sensors. I will do my best to catch up with a Venus Optics rep at Photokina and find out more about this lens.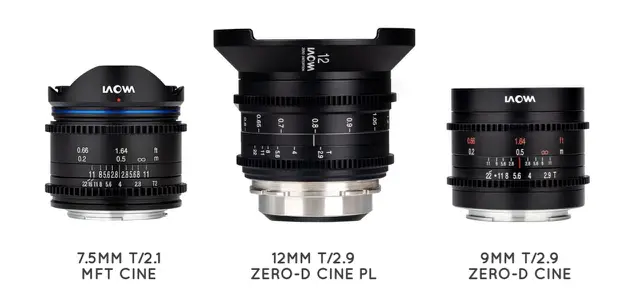 Laowa 7.5mm T2.1 Cine MFT & Laowa 9mm T2.9 Zero-D Cine (Sony E)
The new Laowa 7.5mm and 9mm Cine lenses are the cine-mod versions of the existing photo versions; both lenses have been re-housed with a step-less aperture rings and focus rings with standard 0.8 mod gears which give videographers extra convenience to use with follow-focus systems.
Both of the lenses are some of the widest available on the market in their class and only weigh 180g (0.4lbs) & 250g (0.55lbs) respectively. Closest focusing distance for both is just 12cm (0.4 feet). The wide perspective and lightweight makes them the perfect companion for gimbal shooting. The 7.5mm t/2.1 Cine is for the Micro Four Thirds mount, while the 9mm T2.9 Zero-D features the Sony E mount.
Laowa 12mm T2.9 Zero-D Cine (PL)
The new Laowa 12mm t/2.9 Zero-D Cine in PL mount is the cine-mod version of the existing 12mm f/2.8 Zero-D lens. The lens has been rehoused with a step-less, t-stop aperture rings and focus rings with standard 0.8 mod gears for iris and focus pulls. It covers the 35mm Vista Vision sensor size and offers an ultra-wide 122° angle of view, making it one of the world's widest and fastest available option for shooting with large sensors.
Despite the ultra-wide field of view, it is perfectly rectilinear and features a close-to-zero distortion rate. The focus flow is extended to 270° for cinematographers to also take advantage of the 0.6 feet (18cm) closest focusing distance. The super lightweight footprint of just 650g or 1.4lbs is also an added benefit for cinematographers.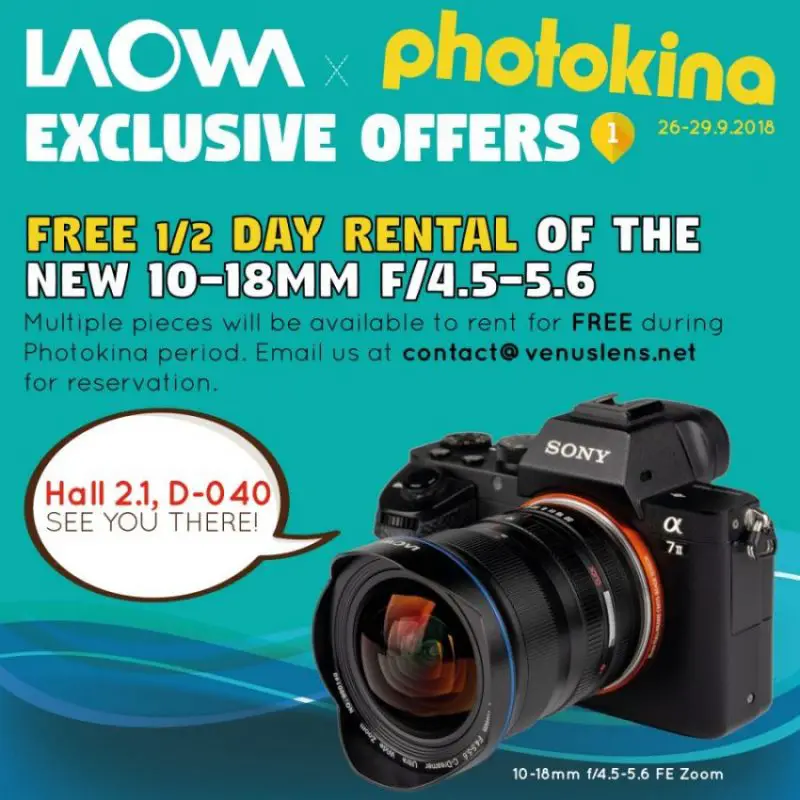 Free Rental Programme
Venus Optics have prepared some copies of the Laowa 10-18mm f/4.5-5.6 FE Zoom and Laowa 24mm f/14 Probe lens (Canon EF) for free rental during Photokina. For reservations and more details, please contact Venus Optics via [email protected].
Availability
All 12 new lenses will make its European debut at the Venus Optics' booth at Photokina (Hall 2.1, D-040) in Cologne during 26th-29th Sept. Pricing and availability will be confirmed at a later date.
Disclaimer: As an Amazon Associate partner and participant in B&H and Adorama Affiliate programmes, we earn a small comission from each purchase made through the affiliate links listed above at no additional cost to you.
Claim your copy of DAVINCI RESOLVE - SIMPLIFIED COURSE with 50% off! Get Instant Access!