Just in time for the Christmas holiday shopping season DJI announced the DJI Osmo Pocket, a tiny 3-axis gimbal stabilized camera that can record 4K/60p video. Some of you may recall a few months back there were rumours of DJI possibly working on an action camera to go head-to-head with the GoPro Hero7 Black, and looks like the DJI OSMO Pocket may be that very device in question.
Designed to be incredibly easy to use, just like your classic GoPro action camera, the DJI Osmo Pocket offers 3-axis gimbal stabilization, which rivals (and from the promo video it looks even better than) GoPro's HyperSmooth EIS, but that is subject to testing of course, and a host of intelligent features to help capture creative videos and photographs in a portable form factor.
At just over 4 inches tall, Osmo Pocket is DJI's smallest three-axis stabilized camera with a 1/2.3-inch sensor records 12-megapixel photographs and 4K video up to 60fps at 100Mbps. The DJI Osmo Pocket also uses built-in dual microphones and advanced noise-canceling algorithms to ensure you capture high quality audio to match your footage.
Furthermore, a battery life of up to two hours shooting video in 4K, 30fps means you can always rely on Osmo Pocket to capture your story no matter where you are at the very best quality.
"Innovation is at the heart of every product we create and DJI Osmo Pocket is here to change the way photos and videos are captured, not just by professionals but by parents, couples, adventurers, travellers, and everyone in between," said Roger Luo, President at DJI. "Osmo Pocket is a portable personal camera crew and we can't wait to see how people use it to capture their stories and share them with the world."
DJI Osmo Pocket Features Summary
3-axis stabilized Gimbal Camera with 1/2.3″ CMOS Sensor
Compact form-factor
4K/60 fps up to 100 Mb/s
12MP JPEG or DNG Raw Still Capture
Includes Lightning & USB Type-C Adapters
Connects to Smartphone as Larger Display
Optional Wi-Fi & Bluetooth Monitoring
POV, ActiveTrack & FaceTrack Modes
Standard Time-Lapse & Motionlapse
NightShot & Panoramic Modes
Pre-order: $349 at B&H
Ships 15th December 2018
Building on DJI's industry-leading experience with gimbal stabilization technology, the DJI Osmo Pocket seeks to establish a competitive advantage over the competition thanks to DJI's state-of-the-art three-axis mechanical gimbal, which compensates for movements and smooths these motions so you can focus on composition and subject matter.
The DJI OSMO Pocket extensive creative features however are not limited just to the incredible stabilization. The gimbal camera uses a 1-inch integrated touch screen that provides a high quality live view as well as the ability to toggle through the various shooting modes, adjust settings, review footage and gain access to a full suite of creative features including:
ActiveTrack

DJI's image recognition algorithms allow Osmo Pocket to recognize and follow subjects

FaceTrack

takes ActiveTrack one step further.
automatically recognizes a human face and locks the subject in center of the frame at all times.
It does not identify individual faces, but keeps the camera centered on one.
To initiate FaceTrack, simply select selfie mode and the camera will detect your face.

Timelapse & Motionlapse
FPV Mode

Instead of locking the gimbal to maintain the horizon, FPV tells the camera to follow your every tilt and lean.

3×3 & 180° Panorama Modes

3 x 3 takes an expansive 9 images in total while 180° mode captures 4 images.
Osmo Pocket software stitches them together automatically so you can focus on the framing of the scene.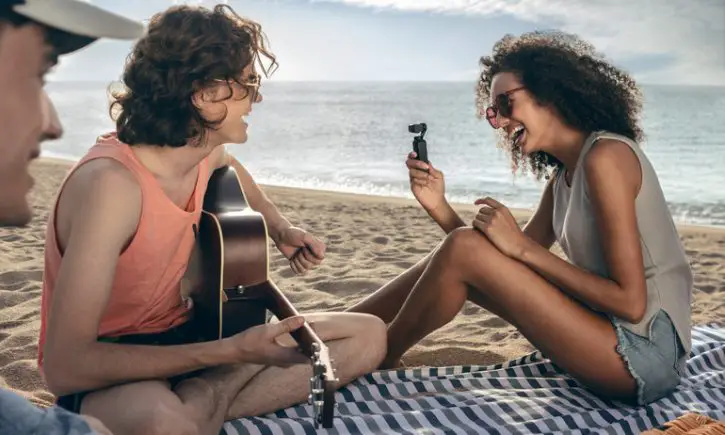 DJI Mimo App
A universal port under the touchscreen allows users to connect their mobile devices that use iOS Lightning or USB-C. Upon connection, the new dedicated DJI Mimo app will automatically open and serves as a monitor, while in-app menu offers a variety of intelligent features and recording modes:
Story Mode

Bring creative editing to your video with a host of preset music, video transitions and colours.
Choose one of 10 fun templates and Mimo will handle the camera movement for you.
After finishing, Mimo automatically generates your very own short story, ready to be shared.

Pro Mode

gives you access to manual camera setting adjustments and exposure settings
automatically detects and illuminates low-lit scenes into bright photos.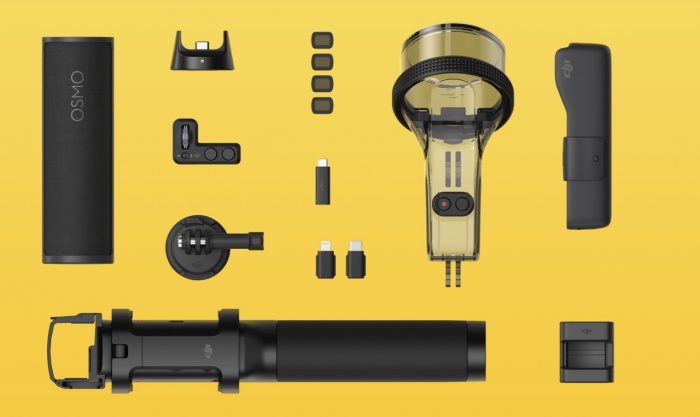 DJI Osmo Pocket – Range of Accessories
DJI are also offering an ecosystem of accessories to allow the users to unlock the true potential of their DJI Osmo Pocket:
Accessory Mount

makes the Osmo Pocket compatible with action camera accessories for a helmet, backpack or your wrist.

Wireless Module

providing remote access to the camera feed and control of Osmo Pocket via smartphone through Wifi or Bluetooth;
perfect for setting up a Timelapse or Motionlapse

Controller Wheel

allows you to precisely control gimbal movement (left-right or up-down) to easily adjust your composition
Re-center the gimbal or switch to selfie mode easily with dedicated buttons on the handle

Expansion Kit

The expansion kit includes the Accessory Mount, Wireless Module and Controller Wheel
DJI OSMO Pocket Accessories – to be released in the near future:
ND Filters Set 

Specifically designed for Osmo Pocket, ND filters attach to the front of the camera to reduce the amount of light entering the sensor.

Waterproof Case

the Waterproof Case which can be placed at a depth of 60 meters.

Extension Rod

The Extension Rod attaches to the Lightning or USB-C port and provides 31 inches of reach to Osmo Pocket, opening a world of new creative angles that are normally difficult or impossible to get.
A gimbal control joystick and camera button on the handle were designed for remote control when using the Extension Rod and a tripod was added to the bottom for expanded use cases

Charging Case

This dual-purpose case not only protects Osmo Pocket while in transit but charges it as well.
Dedicated sections were added into the case for your MicroSD card and ND filters so you can quickly grab your Osmo Pocket and know you're ready to capture those moments and adventures.

3.5mm Adapter

allows you to connect an external microphone if you prefer to capture audio using a separate device.
Price and Availability
The DJI Osmo Pocket retails for $349 USD and will be available for pre-order at store.dji.com and authorized Retailers such as B&H, Adorama, and additional retailers starting today.
Pre-orders will start shipping on December 15th. For more information on all the new features and capabilities of Osmo Pocket, please visit www.dji.com/osmo-pocket.
Pre-order links:
Claim your copy of DAVINCI RESOLVE - SIMPLIFIED COURSE with 50% off! Get Instant Access!