Getting monetary support and access to grants when you are an emerging filmmaker is not an easy task, regardless of background or location. However, the Tribeca Film Institute (TFI) and Pond5 are seeking to change that.
Earlier in December, TFI and popular stock video footage platform Pond5 announced a partnership to launch a forward-thinking filmmaking fund and ongoing industry program aimed at promoting sustainable careers for independent storytellers.
TFI has worked closely with Pond5, the world's largest stock video marketplace, to develop a program that speaks to the needs of filmmakers who lack resources during "in-between" phases such as research, creative collaboration, festival travel, content, community screenings, outside-the-box mentorship, and extra release support.
TFI and Pond5 designed this unique program to ensure that filmmakers with diverse backgrounds and a wide range of perspectives are provided an array of support to improve visibility in an often-inaccessible, difficult-to-break-into industry.
Support available through the program includes funding, targeted networking events, access to Pond5 content and mentorship programs, all designed to facilitate a sense of community for independent storytellers.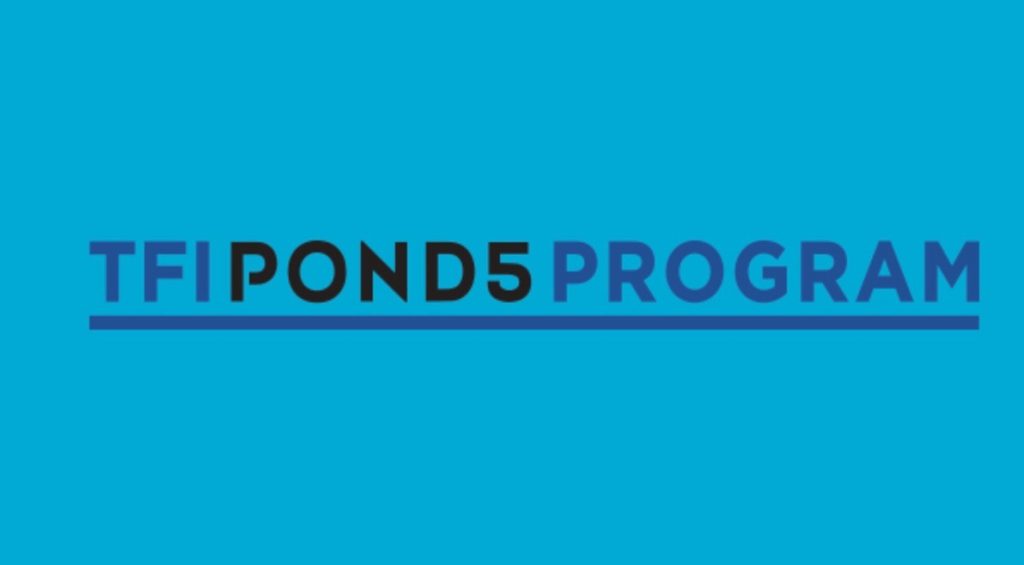 The program is funded by tax-deductible donations, allowing anyone to pledge their support at pond5.com/tfi. Additionally, Pond5 is matching donations.
TFI alumnae and Pond5 artists can apply for micro-grants through the program three times a year, offering multiple opportunities to receive funding. Applicants outline their needs during the application process so that the program can provide more targeted and flexible support.
"TFI's mission is to break barriers in access, exposure, and sustainability," said Amy Hobby, Executive Director of TFI.  "We have assessed that there is a period of time in a project cycle when filmmakers need support not only financially, but also from peers and veterans of the industry.  Partnering with Pond5, we've been able to create a very flexible fund and program that can meet those needs."
"Pond5 prides itself on being the world's most filmmaker-friendly creative marketplace. Helping filmmakers succeed in their craft is what we're all about. As filmmakers ourselves, we know how hard it can be to secure the finances, resources, and footage necessary to tell your story. If we can play a small role in helping filmmakers tell an even better story, we feel like we've done our job," said Pond5 CEO Jason Teichman.

"Through the Tribeca Film Institute Pond5 Program, we're honoured to further that goal and help more storytellers achieve and share their visions."
Here is the list of the current selected projects to receive support from the TFI AND POND5 FILMMAKER FUND:
499 AÑOS (499 YEARS)
Creative Documentary Feature
Directed by: Rodrigo Reyes
Producers: Inti Cordera and Andrew Houchens
499 Years examines the brutal legacy of colonialism nearly five centuries after Cortez arrived in the Aztec Empire. Bold, unique, and strikingly cinematic, the film uses magical realism, combining documentary and fiction to show how past traumas continue to affect contemporary reality while challenging us to overcome our histories of violence.
DEATH OF NINTENDO
Scripted Feature
Directed by: Raya Martin
Writer/Producer: Valerie Castillo Martinez
Executive Producer: Whitaker Lader
Co-Producers: Jeremy Chua, Nikolo Juban
Set in 90's suburban Manila, the story takes us into the colourful pop-culture world of four 13-year old friends, back in the days when video games were still a novelty. Mimaw and her friends Paolo, Kachi, and Gilligan go on a journey of self-discovery together as they play games and wrestle with new dilemmas – puppy love, circumcision and other horror stories.
A HOLE TO HELL
Documentary Feature
Directed by: Pawel Nazaruk & Tomasz Adamski
Producer: Pawel Nazaruk
The Cold War race to dig the deepest into the Earth reveals an entrance to Hell in arctic Russia. Forty years later, Yuri Smirnoff is the last man standing.
NO FAULT
Scripted Short
Director: Myna Joseph
Producers: Amy Lo, Lucy Owen, Lizzie Shapiro
Executive Producer: Lana Yang
Following a near-fatal car accident, Lu wrestles with creeping invisibility as she approaches the second half of her life. On this long winter day, she finds her physical identity fractured, ignored, misunderstood, and judged – but with wry humour and stubborn resilience, she's determined to be seen.
SOLACE
Scripted Feature
Directed by: Tchaiko Omawale
Producers: Hope Olaide Wilson, Maya Emelle, Sophia Solomon
Co-Producers: Sabine Hoffman, Sascha Brown Rice
A 17 year-old orphan is shipped off to her estranged grandmother and she plots her escape while navigating a foreign environment, new friendships and a hidden eating disorder.
SURVIVOR LOVE LETTER
AR Experience and Installation
Lead Artist & Executive Producer: Tani Ikeda
Lead Artist & Creative Director: Jess X. Snow
Additional Lead Artist: Layqa Nuna Yawar
Producers: Kevin Tsukii
Through a network of augmented reality murals centering Survivors of sexual assault, Survivor Love Letter presents a galaxy where survivors are not only believed and supported, but also loved unconditionally. Using an AR app, users can watch the mural and the love letter come to life through animation and read a library of love letters from survivors and allies all over the world, and ultimately have the option to add to the galaxy by writing their own.
For more information on the Tribeca Film Institute Pond5 Program, visit www.pond5.com/tfi.
Disclaimer: As an Amazon Associate partner and participant in B&H and Adorama Affiliate programmes, we earn a small comission from each purchase made through the affiliate links listed above at no additional cost to you.
Claim your copy of DAVINCI RESOLVE - SIMPLIFIED COURSE with 50% off! Get Instant Access!