The day before BSC Expo 2019 in London (which you should be attending), Sony released details for their upcoming VENICE firmware v4.0, which will include a paid HFR license enabling VENICE shooters to get 4K/120fps in 2.39:1 and 6K/60fps sometime in Summer 2019.
If there was one thing people were banging on about that the VENICE when it was announced – was the fact that it lacked high frame rates. Slow-mo is still king in most commercials and without it, that sensor inside, which may be a work of art in itself, was sort of limited.
Well, Sony knows they have a winner on their hands – the VENICE is a top-end camera that has made an impact in Hollywood (unlike the F65, which struggled to do so) – major upcoming blockbusters such as the Top Gun sequel and the AVATAR sequels will be shot on the VENICE, so the new HFR upgrade seems like a natural evolutionary step.
Sony VENICE Firmware 4.0:
New HFR Frame Rates (requires paid HFR license)

6K (3:2) at 

60fps

4K (2.39:1) 

at

 120fps

4K (17:9) at 

110fps

4K (4:3) Anamorphic 

at

 

75fps

 

Support for 700 Protocol – this is basically a control protocol developed by Sony allowing camera operators to connect the VENICE to a remote-control unit (RM-B750 or RM-B170) and an RCP-1500 series remote control panel;

VENICE now offers paint control, iris control, recording start/stop, clip control, and more.
The upgraded remote-control function will help in multi-camera and live production settings, such as live concerts and fashion shows.

Support for Cooke's /i third generation metadata Technology, /i3 and ZEISS eXtended Data technology (based on Cooke /i Technology) 

Extended lens metadata can now be embedded straight into a RAW/X-OCN/XAVC file and HD-SDI output without the need for additional metadata equipment.
The new function allows distortion and shading caused by supported lenses to be easily rectified, significantly reducing post-production costs.

Pure Progressive HD-SDI output in 25p and 29p
Extended Mask+Line Settings
Support of Cooke/i3 and Zeiss eXtended Data protocols
Selectable functions for Assign Buttons of the DVF-EL200
Both firmware version 4.0 (free) and the optional paid HFR license will be available in June 2019. There is no info yet on how much the HFR license would cost, but I will be at BSC Expo today and tomorrow and will try to find out.
Sony also made available for download the much-awaited VENICE firmware 3.0, which was demoed last September at IBC 2018 in Amsterdam.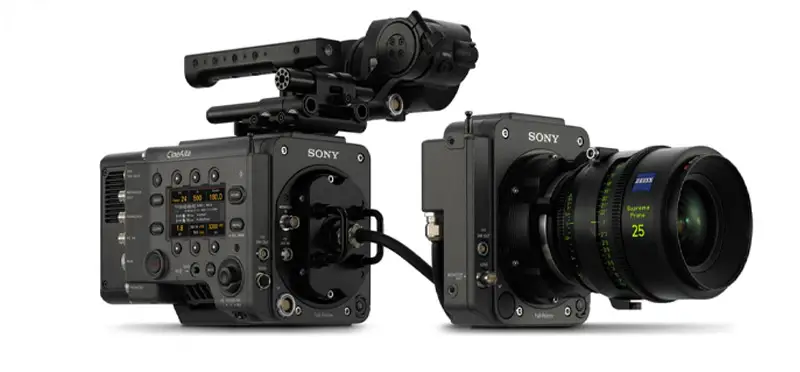 Here is what is new in VENICE firmware v3.0:
New Sensor modes:
New X-OCN XT compressed Raw format

highest quality X-OCN, 16bit

New De-Squeeze ratios: 1.25x,1.3x,1.5x,1.8x
Cache Recording:

up to 8 sec. in 6K 3:2 with X-OCN ST

up to 30 sec. in Super35 with X-OCN ST

AXS-R7 Relay Recording function
Additional Parallel Recording options

XAVC 4K/QFHD & Apple ProRes (Proxy only)
RAW/X-OCN & XAVC 4K/UHD

Added SxS recording folder structure selection
Support for 6G/12G output via SDI
False Colour (via SDI Monitor)
Configurable False Colour Settings for VF and HD Monitor
Supported CBK-WA02 Wireless LAN Adapter

Wireless LAN control (via CBK-WA02)
Wired LAN control (Full Menu)

Improved VF menu operations and Frame Line setting
If you are a VENICE owner/operator or a rental house, head over to Sony here to download firmware v3.0.
Disclaimer: As an Amazon Associate partner and participant in B&H and Adorama Affiliate programmes, we earn a small comission from each purchase made through the affiliate links listed above at no additional cost to you.
Claim your copy of DAVINCI RESOLVE - SIMPLIFIED COURSE with 50% off! Get Instant Access!