Redrock Micro recenlty announced their mobil jib/gimbal rig – the DigiBoom is now shipping and they also have some new accessories for it. The award-winning gimbal-stabilized camera rig from Redrock Micro has been designed for broadcast sports events and combines the best of jib, gimbal, Steadicam, drone, and handheld .
DigiBoom was first introduced last year at NAB and since its announcement has been successfully deployed in demanding applications including live national sports and news.
Feedback from operators and productions has dramatically enhanced the shipping version and sparked the creation of these new accessories and delivery options.
New Accessory Packs Simplify Broadcast Integration
Makes it easier to use the DigiBoom live with field reporters using stick mics or lavs. The accessory pack includes lightweight audio cables and mounting points for wireless receivers and audio mixers.
Ambient and reporter audio sources are added and balanced and included into the video stream, eliminating sync issues.
Live Broadcast Expansion Pack
This pack enables fast and easy integration into live broadcasts. Purpose-built SDI cabling offers standard connectivity while being lightweight and flexible enough not to interfere with DigiBoom's gimbal stabilization.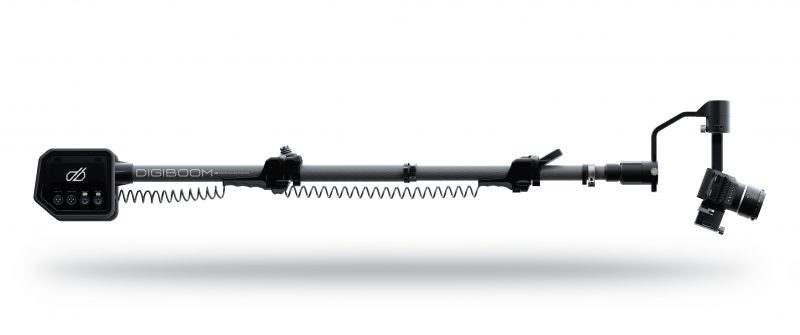 "We've spent the last year working closely with live broadcasters and productions with national audiences,"said James Hurd, President of Redrock Microsystems. "DigiBoom has evolved into a fully developed camera movement platform that is fast becoming a staple of news, sports, and events for years to come. These new accessories and options really match what customers have told us they want to maximize the effectiveness of DigiBoom."
New Purchase and Rental Options 
In response to a wide range of customer interest, Redrock has added several new options to acquire DigiBoom:
DigiBoom Deluxe Kit

includes The DigiBoom and the most popular accessories, bundled into a custom flight-ready case.

DigiBoom Complete Kit – builds on the DigiBoom Deluxe Kit by adding:

Blackmagic Design Micro Studio Camera 4K
Blackmagic Video Assist
Olympus Zuiko 12mm f2 lens

DigiBoom Team

designed for organisations ready to deploy DigiBoom on a wider scale.
Includes 5x DigiBoom Complete Kit, a matching set of Audio and Live Broadcast accessory packs, and customer-specific training on DigiBoom and integrating into their environment.
In addition to purchase options, now Redrock also offers DigiBoom as a rental package. DigiBoom can be rented as a complete kit for short term testing/evaluation, single events, or for organizations that wish to integrate DigiBoom into a larger service offering (such as live RF broadcast).
DigiBoom has been successfully used with solutions from BSI, CP Communications, and 3GWireless among others.
DigiBoom adds cinematic shots to live and pre-recorded news, sports, and events. DigiBoom can place and move the camera from ground level to over 8' (up to 12' with the optional extension) and everywhere in between while the full-time powered gimbal keeps shots smooth and steady.
Operators can use the DigiBoom to create sweeping camera moves or place cameras into unusual point-of-views for maximum visual impact, including:
Reaching any target, moving quickly, and getting angles that were previously unimaginable
Getting above the scrum in a crowded field including places where tripods or handheld aren't practical.
Positioning in front of, above, below, or around any obstacles with total control of camera angle and movement.
Creating dynamic and premium cinema-style shots with smooth gimbal stabilization
The RedRock Micro DigiBoom is now shipping with pricing options starting at $3500.
The DigiBoom Deluxe Field Broadcast Kit including the most popular accessories is priced at $4,995.
DigiBoom is available from Redrock direct and authorised dealers such as B&H.
Claim your copy of DAVINCI RESOLVE - SIMPLIFIED COURSE with 50% off! Get Instant Access!