Do you remember the Olympus TG-5 tough little 4K action camera? Well, Olympus are now bringing out the new model – the Olympus Tough TG-6 waterproof camera has been recently unveiled by the company most of us know from the world of micro four thirds lenses and mirrorless cameras.
More of a point-and-shoot style action camera, than a GoPro style action camera some might say, and they'd be right, the new TG-6 comes is more a conservative minor refresh/facelift that a 2 years car would get, rather then a complete new redesign.
Olympus' new Tough compact camera flagman retains the same 12MP sensor with 4K/30 video recording, which for 2019, is not that particularly exciting and I really do feel like the camera should have at least 4K/60p.
Yes, the back LCD screen has been greatly improved in terms of resolution from what I read in their press materials, but no touchscreen still? Come on, Olympus you can do much better.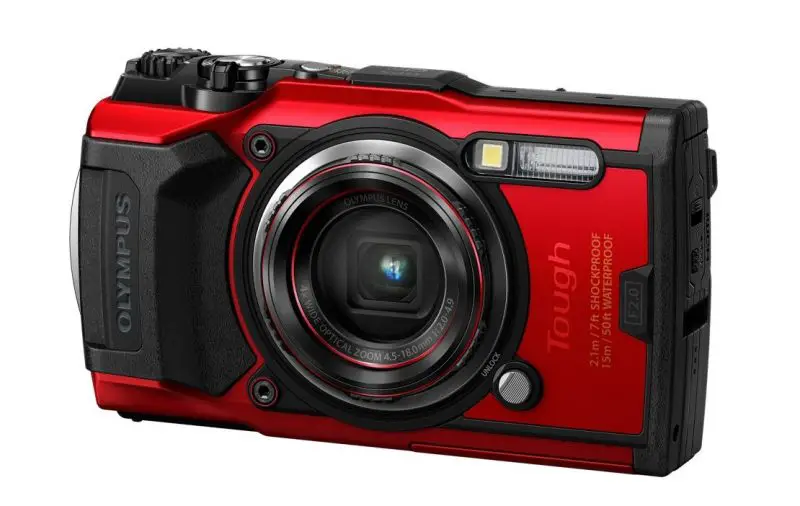 Olympus Tough TG-6 Digital Camera (Red) 
12MP BSI CMOS Sensor
TruePic VIII Image Processor
Olympus 4x Optical Zoom f/2 Lens
25-100mm (35mm Equivalent)
3.0″ 1.04m-Dot LCD Monitor
Water, Crush, Shock, Freeze & Dust-proof
4K Video Recording and Full HD at 120p
Built-In Wi-Fi, GPS, Field Sensor System
ISO 12,800 and up to 20-fps Shooting
Pro Capture Mode & Variable Macro System
Pre-order: $449 at B&H (Black/Red)
Sure, the Olympus TG-6 is built like a tank and made to withstand all weather conditions (up to -10 C), underwater use (up to 15m), drop shocks and crushing weights (up to 100kgs); such features remain unchanged from the previous T-G5 model.
It's not all lost though – as there are new improvements and features such as new underwater modes, more versatile macro photo options, a new image processor, in addition to the aforementioned new back monitor with improved resolution.
New accessories include a new attachable lens barrier (LB-T01) for more protection from scratches to the lens as well as a PT-059 underwater casing, which allows adventure seekers to capture images and movies at depths of 45 metres below the surface.
Another new features is a new digital teleconverter, which doubles the zoom factor of the 4x optical zoom for a maximum of 8x zoom. Anti-reflective (AR) coating on the image sensor glass now reduces ghosts and flares while the new TruePic VIII image processor from the OM-D E-M1X professional model helps to reduce noise levels and improves the resolution in low contrast areas.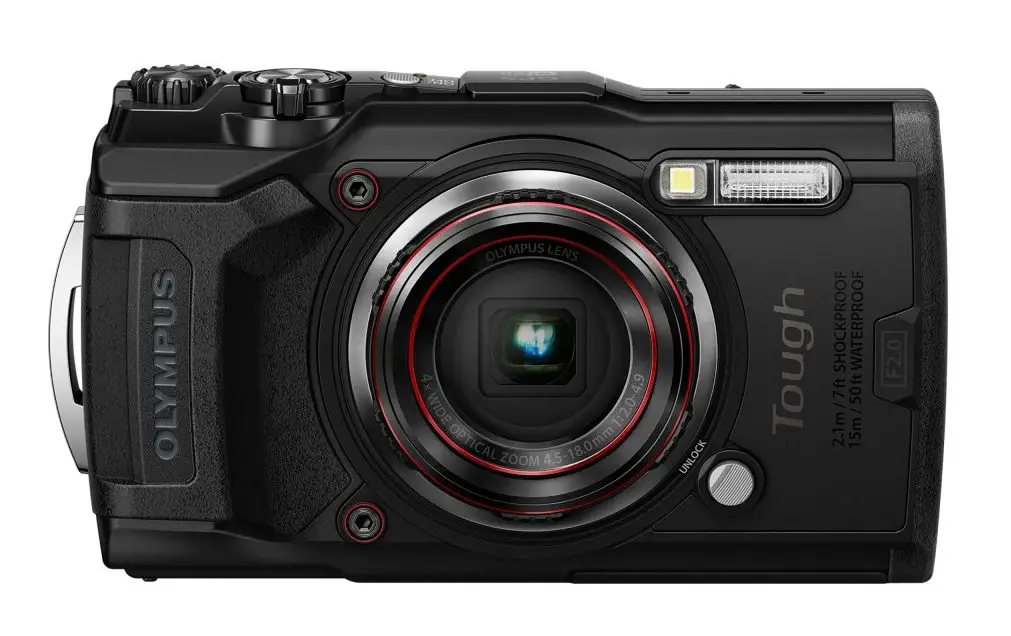 The Macro System features four modes including Microscope, Microscope Control, Focus Bracketing and Focus Stacking. In Focus Stacking mode, users can now set between 3 and 10 shots for more versatility and to fine tune settings for different subjects and more precision in the finished shot.
The new Tough TG-6 has five underwater modes, including:
Underwater Wide
Underwater Snapshot
Underwater Macro
Underwater Microscope
Underwater HDR
Each mode switches to shooting settings optimized for different situations, while the popular Underwater White Balance mode has been expanded to three options, providing appropriate colour adjustment for deep water shooting.
The new Fisheye Converter FCON-T02 for circular fisheye photography (sold separately) has been added to a versatile lineup of accessories to further expand shooting possibilities.
With the release of the new Tough TG-6, Olympus has also announced a number of new accessories to the TG line-up, including:
PT-059 Underwater Case for capturing movies and stills worry-free at depths up to 45 metres. The camera control dial is operable when the camera is stored in the case for easy exposure compensation control underwater. Two external flash units for underwater photography (UFL-3) are compatible for multi-unit flash photography in a compact system.
CSCH-127 Silicone Jacket protects the surface of the camera body from scratches. It also provides a solid grip on the camera when shooting during winter or water sports.
LB-T01 Lens Barrier for protecting the lens surface against dirt and scratches.
FCON-T02 Fisheye Converter lens for an easy and fast switch between circular fisheye and diagonal fisheye photography. To attach this lens, the CLA-T01 Converter Adapter (sold separately) is required.
UC-92 Lithium Ion Battery Charger to fully charge the Tough camera battery LI-92B using an USB port in approx. 2.5 hours.
The Olympus TG-6 is available to pre-order for $449 US at authorised dealers such as B&H in two colour options – red or black. First units are expected to ship in early July.
For more tech details head over to Olympus.
Claim your copy of DAVINCI RESOLVE - SIMPLIFIED COURSE with 50% off! Get Instant Access!