To some of you this may be old news, but I just checked back on Peak Design's latest Kickstarter campaign and it appears they are completely smashing it!
For those more familiar with the brand, you know that Peak Design are not new to Kickstarter (at all, this is like their 9th fund raising campaign), but their new super-compact Travel Tripod is their first foray into a the world of tripods.
Peak Design made their name by designing and making awesome camera bags, camera clips, straps, and other photographic camera accessories, and their new Travel Tripod, which has been in the making for years, appears to be a natural expansion of their photo accessories.
Making a high-end, compact, and reliable tripod is no easy task though. As PD themselves say in their Kickstarter promo and description, they set their sights on revolutionising the travel tripod by fixing the one universal flaw they all have – massive amounts of negative space. That's the key to what makes their new Travel Tripod quite appealing and unlike any other tripod I've seen recently.
Sure, major companies that have been making tripods (for video) such as Sachtler and Vinten have their new Flowtech tripods, which feature super-fast deployment and rigid carbon-fibre construction, but those are video oriented tripods. The new Travel Tripod by Peak Design, in my opinion is more oriented towards travel photographers and video enthusiasts and pros, who mix and match taking photographs, doing timelapses and shooting videos on compact mirrorless cameras or DSLRs.
By eliminating the dead space around the traditional tripod legs design, Peak Design's new Travel Tripod achieves impressive space savings making it super easy to pack in a bag. The Travel Tripod has 5 sections and features Cam levers that can be opened simultaneously contributing to a lighting fast full deployment in under 10 seconds according to their Kickstarter campaign info.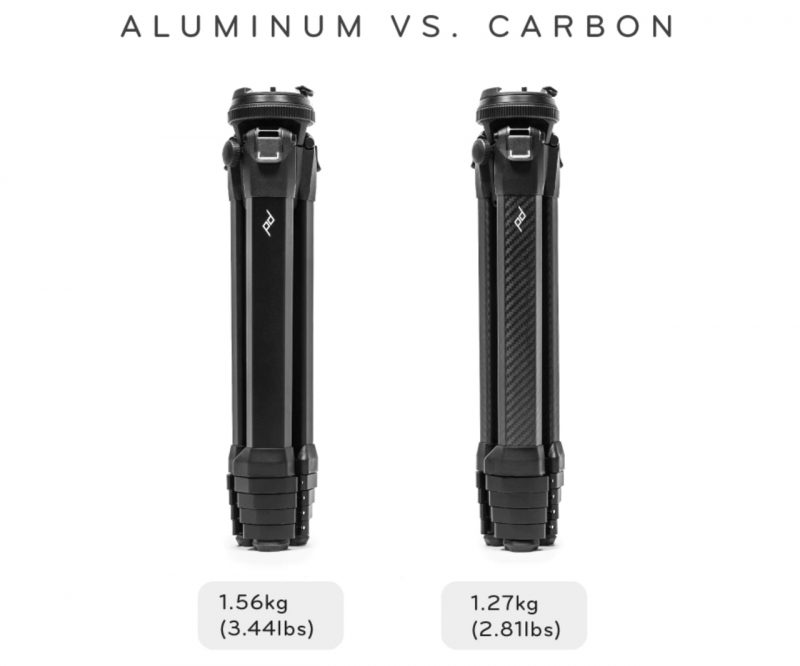 There are two versions offers – an aluminium and a more lighter and rigid carbon fibre version, the latter of which weighs only 2.8lbs, which is basically nothing.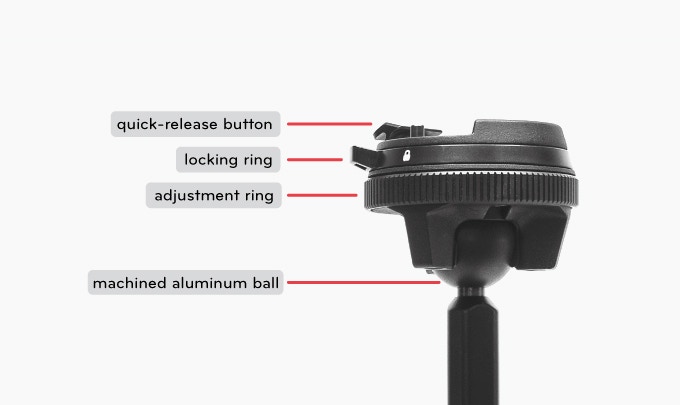 However, the innovations do not stop there – the Peak Design Travel Tripod has a newly designed Arca-Swiss compatible head which features a single, precision-engineered adjustment ring providing a single point of adjustment so you don't have to waste time fiddling with separate locks and rings.
The Travel Tripod is also compatible with L-brackets and 3rd party tripod plates as well as with most Arca-Swiss plates, and of course the rest of the Peak Design existing accessories.
The PD Travel Tripod may have a tiny stature, but don't be fooled – Peak Design say they've designed the tripod with high-performance materials and precision machined parts make sure their tripod can handle pro photography gear – even heavy full-frame DSLRs with big zoom lenses such as a 70-200mm.
Designed to handle weight capacity, stability, and vibration dampening comparable to much larger, more expensive tripods the PD Travel Tripod has a max payload of 20lb (around 9 kg) weight capacity with a 60″ max height.
Kickstarter special pricing starts at $289 US for the aluminium version and $479 for the carbon fibre version (expected to retail at $600 at launch), with available extra add-ons such as aluminium spike feet and universal ball head adapter for some extra cash. Deliveries are expected to commence in December 2019.
To learn more about the Travel Tripod by Peak Design head over to their Kickstarter campaign.
Claim your copy of DAVINCI RESOLVE - SIMPLIFIED COURSE with 50% off! Get Instant Access!