If you have ever used any of the currently available Micro 4/3 Speed Booster Adapters in conjunction with your BMPCC 4K, you have probably noticed some dreadful softness in your images when shooting extremely wide open. This outcome is due to the fact that most of these adapters aren't optically tuned and sized for the filter stack thickness of the BMPCC 4K which is substantially thinner than standard M4/3 cameras.
Luckily, Metabones have just addressed this issue by releasing two new Speed Booster Adapters specifically made for the Pocket 4K. The newcomers do not only provide optical tuning for the BMPCC 4K itself, but they also feature longer tripod mount to perfectly match the height of the BMPCC 4K camera body. This modification will allow users to attach both the camera and the Speed Booster to the same quick release plate for further convenience when filming.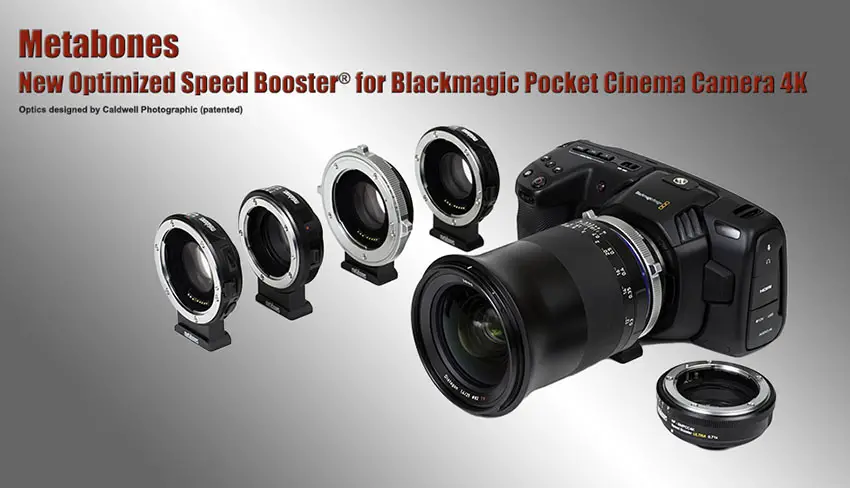 The brand new Metabones Speed Booster Ultra 0.71x Adapter is the perfect fit for a wide range of full-frame optics, including vintage film lenses to the latest digital designs as well as most APS-C and DX lenses, provided the image circle of the lens is large enough. It uses an advanced 6-element 4-group optical design incorporating ultra-high index tantalum-based optical glass. The adapter is available in the EF, EF Cine, Nikon G and ARRI PL versions.
The Metabones Speed Booster Ultra 0.64x Adapter, on the other hand, utilizes an advanced 7-element optical design to achieve seamless optical performance at apertures up to an f/0.80. In addition, the speed of any attached lens is increased by 11/3 stops, with a maximum output aperture of f/0.80 when an f/1.2 lens is used.  That's how you can turn your 50mm f/1.2 into a 32mm f/0.80, which is arguably the fastest aperture you can get on your Pocket 4K.
Just like the ULTRA 0.71x, the Speed Booster XL 0.64x is optimized to correctly account for the BMPCC 4K camera's specific filter stack located near the sensor surface. This adaptor is better suited to full-frame lenses and is also available in EF, EF Cine, and Nikon G versions.
It's also worth noting that this new series of Metabones Speed Booster adapters can't be attached to any other Micro 4/3 camera besides the Pocket 4K due to the specific filter stack design. Both units are already available to order starting at $489 for the Nikon G and going up to $719 for the ARRI PL version.
[source: Metabones]
Claim your copy of DAVINCI RESOLVE 16 - SIMPLIFIED COURSE with 50% off! Get Instant Access!