Despite the abundance of models in this already highly saturated market segment, gimbal makers continue to roll out new offerings left and right. MOZA has just announced a brand new single-handed gimbal designed for mirrorless cameras and DSLRs.
The MOZA AirCross 2 provides 3.2kg (7lbs) payload capacity while weighing just 950g (2 lbs). The unit boasts three-axis lock design, high-quality motors and easy setup alongside multiple shooting modes and intuitive control panel.
In a nutshell, the MOZA AirCross 2 is a redesigned version of its predecessor that features a sleek and ergonomic look while offering some new cutting-edge updates. For instance, to allow a clearer view of the camera LCD during operation, the AirCross 2 has an angled motor arm that prevents blocking the LCD.
The gimbal can also check the balance status of each axis automatically and instruct users to correct adjustment. Additionally, the camera is mounted closer to the tilt motor for more stability.
Furthermore, users can easily switch between portrait and landscape modes via a dedicated bracket. It's also worth mentioning that the AirCross 2 supports most mirrorless and DSLR cameras up to 7 lb, including wide-body types like the Pocket 4K, and those with a built-in grip.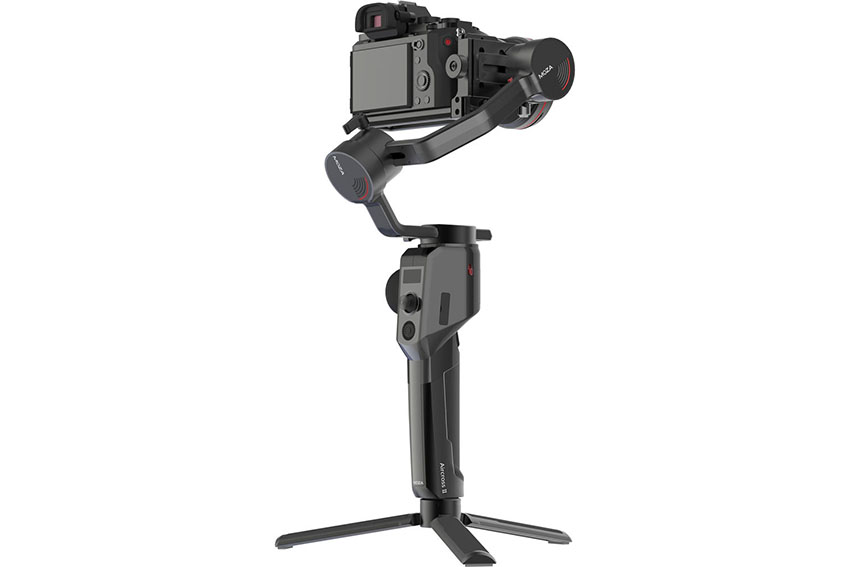 The 3000mAh battery, on the other hand, provides up to 12 hours of battery life, plus it has its own USB charging interface for further convenience on set. Another handy feature on the Aircross 2 is the inclusion of  3-latch locking system.
A separate lock on each axis locks all three axes when you power off the gimbal while retaining the balance after the device is powered back. This feature also lets you comfortably transport the gimbal without the axes and camera wobbling around.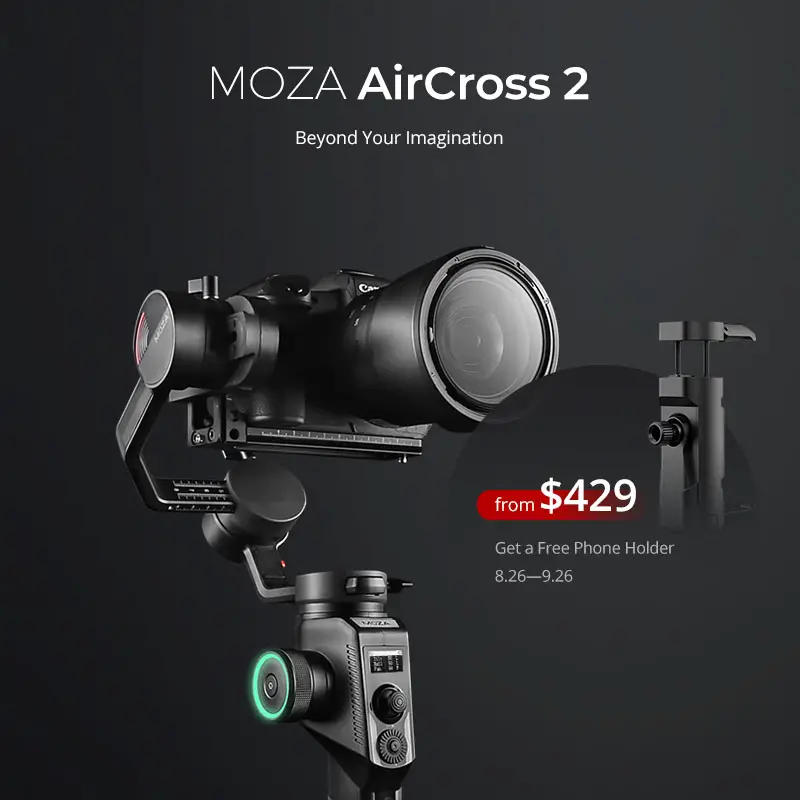 Beyond that, the AirCross 2 has several advanced shooting modes accessible at the press of a single button. These include time-lapse capture, multiple follow modes, Inception mode, and Sports Gear mode.
The included MOZA app that's available for iOS/Android provides additional creative features such as AI calculation function that auto-tunes the gimbal by selecting optimal parameters based on the camera load.
The gimbal controls include a customizable smart wheel, dial wheel, and smart trigger that give users direct control over select camera functions, while an OLED screen provides an intuitive display of the gimbal status and camera parameters.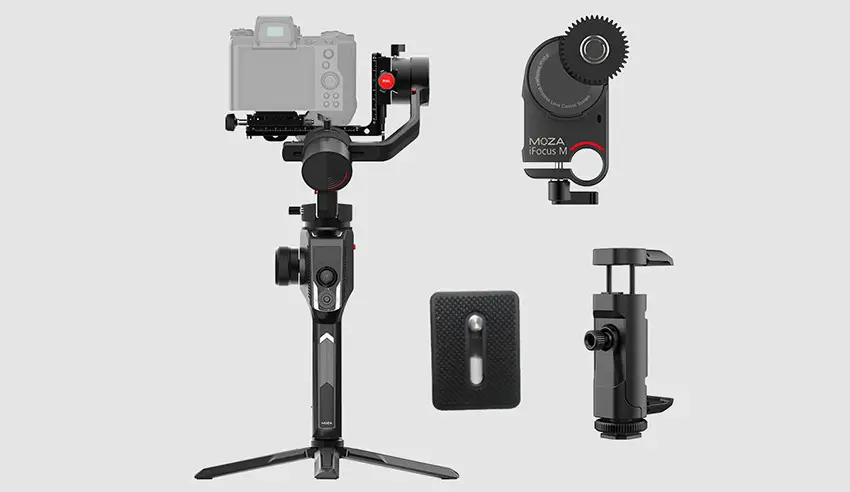 Moza AirCross 2 Highlights
For Mirrorless/DSLR Cameras up to 7 lb
Angled Motor Arm for Clear View of LCD
Portrait / Landscape Mode Switchable
Up to 12-Hour Runtime
Battery with Its Own Charging Port
3-Latch Locking System to Retain Balance
2 x CAN Ports for Motors/Accessories
iOS/Android Moza App
One-Touch Auto-Tuning AI Calculation
Weighs Only 2 lb
Price: $429
Besides the standard version, the new AirCross 2 is also available in a professional kit that includes a few extra pieces like an Arca/Swiss QR system and iFocus-M motor. Users can use two motors simultaneously with the system while both being controllable either with the gimbal itself or the MOZA app. The MOZA AirCross 2 is already available to order selling for $429.
[source: Moza]
Order Link:
Moza AirCross 2 3-Axis Handheld Gimbal Stabilizer
Claim your copy of DAVINCI RESOLVE 16 - SIMPLIFIED COURSE with 50% off! Get Instant Access!