Nikon just introduced the mirrorless version of their iconic Noct lens, now redesigned for the mirrorless world – the NIKKOR Z 58mm f/0.95 S Noct. This lens is INSANE, not only when it comes to the amount of optical engineering and image quality, but also the shock-inducing price tag of $8,000 USD! Definitely stuff not for the faint of heart!
For those Nikon users out there looking for something a bit more affordable on the mirrorless front, you should check out the new Nikon Z50 APS-C mirrorless camera, announced just days ago.
Nikon have managed to do what seemed impossible not that long ago, and that is port the legendary Nikon F-mount Noct lens with its revolutionary optical design and crazy f/0.95 maximum aperture to the new Z mount for full-frame mirrorless cameras, bringing exceptional sharpness and unrivalled low-light capabilities.
"The NIKKOR Z 58mm f/0.95 S Noct is not only a pinnacle of optical engineering, but it also embodies the principle behind the development of Nikon's Z mount – to enable the finest optical quality lenses to be created at this scale. This is a lens that honours the past while representing a huge step forward in low-light capability. It is exciting to see the promise of the Z mount system be fulfilled so powerfully." – Dirk Jasper, Nikon Europe BV's Manager Product Marketing.
The Nikkor Z 58mm f/0.95 has such a complex optical design that there are hardly any top-tier optical elements and coatings that have been spared. Overall, the Noct Z 58mm f/0.95 has 17 elements in 10 groups, all working in tandem to get you the best possible images at the widest possible aperture.
The lens optical construction features not one, but two anti-reflection coatings – ARNEO coat and a Nano Crystal Coat; both working together to fight off ghosting and flare, while aberration correction is dramatically improved by the precision large-diameter ground aspherical lens element and its high refractive index. The tough fluorine coating repels dust, dirt and moisture without compromising image quality.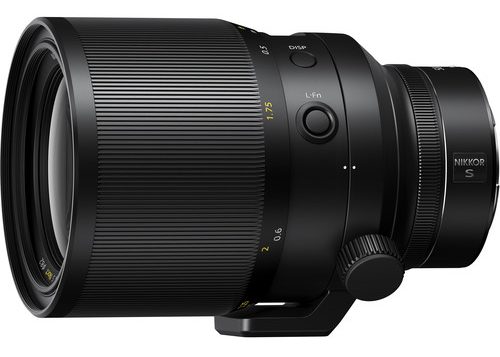 The lens is quite chunky as to accomodate all that sweet glass inside, and at 4.4 lbs or 2 kgs, it does really need that support collar since it will be heavier that the camera its mounted on.
The OLED display comes in hand as it shows vital lens information such as aperture, focus distance and depth of field; an intuitive control ring enables smooth and silent control of functions including aperture and exposure compensation.
From AE lock to metering and bracketing, the expanded Fn button has up to 17 assignable functions matching the Fn button on the camera body. Inscribed lettering records the lens name and details for a refined appearance and enduring legibility.
When it comes to bokeh, the 11-blade diaphragm and the insane f/0.95 maximum aperture on a full-frame manual focus lens, pretty much ensures that if you're not really careful in handling this lens, bokeh is all you'd be seeing in your photos and videos!
Nikon Nikkor Z 58mm f/0.95 Noct Features
ARNEO Coat + Nano Crystal Coat:

2 x anti-reflection coatings prevent ghosting and flare
Nikon's ARNEO Coat counters vertical incidental light
Nano Crystal Coat counters diagonal incidental light

Ground Aspherical Lens Element:

A precision large-diameter aspherical lens element with a high refractive index dramatically improves aberration correction

Fluorine Coat:

Nikon's tough lens coating repels dust, dirt, and moisture without compromising image quality

High-Precision Focus Ring:

Adjust focus with extreme accuracy and natural torque
Ideal for both still and movie shooting

Inscribed Lettering:

Lens name and details are inscribed for a refined appearance and enduring legibility

OLED Lens Information Panel:

Quickly confirm aperture, focus distance, and depth of field right on the lens

Intuitive Control Ring:

Assign and control functions such as aperture and exposure

Expanded Fn Button:

Assignable functions match the Fn buttons on the camera body
Thanks to the manual focus (which is the only way to focus with this lens as there ain't no AF support whatsoever) and high-precision focus ring, that is requisite to control depth of field especially when you start opening up beyond f/1.4, should be lots of fun to use in video, but also come with the caveat that you'd be working with razor thin DOF if you shoot wide open. Not advisable to do on anything that moves.
If you have deep pockets, you can pre-order the NIKKOR Z 58mm f/0.95 S Noct at B&H for the staggering $7,997 USD. The lens is expected to ship in late November.
Claim your copy of DAVINCI RESOLVE 16 - SIMPLIFIED COURSE with 50% off! Get Instant Access!