Zhiyun Tech announces the WEEBILL-S gimbal, a new and updated version of their compact and lightweight Weebill LAB gimbal. The new Weebill-S has a beefed up maximum payload optimized for popular mirrorless and DSLR camera & lens combos such as the Sony a7 III and the Sony 24-70mm G Master zoom for example. Of course, you can fly many other lens/camera combos on the Weebill S, which now comes with more powerful motors and better motor responsiveness.
Zhiyun Tech have build-upon the shortcomings of the Weebill LAB, but upgrading the motors on the WEEBILL-S, now with 3x increase in motor torque and a corresponding 50% increase in responsiveness.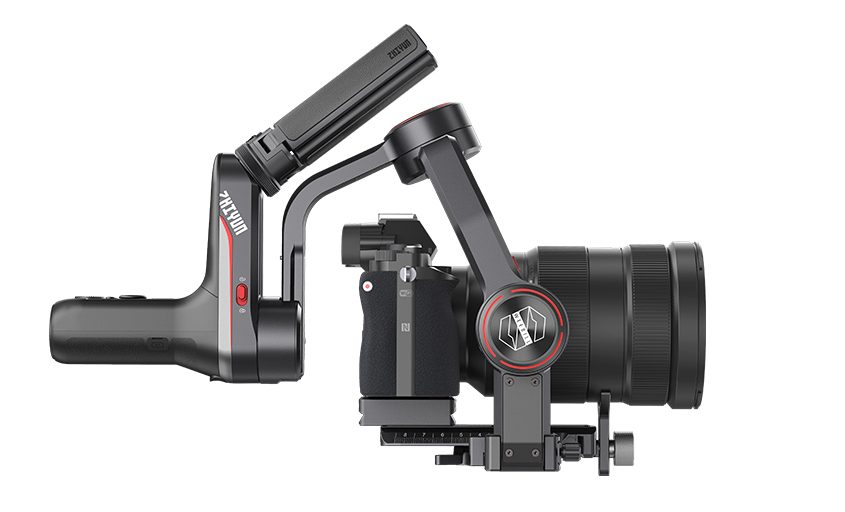 Those familiar with the Weebill LAB will feel right at home with the new Weebill-S, as for the most part the gimbal form factor has been retained, while improvements to the quick release plate mechanism, which is now faster, and re-designed motor locks contribute to a better gimbal experience.
The Weebill-S comes with its unique ergonomic sling mode, thanks to its design, that lets users easily switch between high and low-angle shots using the TransMount quick setup kit.
The Zhiyun Weebill-S also benefits from an ultra-low latency Full HD transmission with thanks to the all-new TransMount Image Transmission Module. ViaTouch 2.0 and SmartFollow 2.0 turns your smartphone into a professional monitor and multi-functional remote controller.
Available with the latest update to the ZY Play app, ViaTouch 2.0 allows for a seamless connection between smartphone and camera, giving users live-view, control and record functions, and the ability to adjust the camera parameters.
Coupled with the image transmission module is an all new object tracking function called SmartFollow 2.0. Select the object or even yourself from the ViaTouch 2.0 interface and the camera will follow your movement with ultra-low latency.
The all-new Image Transmission Module enables 1080p/30 wireless transmission of live signal from the camera to a maximum of 100 meters, all while supporting LUTs, False Colour, Focus Peaking, Zebras and more. The TransMount image transmission module supports up to 3 devices to be added to the stabilizer such as a smartphone, tablet, or a professional monitor.
Zhiyun Tech say their new Weebill-S gimbal integrates a brand-new self-adaptive control algorithm, which automatically recognizes the weight and then selects the perfect motor strength for a more optimum and smooth experience.
The Weebill-S supports electronic focus and mechanical focus/zoom control with a handy control wheel on the grip, accommodating a fast and accurate focus or zoom when shooting. The battery life is rated at 14 hours, which should be plenty for all-day use.
The Zhiyun Weebill-S is available to pre-order at B&H with pricing starting at $439 for just the gimbal itself, US $519 for Weebill-S Zoom/Focus Pro package and US $679 for Image Transmission Pro.
For more information about the Zhiyun WEEBILL-S head over to Zhiyun Tech.
B&H Pre-order links: 
Claim your copy of DAVINCI RESOLVE 16 - SIMPLIFIED COURSE with 50% off! Get Instant Access!