The Blackmagic Pocket Camera 6K is one of those cameras that can easily produce images on par with cameras costing 10x its value, but getting the BMPCC 6K production-ready does require quite a bit of kit. Cage support systems have been around for a while; their existence sprung out of necessity to make DSLR form-factor cameras easier to work with on set.
Ikan have been making some outstanding kit over the years, and they even recently had released a cage for the BMPCC 4K, and now their Stratus cage has been redesigned to also fit the similar shape of the Blackmagic Pocket Camera 6K. Due to its pronounced chin and lens mount (Canon EF) with its own requirements for a deeper flange distance, some cages made for the original Pocket Camera 4K may or may not fit the 6K model.
The frame of the Stratus BMPCC 6K cage has been shaped to accommodate the Blackmagic Pocket Cinema Camera 6K as well as the previous 4K mode. The Stratus Cage for the BMPCC 6K comes in four main parts: the top handle, top rod mount, base, and cage frame. It is worth to point out that the Stratus BMPCC 4K cage is still available as a separate SKU (now $25 Off at B&H), so be careful when you order your cage to make sure you don't get the old version of the cage, if you own a BMPCC 6K as chances are you may run into fitment issues.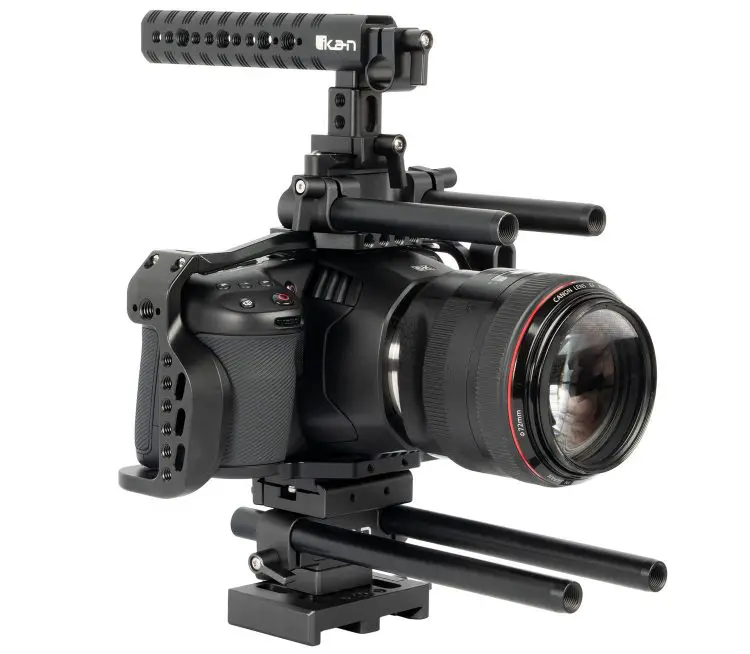 Ikan Stratus Cage BMPCC 6K Features
Compatible with the Blackmagic Pocket Camera 6K and 4K
Arca-Swiss Plate compatible base
NATO-rail compatible Top Handle Mounts
Top Handle features 15mm rod support
Cut-Outs for Battery, Memory Card, and HDMI
Redesigned base:

1/4-20 and 3/8-16 mounting points on Base Bottom

Metabones/Commlite adapter support
Mounts to ARRI Standard 19mm Dovetails
Price: $299.99 at B&H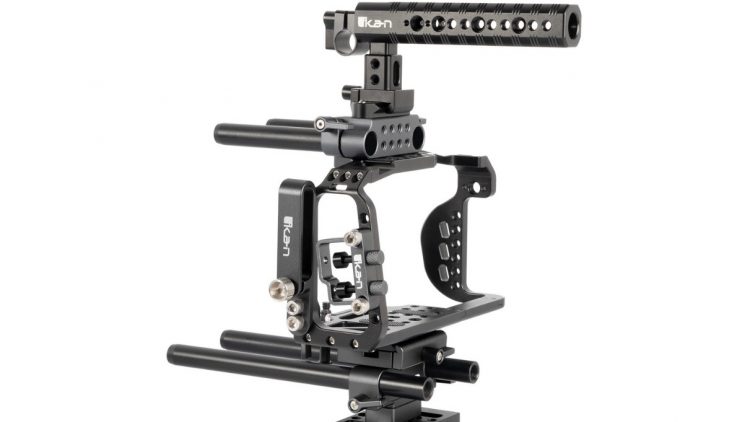 The Stratus Cage has been ergonomically designed to allow users easy access to media card slots, camera buttons and I/O ports. Users also don't have to unmount the cage in order to change batteries, which is a big plus, since the BMPCC 4K and 6K cameras are quite power hungry and chew through LP-E6 batteries in no time.
The cage also gets a redesigned HDMI and USB-C cable clamp which allows users to safely tighten your cables when deciding to use an external monitor or a Samsung T5 SSD for recording.
The new top handle design includes more mounting options and a cold shoe. It can be mounted to either the top rod mount or the NATO rail of the cage frame. A 15mm rod can also be inserted into the front or back of the handle which enables you easily mount a monitor or EVF. The top handle also includes multiple 1/4 mounting points for accessories.
Those using Metabones and Commlite adapters can rest assured there is additional support for the lens adapter which connects to the 1/4-20 screw thread of the adapter.
The Arca-Swiss compatible base has also been improved, with mounts for two included 15mm rods and both 1/4-20 and 3/8-16 mounting points for tripod quick release plates. The locking knobs are large and solid and have a kipping function that allows tightening even when the knobs are partially obstructed.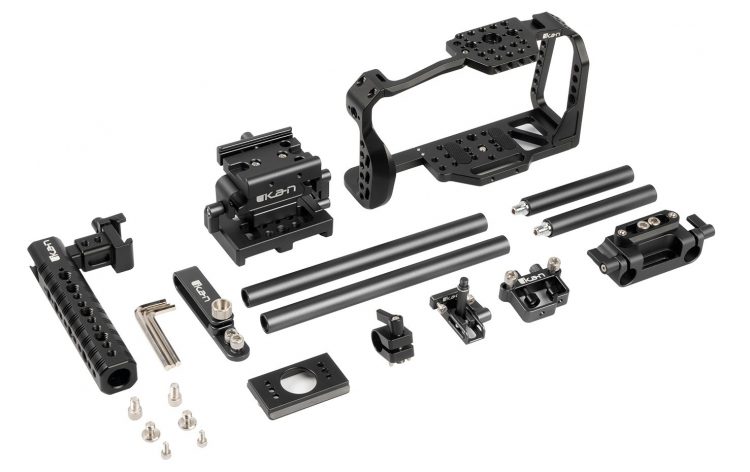 Ikan Stratus Cage for BMPCC 6K What's Included:
1 x Cage Frame
1 x Top Rod Mount w/ NATO Rail
1 x Top Handle
1 x Metabones Support
1 x Samsung T5 SSD holder
1 x HDMI/USB-C Clamp
2 x 200x15mm Rods
2 x 100mmx15mm Rod Extensions
1 x Base w/ ARRI Standard 19mm Dovetail Mount
The Stratus cage for BMPCC 6K and 4K is priced at $299.99 over at B&H. For more details head over to Ikan.
Claim your copy of DAVINCI RESOLVE - SIMPLIFIED COURSE with 50% off! Get Instant Access!