Blackmagic Design recently showed off some new 6K Blackmagic Raw footage shot on the BMPCC 6K by Manchester-based DP and camera operator Dima Kalenda.
"Zero Two", which you can see below and also download original BRAW camera files, was Dima's first experience with the latest Blackmagic Pocket Camera 6K and Blackmagic Design's own Blackmagic RAW compressed raw format. His goal was use the camera with only one light source, relying only on practicals for the late night shots.
He put the Blackmagic Pocket Camera 6K in much less controllable environments such as night exteriors where you have to work with what you get. "Zero Two" was shot between 7pm and 3am in order to best put the low light capabilities of the BMPCC 6K to the test. Everything was pretty much shot with available light and the street lights available at the particular location, plus a single LED Colorspike light, which Dima used as a fill light and controlled with an app from a smartphone.
"When Blackmagic gave me this new camera to test, I wasn't asked to use any specific features of the camera. I had total freedom to do what I wanted. My task was to play with the camera and try to push it to its limits. I thought with a project like this, it was better to show how a camera of this calibre and flexibility can be so forgiving to work with. Even though this was probably the only beta camera in Europe, I still decided to try it in all of these extreme conditions. To my surprise it had no errors at all."
"Zero Two" was captured in Anamorphic with the Atlas Orion anamorphic primes (18mm, 32mm and 50mm focal lengths) stopped down to T4 and T5.6 to avoid a softer image, and utilising the camera's dual native ISO at 3200 for better low noise performance. His first choice of lenses was to rent some vintage Kowa anamorphics, but he struggled finding the right EF to PL mount adapter, and opted for the already available Atlas Orion's which were available in EF (and also in PL, with interchangeable lens mounts).
It also worth to point out that he shot in 6K (6144 x 3456) at 50fps instead of the dedicated 3.7K 6:5 anamorphic mode, as the higher resolution utilized more of the sensor.
In his own words, Dima said this about shooting anamorphic on the BMPCC 6K.
"This camera can obviously do very big things and gives you a lot of flexibility. With all of the latitude you get with this camera and Blackmagic RAW, you can just dial shots into the camera and then jump in and see if it works… It's also a very big advantage having the Super 35 sensor and the EF mount."
"With the Blackmagic Pocket Cinema Camera 6K, they have an anamorphic option to shoot 60fps at 3.7K 6:5 anamorphic (3728 x 3104). But I did some tests at 6K (6144 x 3456) at 50 fps and found it gave you a much wider aspect ratio of about 2.39:1, so I was capturing way more resolution from the sensor.

Because the sensor is 16:9 I shot at 2X squeeze which allows for any stabilization or reframing in post. I had never shot in 6K before, so it was good to have that extra flexibility. I only had to do a little bit of stabilization on the girl in the car shot, but that was pretty much it."
Some of the shots in "Zero Two" are in BRAW 3:1, but most are using the 5:1 compression, which allowed for longer recording times by keeping the files much smaller.
"…I think if you wanted to shoot film for cinema, then you could shoot full Blackmagic RAW Q0. But for a test project like this, 5:1 was fine. It looks really good because there is so much more color information held within Blackmagic RAW, so your image definitely looks cleaner overall. It also has better skin tones and I found you can de-noise much better too."
Dima was also impressed with the quality and straightforwardness of the Blackmagic menus and OS, which also benefit from a very intuitive structure and touch screen interface. The Blackmagic Pocket Camera 6K (and other Blackmagic cameras with the latest OS) benefit from an excellent peaking tool that according to Dima "…is really well thought through compared to other cameras. You don't want to fiddle with menus, but still have buttons that you can quickly navigate with. Such as the higher frame rate button, which really helps a lot."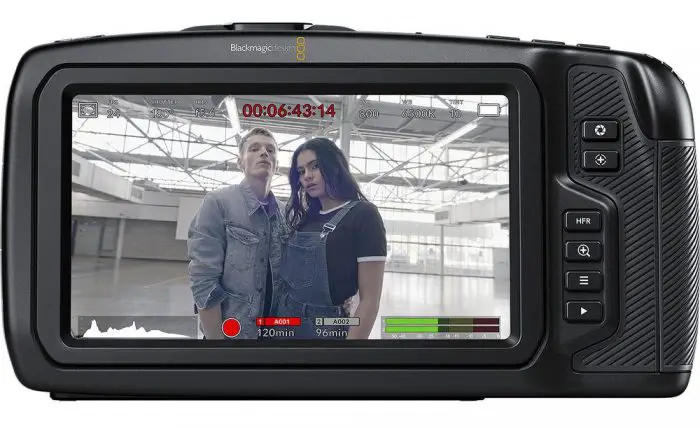 During the shoot, he also found that (for him) exposing via the camera's waveform was easier than with false colour due to the fact that they mostly shot at night. "Blackmagic RAW of course gives you a lot of latitude here, but the better exposed you are the better the final range you will get in post."
His rig included a V-lock battery and a Blackmagic Video Assist 4K to help monitor what was happening in front of the camera; his support rig was also a much needed aid since he was also shooting with heavy anamorphic lenses.
"This rig changed a few times during the 7 days we were shooting. I did start with a shoulder mount and base plate and then I added the V-lock plate and two D-tap batteries for the monitor and camera. I needed more battery power to run the onboard Blackmagic Video Assist 4K which really helped me a lot for framing. You can use this camera without the Video Assist of course, but because it is more like a DSLR form factor I find having a top mounted monitor gave me much more flexibility with my shooting angles."
You can read more and also download the original 6K BRAW files from the camera over at Blackmagic Design.
Have you shot with the Blackmagic Pocket Camera 6K yet? Do you own one, or thinking of getting one? Or are you sticking with the BMPCC 4K. Do let me know in the comments below.
Disclaimer: As an Amazon Associate partner and participant in B&H and Adorama Affiliate programmes, we earn a small comission from each purchase made through the affiliate links listed above at no additional cost to you.
Claim your copy of DAVINCI RESOLVE - SIMPLIFIED COURSE with 50% off! Get Instant Access!