Digital-first and live streaming is the new normal, making it fitting that the annual NAB Show in Las Vegas has transformed into an online experience called NAB Express.
Even B&H is giving us its own NAB Virtual Experience which includes some newly produced content, information on all the latest gear, and resources to bring the show to life. Also, we can't forget the annual deals and show specials that make it a perfect time for creators to upgrade.
Let's talk about the highlights in this massive list of deals – as well as some of the latest releases.
Camera, Lenses, and Accessories
I want to start with the latest news which also happens to coincide with a solid deal: the Z CAM E2 Cinema Camera Advanced Kit with a Ninja V and tons of accessories. What makes this kit special besides the $350 you'll save? Well, this morning Atomos and Z CAM announced that users can record in ProRes RAW with the E2 and the Ninja V.
This means 12-bit raw recording at up to 4Kp60, maximizing the potential image quality of the camera. That alone is cool, but they step it up a notch by also adding some camera controls to the Ninja V's touchscreen for even easier operation.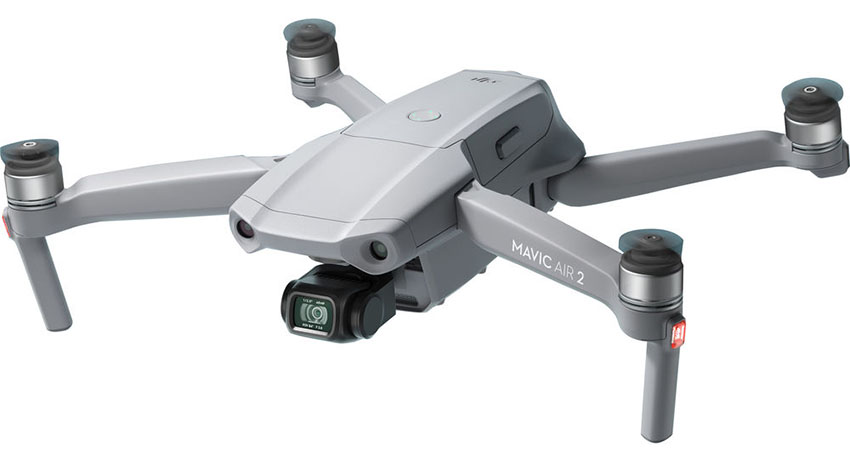 Another recent release – one you could consider a deal because of its price point and performance – is the DJI Mavic Air 2. It's not on sale, but B&H does have it in stock and is offering a free microSD card with purchase.
Announced only a couple weeks ago, this new consumer drone is impressive with its 1/2" sensor, 4Kp60 recording, 48MP high-res photo mode, OcuSync 2.0, and plenty more. I always recommend the Fly More Combo for more serious flying and if you want to know more you can read all about it.
Want a little bit more? In terms of traditional cinema cameras there is the Canon EOS C300 Mark III. This was a hot release that many people have been waiting for since the C500 Mark II made its appearance.
All the new features and then some now with a newly designed Super 35mm sensor. Highlights include DCI 4K Raw up to 120 fps, advanced Dual Pixel CMOS AF, and the Dual Gain Output sensor delivering even better dynamic range and noise performance. Unfortunately, there is no EOS R5 just yet.
Another awesome camera is getting an update in the coming months – the Sony FX9. Firmware version 2.0 brings some previously announced and much-anticipated features to the full-frame camera. Headlining the list is the addition of 16-bit raw output and DCI 4K recording up to 60p. You'll need the XDCA-FX9 Extension Unit to output the signal and an Atomos Shogun 7 to accept it, but it's an intriguing option.
Now for something else a little bit different: the Sigma fp. I always liked this little camera, and not just because it is extraordinary considering its size. It manages to squeeze in a full-frame sensor and packs cinema camera features. It can even do 12-bit CinemaDNG Raw recording to an external device, making it a truly powerful pocket camera. And now it is $100 off.
There's also some mirrorless classics available in some great bundles. This includes the Nikon Z6 Cine Kit, Sony a7 III Cine Kit, and Panasonic S1H Cine Kit that all feature the Ninja V with a solid few hundred off or the newly created Nikon Z50 Creator's Kit aimed at beginning content creators and vloggers.
For lenses, Rokinon is giving out some good deals on their cinema lenses. This includes a solid savings of almost three thousand dollars on their Xeen Cine 7-Lens Bundle and nearly a third off their Cine DS 6-Lens Kit for compact systems. Additionally, Atomos gets a lot of love in the monitoring space, but I think the new wireless Cosmo M7 from Hollyland is worth checking out.
Lighting Equipment and Gimbals
Moving onto something different but just as important: lighting. You'll often see Aputure lights in many content creators' setups, specifically their Light Storm line. There's a new kid in the family with the release of the bi-color LS300X. It's a nice evolution for the popular lighting system to add this versatility.
For more compact lighting solutions I think Luxli has been offering great value. That value is even better with the current pricing. All their recent products are full RGBAW LED lights, and feature app control to unlock better controls and more effects. Two great options for on-camera use (and a little of off-camera) are the 10" Cello and the 5" Viola2, which are discounted by $100 and $160, respectively.
If a gimbal stabilizer was on your wish list, a few good picks are included in the specials. Feiyu's entire lineup is included, from smartphones to mirrorless, with discounts up to $100. Moza Air 2 and AirCross 2 gimbals are getting in on the action as well, with $50 off.
Computers and Storage
Video production isn't just about the being on set, we can't forget about post. Luckily computers are on the deal list, including the latest 16" MacBook Pro. You can get a few hundred dollars off select models, meaning you can build the model you want and get a little bit off. Even the big Mac Pro is on discount, so if you are all-in on Apple now might be the time. 
I hear all you non-Apple users out there. Plenty of other companies make excellent computers for video production. I've like HP's latest and the ZBook 15v G5 and Z4 G4 Tower workstations are on sale this week.
Why not pick up a new hard drive to go along with your new computer, like the Samsung 1TB T5 SSD, which is a bit discounted, or bigger G-Tech RAID Arrays, though make sure to use the "BHNAB20" promo code to get 10% off.
Better yet, since you are probably working at home these days, it might be time to invest in a new or second monitor. One of the best upgrades you can go with for editing is an ultra-wide display. LG makes a 34" curved display that is even quite nice for gaming when you want to take a break.
An alternative choice for display is to go for the best image quality. HP and its DreamColor Z27x 27" LCD Monitor offers true 10-bit color with 99% coverage of the DCI-P3 space. It's also priced very well, with $650 taken off the list price.
Audio Gear
Finally, I want to give a shoutout to the audio guys and girls out there. NAB is certainly a lot of video, which makes sense, but audio is still a major component. Dual-system is the only way to get the best, so a new Zoom Recorder would make sense with the instant savings of up to $100. Sennheiser has some good offerings on their shotgun microphones and wireless systems which come with either a gift card or a discount. They are staples in the industry and offer very dependable equipment.
Even podcasters can get in on the action (or you can finally start that podcast you always wanted to). Rode has a bunch of kits featuring the RODECaster Pro, a hit among indie podcasters for controlling all your mics and working as a USB interface. Or for simpler, more affordable options you can check out Focusrite's audio interfaces. Either option will net you up to a couple hundred dollars in savings.
There are absolutely too many deals to mention. That, and everyone likely is looking for different types of items to fill out their gear bag. If you are looking for something new, now is the time as these deals from B&H are only scheduled to last a week. And make sure that you take advantage of the promo code "BHNAB20" where possible.
Anything catch your eye?
B&H Order Links:
Claim your copy of DAVINCI RESOLVE 16 - SIMPLIFIED COURSE with 50% off! Get Instant Access!