Atomos and Sigma have just introduced RAW recording over HDMI with the Sigma fp mirrorless camera and Atomos Ninja V HDR monitor-recorder. After Nikon, Panasonic, and Z Cam, Sigma is the fourth major company to announce support ProRes RAW over HDMI.
With this update, the Sigma fp and Ninja V owners will be able to record Apple ProRes RAW at up to DCI 4Kp24 or UHD 4Kp30 directly from the camera's full-frame sensor.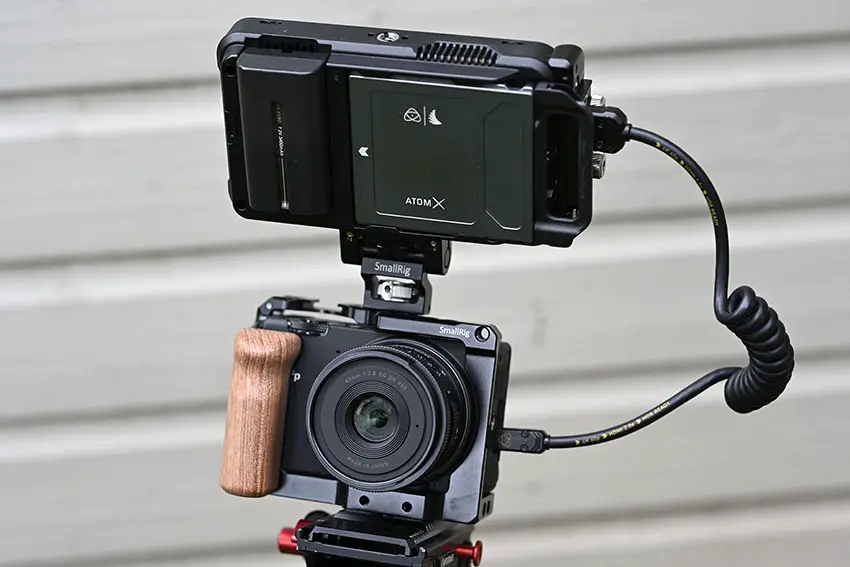 That way, the Sigma fp becomes the world's first mirrorless camera to record RAW over HDMI video in Full HD at 120fps. Along with the Ninja V, this is also the smallest camera combo to record ProRes RAW, opening up a wide range of shooting options.
The camera's small size provides full flexibility of RAW recording almost anywhere. The fp body is perfect for mounting as a POV or crash camera, for use on gimbals or even worn on the body.
Alternatively, with the addition of Ninja V, cage and other accessories, the Sigma fp can also be built out into a fully rigged cinema-style camera with the option to use a wide range of L-mount lenses natively, or PL mount, EF mount alongside many other lenses via the use of adapters.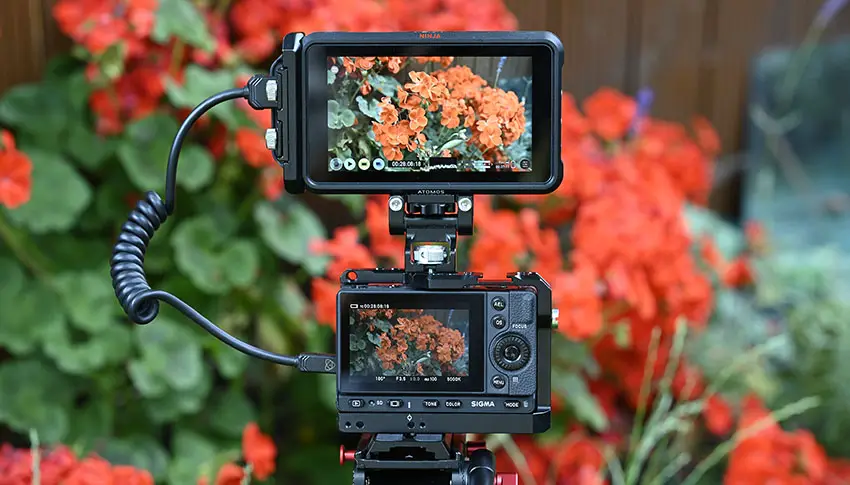 The accurate 5" 1000nit HDR high brightness display of the Ninja V, on the other hand, allows users to view the Sigma fp RAW signal in HDR in a choice of HLG and PQ (HDR10) formats for optimal exposure.
The monitor also offers touchscreen access to tools like 1-1 magnification and peaking for accurate focus, plus waveform, vectorscope, and false color to nail exposure for HDR or SDR shooting on the go.
The Ninja V can also record 422 ProRes and DNx video up to 4K30p and Full HD120p from the standard 8-bit HDMI output of the SIGMA fp. For reliability and affordability, ProRes RAW or standard video files are recorded to AtomX SSD mini SATA drives in the Ninja V.
To enable the external ProRes RAW recording, users will need the latest SIGMA V2.00 firmware update as well as the free AtomOS update for Ninja V which should become available in Summer 2020.
SIGMA V2.00 Firmware Highlights
Supports cinemagraphs creation and playback.
CinemaDNG footages playback
Supports still capture during live view and movie shooting in Cine mode
Supports still image capture from movie files (CinemaDNG, MOV) shot with the SIGMA fp
Supports HDR in movie shooting
Supports still and movie shooting in Director's Viewfinder mode
Supports DCI 4K 12bit / HDMI Raw output
Supports compressed raw recording with ATOMOS and Blackmagic Design external recorders※1
Camera movement control is compatible with ZHIYUN gimbals.※1
Instruction message appears when attempting to use greyed-out items in SHOOT menu
Supports camera control in USB mode※2
*1 Firmware update of the corresponding device is required.
*2 The SDK (Software Development Kit) for controlling the camera is scheduled to be available in early July.
Supports Dual Base ISO (ISO100 and 3200)
Improved AF performance
Improved recording stability with recording media
Improved image quality
Supports CinemaDNG 25 and 29.97 fps (UHD 12bit) shooting
Supports CinemaDNG 100 fps (FHD 12bit) shooting
Supports CinemaDNG 100 and 119.88 fps (FHD 8bit and 10bit) shooting
"OFF" option available in Color mode
Exposure adjustment available in QS (Quick Set)
Tone control setting "Auto (Mild / Strong)" available during movie shooting
Supports USB Video Class (UVC) setting adjustments while the fp is connected to USB
Supports time code generation
Compatible with BWF format
Supports file size changes at aspect ratio 7:6
[source: Atomos]
Order Links:
Sigma fp Mirrorless Digital Camera (B&H, Amazon)
Atomos Ninja V 5" 4K HDMI Recorder/Monitor (B&H, Amazon)
GET the ULTIMATE DAVINCI RESOLVE 16 COURSE BUNDLE for just $97! Sale Ends July 9th, 11:59pm PT