Adobe continues to address the needs of creators facing the explosive demand for video content with the latest release for Adobe Creative Cloud video applications. New features include Quick Export in Premiere Pro, optimized performance for AMD APUs, and expanded language support in Premiere Rush.
Adobe's commitment to enabling and accelerating creative workflows extends to upcoming features now in public Beta: Media Replacement in Motion Graphics templates adds new flexibility to graphics workflows between After Effects and Premiere Pro. Content-Aware Fill, powered by Adobe Sensei, will provide better results for objects with changing light conditions.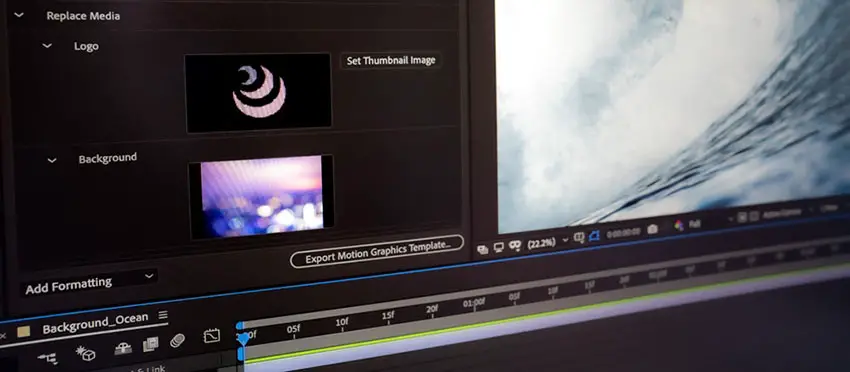 Available today
Quick Export for Premiere Pro allows editors to work more efficiently by providing direct access to popular and frequently used export settings, right from the header bar in Premiere Pro.
You can choose from the default high-quality H.264 output with matched Source Settings or select from a shortlist of H.264 presets that allow you to reduce the size of your export files.
Optimizations for AMD APUs provide up to 4 times faster rendering and smoother playback for 4K sequences thanks to improved memory usage. Users running Creative Cloud video applications on systems with AMD Ryzen™ Mobile and Desktop Processors with Radeon Graphics will see immediate improvements with this release. Learn more about our work on performance and stability.
Feature updates in Premiere Rush include thumbnails for each audio track in the built-in library of royalty-free sounds. These provide better visual cues, simplifying the workflow. New language support includes Dutch, Polish, Swedish, Turkish, and Traditional Chinese. Rush is now available in 15 languages, enabling storytellers around the world to create and share online videos. These updates are coming soon to Premiere Rush.
Now in Public Beta
Media Replacement in Motion Graphics templates will provide new options for graphics workflows across After Effects and Premiere Pro. Motion Graphics templates offer the best graphics toolset for video production, providing exceptional efficiency in editorial while maintaining visual and brand consistency. Motion Graphics templates can incorporate text, shapes, graphics files, and video.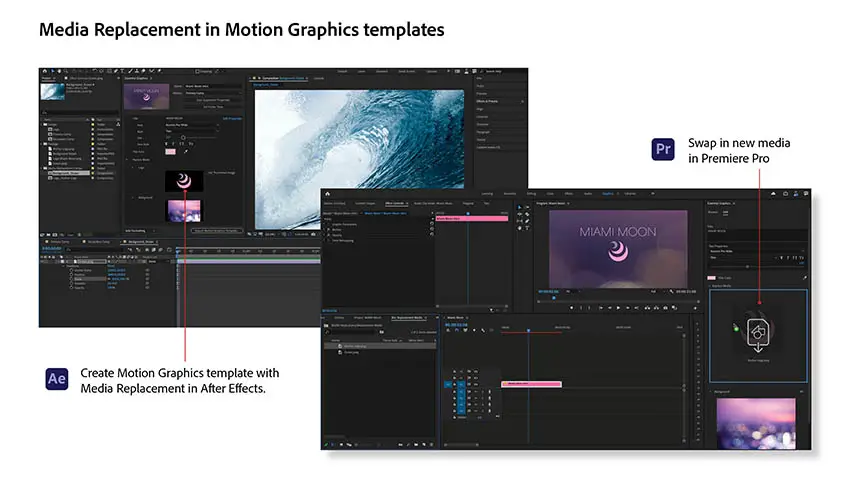 With the new Media Replacement functionality, users will be able to swap out media in the template. After Effects users who are authoring Motion Graphics templates can designate media within the templates as replaceable. Premiere Pro editors can drag and drop new graphics, like a company logo, or a new video, into the template, instantly customizing it.
The workflow will provide new efficiencies in versioning and localization and offer a new tool for templating elements within video projects.
Content-Aware Fill in After Effects will be better and faster by recognizing and adjusting for changes in lighting more accurately when removing objects from a scene. With less need for clean-up and faster results, users can work more efficiently when removing distractions or unwanted visuals, like branding, from their shots. In addition, output file sizes are greatly reduced, taking up less hard drive space.
Availability
Quick Export in Premiere Pro, optimizations for AMD APUs, and expanded language support in Premiere Rush are available today in the latest updates.
Media Replacement in Motion Graphics templates is included in the After Effects and Premiere Pro Betas and must be enabled by the user. Better Results with Content-Aware Fill is included in the After Effects Beta.
[source: Adobe]
Claim your copy of DAVINCI RESOLVE 16 - SIMPLIFIED COURSE with 50% off! Get Instant Access!