It seems that Adobe has been crushing it lately. For third month in a row, the company is releasing a plethora of new features and updates across Creative Cloud video and audio tools that enhance speed, flexibility and seamless collaboration so users can work faster and get more done.
Adobe has also spilled the beans on this year's Adobe MAX. Billed as the world's largest creativity conference, the event will be held October 26-28, 2021, and it will be once again virtual and free to all. If you want to sign up for the mailing list to receive updates referring to the event itself, use the following link. Meanwhile, let's find out what Adobe has its sleeve this time around.
Premiere Pro
There's a New Captions Workflow in Premiere Pro which offers a comprehensive toolset for quickly adding, customizing and stylizing captions and subtitles. The Captions workflows will be further accelerated by Speech to Text features later this year.
Along with the option of copying individual audio effects, users can now copy and paste complete audio effects racks between audio tracks.
After Effects
Real-time 3D Draft Preview in After Effects gives users immediate feedback on 3D designs in the Comp panel so they can make creative decisions faster and iterate on designs more easily.
3D Ground Plane, on the other hand, helps designers orient their designs in space, providing a horizon line, vanishing point, and grid with snapping for positioning and aligning objects with precision.
More Efficient Composition Toolbar in the latest version of After Effects is more logically organized and presents tools contextually, based on the current task.
Besides that, Multi-Frame Rendering provides up to 300% faster rendering when exporting compositions with multicore CPUs. Plus, a streamlined Render Queue now highlights the most important information to simplify the export process.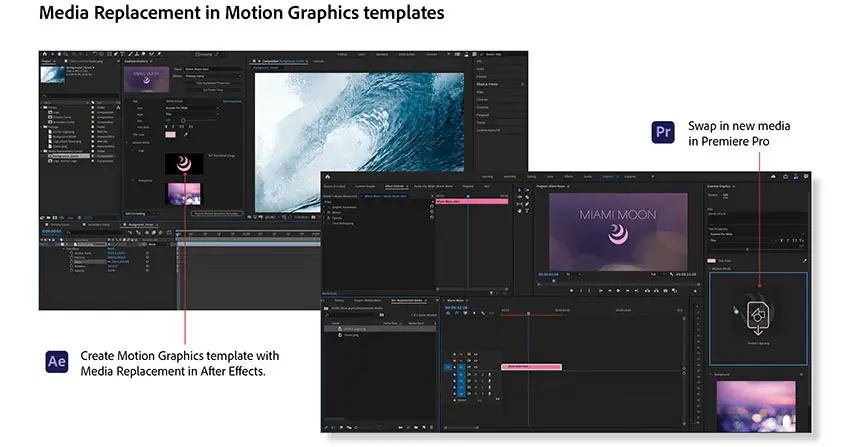 Last but not least, Media Replacement in Motion Graphics templates, enables creators to step up their personal brand, add stand out visual style to their videos and use templates to provide dynamic visual treatments, all without having to know After Effects.
Premiere Rush
There are 24 new color filter presets in Premiere Rush (desktop and mobile) which give users more creative options for adding visual impact to videos.
Character Animator
Content creators using Character Animator will find a new robust project file format for newly created or Saved-As projects that's faster and more compact as well as being more resilient to power loss and file-syncing conflicts.
Timeline snapping options, Snap to Frames and Snap to Objects let you control snapping to frame boundaries and other objects in the timeline. Other than that, Walk Behavior defaults on the Pin Feet When Standing option.
Adobe also highlights that there are dozens of new Motion Graphics templates with Media Replacement which are now available on Adobe Stock. Motion Graphics templates with Media Replacements make it easy for Premiere Pro user to incorporate their own video or graphics, such as logos.
Furthermore, the expanded format support of CC apps now includes the ability to import ARRI Alexa Mini footage in Premiere Pro, After Effects, and Media Encoder. Users will also benefit from the faster performance of Warp Stabilizer in Premiere Pro and After Effects with its optimized analysis which provides a 4x speed gain for reducing camera shake in UHD footage.
Additionally, Team Projects enhancements provide the ability to share changes to projects more quickly and search in projects twice as fast as before. To learn more about Adobe CC latest updates, head over to Adobe's website here.
[source: Adobe]
Claim your copy of DAVINCI RESOLVE 16 - SIMPLIFIED COURSE with 50% off! Get Instant Access!