GoPro announced the most powerful model of its Hero action camera lineup on September 16th in India – GoPro Hero 10. For the most part, such as the outward appearance and the support of HDR and 120FPS slow motion, the new action camera looks a lot like its excellent predecessor.
But that doesn't tell the whole story about the differences between GoPro Hero 10 and GoPro Hero 9. The newcomer gets a bump over the GoPro Hero 9 in many aspects, including the GP2 processor, the HyperSmooth 4.0 stabilization tech. These welcome enhancements offer GoPro Hero 10 the insane stabilization and the 4K 120FPS (5.3K 60FPS) video recording capacity. However, things can be a nightmare when it comes to editing GoPro Hero 10 videos by using the wrong video editing software.
The Problems You May Meet When Editing GoPro Hero 10 Videos
4K, 120FPS, and HDR 10 are the epitome of sharp and true-to-life picture quality. H.264 and HEVC codec ensures you can store these high-quality videos without filling up the storage space. However, a larger resolution refers to more pixels and more image details.
Unless we are using a professional 4K video editor, processing a large number of data of 4K, 5.3K, or other high-resolution GoPro videos is mean to crash the hardware and software. HDR and 120FPS are beyond the approach of most free and paid video editing software. Worse more, H.264 and HEVC are high compression codecs. It might use up the computer resources to decode, render, and encode these advanced codecs.
Therefore, many programs come up with a compromise solution: downgrade the video resolution and frame rate or transcode the video codec from HEVC and H.264 to ProRes or another editing-friendly codec before the edits. However, the problem is the downgrade and transcode process often come with visible quality loss. Is there a free video editor that lets users edit GoPro 4K HEVC, 120FPS, and HDR 10 videos smoothly without sacrificing picture quality?
Spoiler alert: the answer is absolute! VideoProc Vlogger – a completely free professional-level editing software developed by Digiarty, can edit 4K HDR videos recorded by GoPro Hero series cameras, DJI, iPhone, and other devices without ruining the picture quality or slowing down the computer. Frankly speaking, it's the best free editing software for GoPro Hero 10 by a long shot.
Create Video with VideoProc Vlogger, Win GoPro Hero 10
Use VideoProc Vlogger to polish your GoPro or any other footage, win incredible prizes like GoPro Hero 10, GoPro 3-Way 2.0 grip arm tripod, SanDisk Extreme 64GB microSDXC, and Camera Microphone.
Learn more about the details >>

Why Is VideoProc Vlogger the Best Free Editing Software for GoPro Hero 10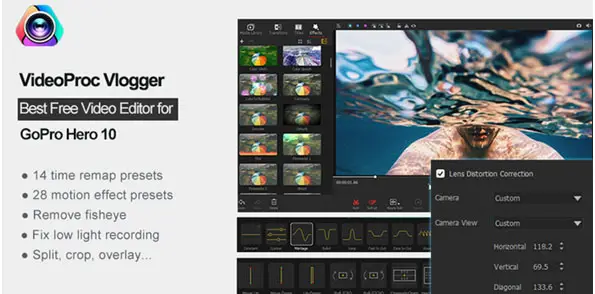 1. It Is Optimized for Editing GoPro Hero 10/9/8/7 Videos
VideoProc Vlogger can handle the edit of 4K, HDR 10, HEVCGoPro video without requiring you to downgrade the resolution or change the codec.
The process of editing and exporting 120FPS and 60FPS videos is easy as a breeze. And it does not stop here. VideoProc Vlogger adds the support of the high-quality engine and adopts the intelligent image-scaling algorithm and the latest x265 video compression algorithm to make sure you can save the GoPro videos after edits with smaller size and better picture quality.
2. It's a Feature-Rich Video Editor for GoPro Hero 10
An array of video editing toolkits, ranging from the standard tools like split and crop to the advanced tool like picture-in-picture and color correction, makes it easily rival the professional and paid video editors. One of VideoProc Vlogger's defining features is its advanced speed editor, allowing users to change the GoPro Hero 10 video speed over time without sudden jumps by using the Bezier curve.
The motion editor is another killer feature of VideoProc Vlogger. It lets you add keyframes to control the video states (including the position, size, rotate, and other parameters) at different times and decide the ways the video change between different states.
The support of the frame-by-frame edit and real-time preview can help you breeze through the editing process. In addition, it allows you to add 999+ timeline tracks, so you can easily add GoPro videos with favorite songs, text, pictures, and video overlays. Below I list some special features for editing GoPro videos.
1) Remove GoPro Lens Distortion. Select the related camera model (GoPro Here 9/8/7/6/5/4/3) to fix the GoPro fisheye distortion in one click.
2) VideoProc Vlogger allows you to choose the preset aspect ratio, such as 1:1, 16:9, and 4:3 or custom a length and width ratio to reframe GoPro footage for Instagram, TikTok, YouTube, Pinterest, Facebook, and other social media platforms. The support of keyframes gives it the capacity to do a video crop and make the camera follow a moving object.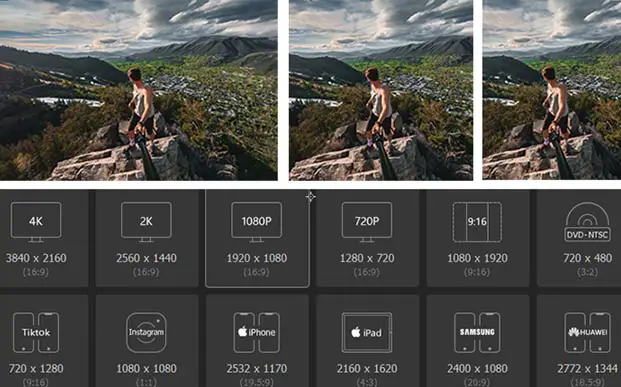 3) Don't want the surrounding noise to ruin your GoPro video? Try out the powerful audio editor of VideoProc Vlogger. It comes with a powerful equalizer that lets you apply the adjustments to the frequencies that has the most noise in the GoPro video for getting rid of the wind noise or other disturbing background noise.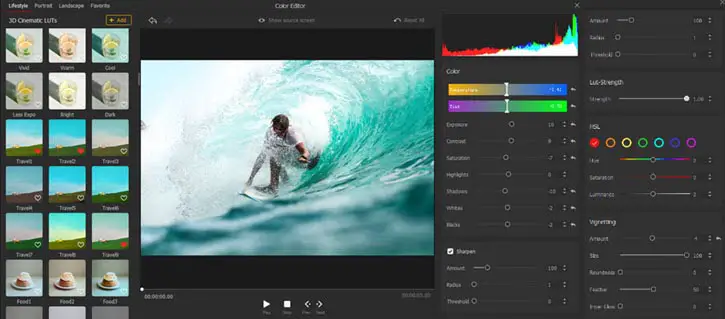 4) Not all GoPro videos are recorded with good lighting. There are bound to be some scenarios where you need to apply some adjustments to the video color. That's what the built-in color editor of VideoProc Vlogger is made for.
The 90+ stylish 3D LUTs and a wide range of customizable options allow you to color grade the GoPro videos like a pro. It can make your life easier whether you need to fix a GoPro video that is too dark, too light, or add a little bit cinematic touch to the original video, or whatever else.
3. It's the Easiest Editing Software for GoPro Hero 10
VideoProc Vlogger has a self-explained UI. It removes the intricate options that might tangle you into knots. Every click or action you take has a visible and direct result, whether you are correcting the video color, creating a speed ramp, making the cinematic transition, or doing whatever else.
Even better, it preset plenty of transitions, subtitle templates, 3D LUTs effects as well as 14 variable speed change effects, and 16 advance motion effects. This means you can add cool transitions, animated texts, smooth slow-motion/timelapse/time remapping, camera movements, and tons of eye-catching effects within a simple click of your mouse to take your GoPro to the next level. Users of any level can make the wildest imagination come to life with minimum effort.
4. It's the Fastest Editing Software for GoPro Hero 10
VideoProc Vlogger can smoothly edit and render 4K UHD videos on less-robust machines. The export process is also speedy. It usually takes only several minutes to export one hour of the finished 4K GoPro video. How did VideoProc Vlogger make it?CPU has only a few cores. And it carries out processes one at any given time.
As a result, when processing 4K videos or even HD videos that come with a sheer number of visual elements, the CPU usage often blasts up to 95% and slows down the machine. However, GPU has thousands of cores and supports massive parallelism. Most importantly, it can execute multiple tasks at a time. These make GPU can process data several orders of magnitude faster than a CPU.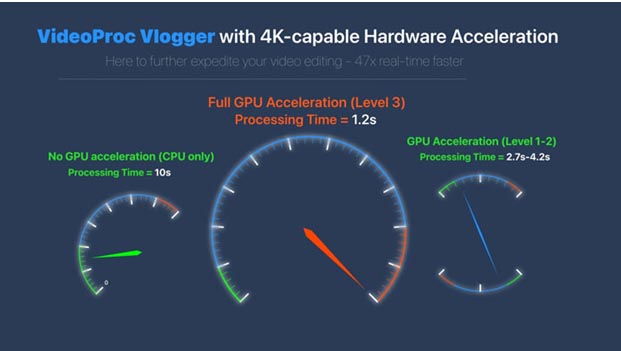 VideoProc Vlogger can make full use of the dedicated GPU for large videos. In this way, it can greatly relieve the burden of the CPU, reduce the video processing time, and make the video editing no more CPU resource-intensive work.
[source: Digiarty]
Disclaimer: As an Amazon Associate partner and participant in B&H and Adorama Affiliate programmes, we earn a small comission from each purchase made through the affiliate links listed above at no additional cost to you.
Claim your copy of DAVINCI RESOLVE - SIMPLIFIED COURSE with 50% off! Get Instant Access!