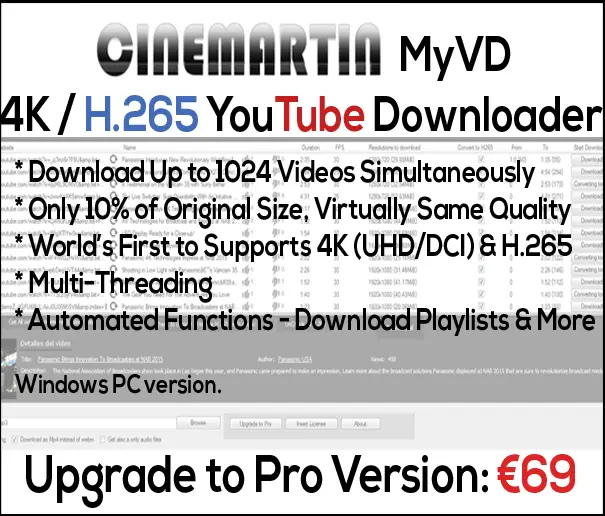 Cinemartin MyVD is the next generation YouTube downloader for the 4K generation! Giving you unprecedented H.265 support and resolutions up to an and including Ultra HD (3840 x 2160) and 4K DCI (4096 x 2160) saving you between 60-90% files sizes and the ability to download 1,000+ files simultaneously, Cinemartin MyVD is will take your YouTube experience to the next level.
About Cinemartin:
A Spanish team producers of the popular Prores and HEVC H.265 standalone & plugin video converters, the professional video denoiser software among other cinematography tools, and devices including the universal 15mm baseplate, the world first 4K video recorder computer (NEXT) and the Blu-Ray Disc converter supporting backup with decrypt-lock bypass. Cinemartin MyVD (My Video Downloader), is their latest development – a new YouTube video downloader, being the unique to bring download videos at up to 4K (bypassing common youtube downloaders 720P limitation), with clipboard detection, automated functions (to load all clips from all open browser tabs or to load all clips from a youtube playlist), HEVC H.265 to provide all videos in a size of between 40% and 10% of original YouTube format size, at same quality, with multi-batch processing (load multiple videos at multiple resolutions) plus being the world first to introduce multi-threading, allowing simultaneous downloads and conversions.
Upgrade to Pro Version: €69 Euros 
Promotional Price! Limited Time Offer!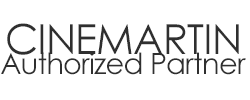 Cinemartin MyVD Features
4K and UltraHD Support
Currently most youtube video downloader out there are limited to max 720p (1280×720 resolution), there are only 1 or 2 supporting 4K, MyVD supports both 4K (UHD and DCI)
H.265
MyVD is the world first app to allow users to download the videos in both original youtube format as well as new H.265
Featured H265 is able to encode videos to between a 10% and a 40% of its size with same or best quality. Say from 100MB to 30MB, from 520MB to 140MB
Multi-Batch Processing
Inheriting the batch processing functionality of world most used transcode professional app (Cinec), MyVD features the ability to load/import ready to download, up to 1024 videos in a grid, each supporting different resolutions, so 1024*nResolutions.
Multi-Threading
This feature allows multiple videos to be retrieved, downloaded and converted at the same time.
Other great features
Automated functions, partially downloads, clipboard detection,
Download the FREE version from Cinemartin here.
Upgrade to the Pro Version to unlock H.265 and multi-threading at a Special Promo Price of €69 (around $78 / £55) by clicking the button below. Limited Time Offer!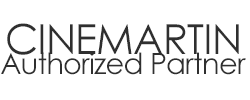 After payment, you will see a page with instructions and receive an email with your Pro license code after verification, which can take up to 2 hours. For Support, please contact Cinemartin at [email protected].