Broadcast TV content in the UK might just become better very soon. The DVB Steering Board, the body governing UHD TV standards, recently approved Phase 1 specifications for Ultra HD TV content delivery in Europe.
According to the new standard for Ultra HD TV transmission allows for a 3840x2160p resolution at 60Hz in 10bit colour space up to 60fps.
This ultimately means much more vivid colours, due to the increased colour depth and increase in detail and sharpness. In general, in an 8bit colour space there are 256 shades of colour, whereas in a 10bit colour space each colour is represented in 1024 shades, corresponding to a 4 x times increase in colour information represented on the screen.
The lack of standardisation for broadcasters was a major barrier to 4K TV content, and now with the newly approved first steps into the formal guidelines and rules for Ultra HD (4K TV) content, we'd have many TV stations jumping on the 4K bandwagon to be first to market and attempt to capture the initial audience for 4K TV content.
Moving from an 8bit colour spectrum, to a 10bit colour space is a major step forward to improving the home viewing experience. This is possible mainly due to the implementation of the new HEVC compression, which utilises a data compression rate close to double that of the previous HD standard MPEG-4/H.264. See the comparison below: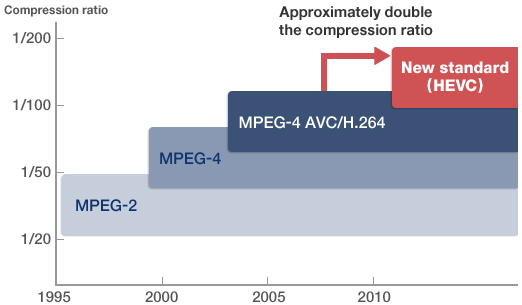 The increased number of pixels by nearly four times, as compared to MPEG-4 compression, makes for a double bandwidth requirement, which in this day and age, shouldn't be too difficult and/or expensive. And given the fact they're transmitting four times more detail in the date, however, due to the efficiency of the HEVC compression, this should place so much stress on the deliver channels.

According to Phil Laven, Chairman of the DVB Steering Board, the new HEVC compression will make Ultra HD broadcasting a reality for many countries. Phase 1 of the standard approval process is only the first step and will open the door for 4K TV content delivery. Phase 2 of the standardisation of the process, will focus on improving the quality of the UHD content delivery, higher frame rates, possibly up to 120fps, and HDR.
Now, this may all be great news for new 4K TV adopters, however, first generation 4K TV buyers will probably frown at the fact that the new implementation of HEVC is not compatible with the tuners in their first-gen 4K TVs. So, they will have to buy either a new generation of 4K television set, which supports HEVC, or an HEVC capable tuner set-top box. The particular compatibility details are yet to be confirmed, but chances are if you bought your 4K in prior to late 2013, you'd probably need to upgrade.
While European legislation may have the upper hand so far in standardisation procedures, South Korea have already beaten US and European counterparts, by announcing the world's first 4K TV channel – UMAX.
Launched earlier this year by leading South-Korean content-aggregator Homechoice, the channel is available for free to digital cable subscribers. This should come as no surprise, given South Korea's pedigree as a leader in consumer electronics with manufacturing giants such as Samsung and LG.
The channel started broadcasting on April 2014, offers around 40 hours of original programs such as documentaries, concerts and animation. The 4K channel is expected to be available at no additional charge at least for the duration of the year.
[via RedShark News]
Claim your copy of DAVINCI RESOLVE - SIMPLIFIED COURSE with 50% off! Get Instant Access!