As mentioned by BMD CEO Grant Petty a month ago, firmware update 1.8 (which we covered here on 4KShooters.net) was a to be a part of a much bigger update rollout planned for this Summer from Blackmagic Design.
Announced just a week ago, update 1.8.2 brought the much desired flavours of ProRes (422/LT/Proxy) to the current line-up consisting of the Pocket Cinema Camera, BMCC 2.5K, and the 4K BMPC.
And just now, Blackmagic Design released Camera Utility 1.9 for the 4K Blackmagic Production Camera, which includes:
Improved Sensor Calibration Processing (meaning improved FPN – fixed pattern noise – a known issue on some BMPC's)
Exposure Histogram
Audio metering indicators with peaking hold function
Recording time remaining indicator in hours and minutes. 
The newly added histogram, audio meters, and recording time remaining indicator, are vital tools for every filmmaker using the camera in any production environment. The new features are featured on a new "heads-up display" which is toggled via a swipe-up on the screen, and deactivated via swiping down with your finger.
The heads up display is transparent, so you can still see what you're shooting and it takes just a bit more than what the status bar used to take, which has now been moved to the top of the screen to accommodate the new additional features.
As explained in further detail by CEO Grant Petty below, these features have been in the works and were implemented because of the incredible demand and feedback from users (us included) who desperately needed them.
You can see the video directly on BMD's site here.
Download firmware update 1.9 for Mac OSX / Windows and if you have not installed new firmware on your Blackmagic camera before, please follow the installation instructions here.
Here are the main features of the 4K Blackmagic Production Camera:
Large high resolution 4K Super 35 mm sized sensor with superior handing of image detail.
Professional global shutter for smooth pans and image motion.
Wide 12 stops of dynamic range allows capture of increased details for feature film look.
Compatible with extremely high quality EF mount lenses.
Built in SSD recorder allows long duration recording onto solid state disks.
Open file formats compatible with popular NLE software, such as Apple ProRes and compressed CinemaDNG 12 bit RAW. No custom file formats.
Features all standard connections, including jack mic/line audio in, 6G-SDI output for monitoring with camera status graphic overlay, headphone mini jack, Thunderbolt, LANC remote control and standard DC 12 power connection.
Built in touch screen LCD for camera settings and metadata entry compatible with popular video editing software including Final Cut Pro X.
Supports Ultra HD and 1080HD resolution capture in 23.98, 24, 25, 29.97 and 30 fps.
Includes UltraScope software for live scopes via the built in Thunderbolt connection.
Includes DaVinci Resolve color grading software.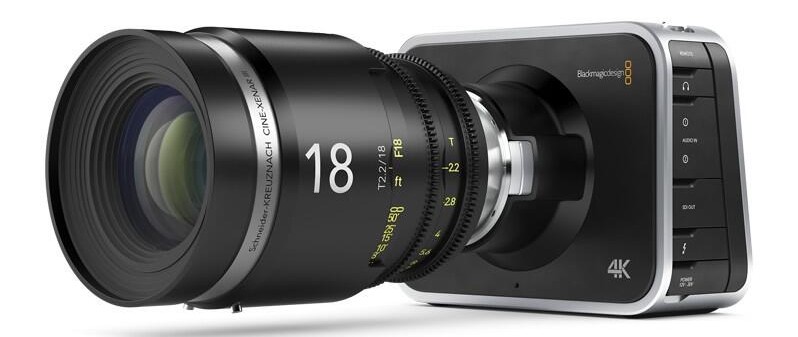 Read up on the official press release below:
Fremont, CA – July 24, 2014 – Blackmagic Design today announced the immediate availability of Camera 1.9 software which includes new "heads up display" on screen metering that provides customers with histogram, peak audio meters and recording time remaining for the Blackmagic Production Camera 4K.

Camera 1.9 update is available now free of charge from the Blackmagic Design website.

Using these additional displays for the Blackmagic Production Camera 4K means that customers can easily and quickly check important camera settings such as exposure, audio level and the remaining space on their recording disk.

Using the histogram scope, customers can now easily and rapidly set exposure in a shot as the histogram shows the the distribution of luminance in their images and if highlights or shadows are being clipped. Images with clipped highlights or shadows make it much harder to color grade the shots in post production, so having the histogram feature helps DOP's shoot with confidence. The histogram scope is real time so highlights and shadows can be adjusted interactively with the lens setting, ensuring images are not clipped and maximum detail in tonal ranges is preserved, critically important for allowing colorists to create amazing grading effects in post production using the full contrast range of the camera.

Camera 1.9 software update also includes a new audio metering with peak hold feature to allow setting audio levels for Channels 1 and 2 when using the built in microphone as well as externally connected audio sources. The audio meters make it fast to view audio levels and adjust camera audio gain so that audio is not clipped or distorted.

The new heads up display also includes a recording time remaining indicator that shows remaining space on the recording disk. The time remaining indicator is automatically re-calibrated to ensure an accurate time remaining value if the either the frame rate or codec are changed, and displays red when the disk is getting full.

This update is available to our Blackmagic Production Camera 4K customers free of charge. Customers can download this update now and install it onto their camera from either Mac or Windows computers using a simple USB cable connection to the camera. Once the update is complete, customers can view the new on screen menus by simply swiping their finger up from the bottom of the capacitative touch screen.

This new heads up display will be released for other models of Blackmagic Design cameras over the coming weeks, so an even wider range of Blackmagic Design camera customers can get the benefits of this new display.

"We are extremely excited that we have been able to provide yet another release for our camera customers ," said Grant Petty, CEO of Blackmagic Design. "Having this new heads up display with on screen scopes will enable film makers to shoot the most amazing images with confidence that they will get incredible results in post production!"
Lots of great stuff came down from Blackmagic these last few weeks, not just this and the previous firmware updates, but also the Pocket Cinema Camera 50% Price Drop.
The summer discount on the BMPCC was originally supposed to have last until the 31st August 2014, however we learned today that BMD prematurely pulled the plug on the promotion and officially ended the deal by reverting the official retail pricing back to $995 / £635 earlier yesterday morning.

The price drop made the already mega-low-priced ProRes/Raw capable Super 16mm digital camera, impossible to resist for many shooters, who had previously not owned a BMD camera or simply wanted a 2nd or even a 3rd BMD camera. This resulted in the Pocket Camera selling like crazy with most, if not all dealers, selling their BMPCC stock in a matter of hours of the price drop announcement.
The build up of a heavy back-order was imminent due to the insane demand, and quite possibly, BMD ended the promotion early in order to prevent another delivery fiasco as the original delays associated with the Pocket Cinema Camera deliveries when it first came out. That's just my take on things.
So, I hope most of you had gotten their orders in time to take advantage of the promotional price, if not, there's plenty of options out there, maybe not for $495, but even at $995, the Pocket Cinema Camera is still a steal. It gives you ProRes and raw in the palm of your hand for the price of a low-end H.264 DSLR. What more can you want?
[via Blackmagic Design]
Disclaimer: As an Amazon Associate partner and participant in B&H and Adorama Affiliate programmes, we earn a small comission from each purchase made through the affiliate links listed above at no additional cost to you.
Claim your copy of DAVINCI RESOLVE - SIMPLIFIED COURSE with 50% off! Get Instant Access!