Last Friday, (a very lucky) part of our team were invited by Visual Impact to see a rare Demo presentation of the upcoming Panasonic 4K VariCam 35 and the VariCam HS at their Teddington base in southwest London.
The long-awaited and upcoming 4K flagship was just as impressive to see live, as it was on the spec sheet we were given.
Boasting a modular design, a plethora of professional features (more on which a bit later), robust I/O connectivity, and versatile workflow, the 4K VariCam 35 is clearly geared towards (mid-to-large scale) professional feature film productions, TV dramas, high-end commercials and high-end broadcast programmes where image quality is paramount.
Back in 2012 at NAB, Panasonic teased the new VariCam, as just a concept/prototype. Then they showed the prototype in a glass casing, through which the modular design could spotted. Not much of the specifics we now know, was known back then.
Seeing it live for the first time just two days ago, the working production model, which Panasonic demoed in front of us, has grown in both bulk (a bit) and (quite a lot) in features since the glass-encased prototype they showed at NAB more than 2 years ago. See photo of the NAB 2012 prototype of the 4K VariCam below.
Here's a few quick snaps of the rigged Production model of the 4K Varicam 35 from the Panasonic Demo at Visual Impact and the brochure/spec sheet below.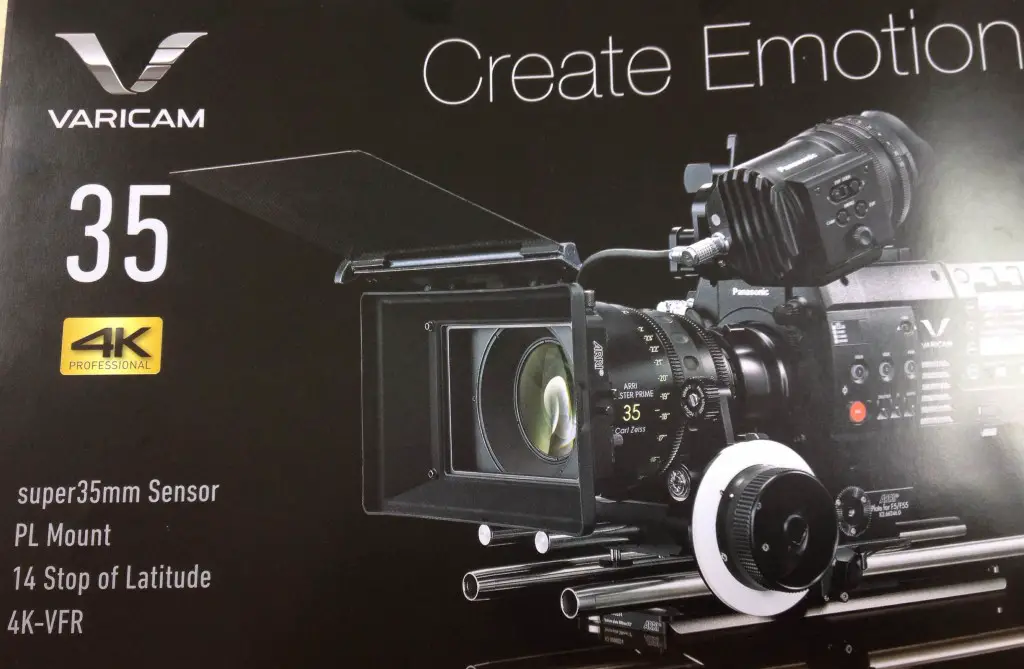 The camera comes in two configurations, a 4K Varicam 35 Camera module, and a "high-speed" HS 2/3 type HD module, which features a newly developed 2/3 type 3MOS sensor for using 2/3 type inch HD lenses.
Both camera modules (can be considered "camera heads") connect to the same recording module as on the picture below.
The Panasonic 4K VariCam 35 Key Features:
Brand new, Panasonic in-house developed 4K Super 35mm CMOS Sensor
4K DCI & UHD VFR – variable frame rates up to 120fps in-camera
PL Mount – steel, robust mount
14 Stops of Dynamic range – Native ISO at 800
Stainless steel, heat-resistant Sensor Housing
Solid metal construction to withstand the demands of field work
Modular Design – camera module can be separated from recording module up to 30 feet via cable
4K Raw External Recorder from Codex – snaps on the back, records 4K raw up to 60fps.
4K internal recording on AVC-ULTRA 4K codec in 400mbps
2K/HD recording in AVC-Intra Class 100 and 200
V-Log cine gamma
Apple ProRes 422 HQ in-camera in addition to AVC-Intra/UTRA 4K
In-camera LUT support
Dual Recording System – Main and Sub
Main recording onto expressP2 cards x 2 bays for 4K/UHD or P2 cards for 2K/1080p recording
Sub recording onto microP2 cards x 2 bays for HD/Proxy recording
Detachable Monitor interface (via cable) for 1st AC
OLED Viewfinder (1280 x 720p) with optical zoom & diopter adjustment
Built-in ND filters (2, 4, 6 stops)
Quad HD-SDI out connections for 4K out,
External monitor, Time Code, GenLock SDI connections, in addition to a Viewfinder SDI connection.
The Panasonic VariCam 35 is a solid built, power-house of a camera. It carries the DNA of the beloved original Varicam from 2002, with variable frame rates support in 4K/2K and HD resolutions. It features a very robust and versatile internal recording capabilities such as simultaneous recording streams at different resolutions.

For example 4K (DCI or UHD) can be recorded on expressP2 cards, while recording in 2K/HD in addition to proxy can be recorded on the microP2 cards. This makes for a streamlined workflow and can be very useful in a fast-paced TV production environment, or for dailies/offline edit in a feature film production.
Panasonic worked together with Codex, who developed a dedicated 4K Raw external recorder, which attaches directly to the back of the recording module of the Varicam 35, and it can record 4K Raw in 12bit 4:4:4 up to 60fps. Pricing and availability on this recorder is yet to be determined.
The new VariCam is not a lightweight camera by any means (14+ lbs, or around 7 kg), but it needs to be this way, in order to meet the rigour of on-set production. It's metal shell and somewhat no-frills design feels as high-end digital cinema camera.
It has a dedicated button for almost every function imaginable. The Varicam 35 has a very "Alexa" looking-like monitor control interface, which can be detached, unlike that on the Alexa, making it a unique and seriously useful feature when tucked in tight spaces or on dolly's or jibs. In addition, the "camera module" can be separated from the recording module (same on both the 35 and HS Varicams) for use on cranes, jibs or dolly systems.
The impressive internal recording capabilities, matched by the industrial built quality, make for a serious contender to the (still not 4K) ARRI Alexa, which is probably the most popular camera for high-end cinema and TV production at the moment. The Varicam will definitely give the Red Epic, Sony F55, and even F65 a run for their money. But that last part is on everyone's mind. How much is this beast of a camera going to cost?
At the moment, Panasonic have not yet finalised pricing on both Varicams, but are expected to do so soon, as IBC is approaching fast and they will be at the show presenting their flagship digital cinema camera.
The Varicam 35 is expected to ship in the Fall (October at the earliest) with not all of the above features included. ProRes will most probably be added via firmware upgrade at a later point.
We're quite impressed with the build quality and feature set of the new VariCam 35. We've waiting for more than 2 years to finally see a working model, and we hope to see the camera make its production debut later in the year.
Panasonic have been working on this camera for a long time, and despite entering the 4K high-end digital cinema arena later than major competitors like Sony and Canon, the new Varicam 35 has the high-end, versatile, and unique features,  one would expect from a flagship camera, and will be very interesting to see it go up against the Sony PMW-F55/F65, the Canon C500, the Red Epic, and the Arri Alexa.
The 4K higher-end cinema camera arena is a very competitive segment, and we think that Panasonic have a very serious contender here in the face of the Varicam 35, but as with most things in the camera business, for most it will come down to the price. We just hope that Panasonic price this magnificent 4K specimen at a competitive price-point. Finally, we at 4KShooters.net, would like to thank Paul Brown at Visual Impact for inviting us to the presentation.
We didn't have enough time to do a video, so check out this NAB 2014 video on the Varicam 35 by Magnanimous Media below.
Claim your copy of DAVINCI RESOLVE - SIMPLIFIED COURSE with 50% off! Get Instant Access!