A high-resolution OLED Monitor with a full set of professional exposure & focus assist features, 4K Recorder and playback all-in-one. This is what the Odyssey 7Q by Convergent Design gives 4K shooters.
It's an excellent piece of gear especially for Sony FS700 users who want to record 4K raw and keep the maximum quality through the SDI output of their camera.
The Odyssey 7Q can support multiple high-frame rate formats from the Sony FS700. Frame rates up to 240fps in 2K raw in continuous recording and 4K RAW in short bursts of up to 120fps are possible (4K raw/60fps continuous). Both are available for immediate review in slow motion playback directly on the monitor.
The video below features a review of the Odyssey7Q produced by Jonathon Shaw who will share his experience and the workflow with FS 700 and the Odyssey7Q.
It is always better to test the gear before you buy it or simply don't make conclusions on the specs sheet only. However, even in those terms, Odyssey7Q is still quite impressive though.
It features a 1280 x 800 7.7″ OLED display with pure blacks and accurate colours. It features advanced image analysis tools such as Waveform, Histogram, False Colour mode, 3-way Focus Assist and a Pixel Zoom with finger drag. The Odyssey7Q also features Monitoring LUT correction for all of the popular cameras with Log video output.
Odyssey 7Q Full Specifications:
Display
7.7″ OLED (19.5 cm)
1280 x 800 resolution
3400:1 contrast ratio, true blacks
RGB 8-bit color depth
176° viewing angle
Video Connections
2x 3G/HD/SD-SDI, single/dual link inputs
2x 3G/HD/SD-SDI, single/dual link outputs
2x 3G/HD/SD-SDI, single/dual link assignable as inputs or outputs via menu1x HDMI mini input
1x HDMI mini output
Included Codecs
Apple ProRes 422 HQ (up to 1080p30)
Video Formats
SDI:
For recorder options —
HD/2K RGB 444 8/10/12-bit up to 60p/60psf
HD/2K YCC 422 8/10-bit up to 120p, QHD/4K 422 up to 30fps
ARRIRAW (16:9) 12-bit up to 60fps, ARRIRAW (4:3) 12-bit up to 48fps
Canon Raw QHD/4K 10-bit up to 60fpsHDMI:
Up to 1080p60 4:2:2 8-bit
Digital Audio
2-channel embedded audio (48 kHz, 24-bit)
Analog Audio
Mono speaker
3.5 mm headphone output
Mono unbalanced consumer input
LUT Support
ARRI, Canon, Sony
Recording Media Support
Odyssey7Q requires Convergent Design 2.5″ SSDs for optional recording
Remote Control
RS-232 I/O, programmable GPIO
Timecode
LTC I/O (BNC) or embedded SDI/HDMI TC
User Interface
Capacitive touchscreen, two mechanical function keys
Material
Cast-magnesium case
Firmware Updates
Via USB port to host computer
Power Input
10 to 34 VDC with built-in reverse polarity protection; built-in power switch
Power Dissipation
8 W (monitor only), 8-15 W (monitor and record mode)
Operating Temperature
14 to 104°F (-10 to 40°C)
Storage Temperature
-4 to 128°F (-20 to 70°C)
Dimensions
Measured from end of BNC to SSD tabs:
7.9 x 6.1 x 1″ (20 x 15.5 x 2.5 cm)
Weight
1.2 lb (.54 kg)
According to Jonathon Shaw the monitor of the Odyssey7Q is the most accurate he has ever seen. He had used the recorder for more than 6 months and has never experienced a single drop frame during recording, no corrupted files or any other technical issues which makes the Odyssey 7Q a very reliable professional tool.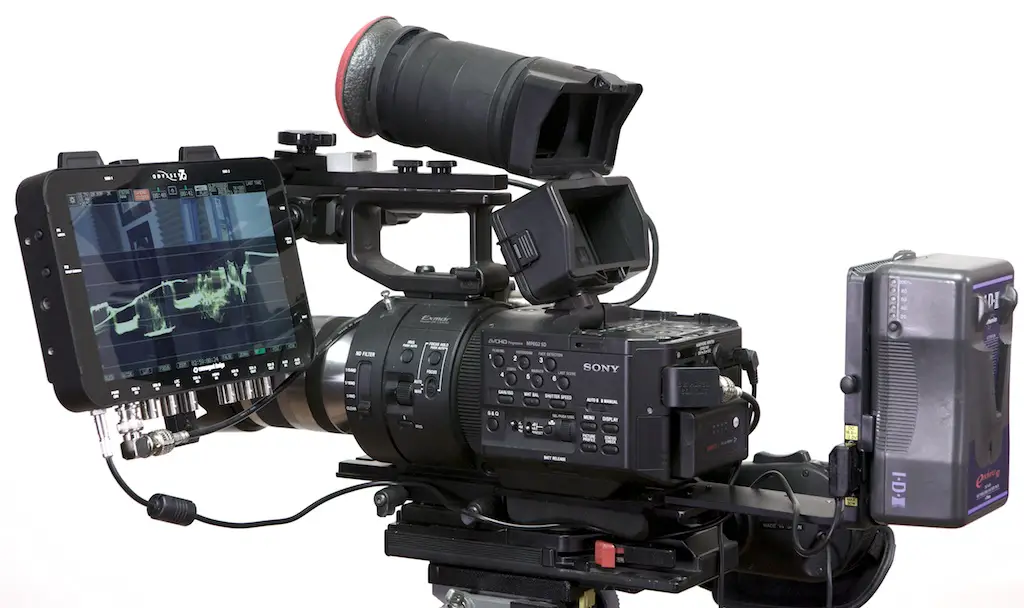 As a recorder, the Odyssey 7Q captures multiple signals and formats reliably to two (Convergent Design) SSDs. One of the drawbacks though, that Jonathon mentions in his review is the necessity of using both cards in order to be able to record any video signal on the Odyssey 7Q. It records RAW to both SSDs as a sequence of 12-bit Cinema DNG files and a single audio .wav file in a separate folder for each clip.
Those are  the record times in minutes in the different format supported on the Odyssey7Q.

Another downside we found here is that in order to have all supported recording formats on the Odyssey7Q the users should pay an extra cost for each codec. However, you can pay less for a limited period of time which is better than paying all that extra cost for all options.
There is also a discussion whether Odyssey7Q would be able to record the 4K feed out of Sony A7s. Unfortunately, this is not possible, for now, at least.
This is what the Director of communications at Convergent Design Mitch Gross shared a month ago at dvxuser:
The current hardware does not support 4K over HDMI, or 108o/60p over HDMI. To support these means a hardware change. While we are working to determine the best solution and the fairest way to implement it for our clients, if it physically costs us money to do so then we cannot give it away for free.

The ultimate plan has not yet been decided, which is why it has not yet been announced.
We'll keep you updated on when the 4K via HDMI update will be released. Check out one of our previous articles for more details. Right now, The Convergent Design Odyssey 7Q retails at $2,295 in the US and around € 2,450 incl. VAT in Europe.
Claim your copy of DAVINCI RESOLVE - SIMPLIFIED COURSE with 50% off! Get Instant Access!