"Size matters"? It's not always true. IO Industries, a Canadian outfit, specialise in the production of cutting-edge small form-factor cameras for professional broadcast/cinema/video productions. Adding to their 2KSDI compact camera head, IO Industries announces their new "4KSDI" a 4K remote camera head designed to fit anywhere on a professional set.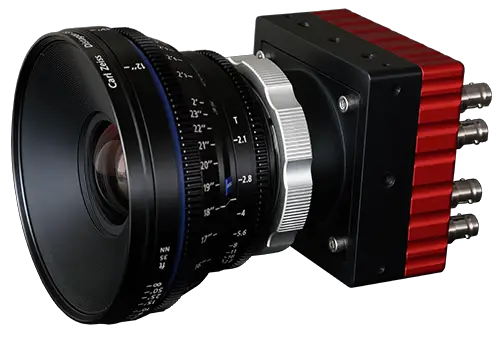 The 4KSDI sports a Super35 APS-C sized 4K sensor, with global shutter to eliminate rolling shutter artefacts, and OLPF (Optical Low-Pass Filter) to minimise aliasing and moire patterns. The tiny 4K camera head supports both DCI 4K (4096×2160) and Broadcast UHD (3840×2160) resolutions and features 4 x 3G HD-SDI outputs for connecting to various external devices such as external recorders, switchers or monitors for a 10-bit 4:2:2/RAW up to 60p or 10-bit 4:4:4 up to 30p.
The 4KSDI comes in a variety of mounts – Nikon, Canon EF, PL, all interchangeable. Control is via a RS485 protocol connection or a handheld remote control. Though pricing has not been released yet, expect it to not be priced in the GoPro territory. This camera is clearly aimed at higher-end productions, nonetheless it is quite impressive IO Industries have managed to pack a lot of horsepower in such a small package.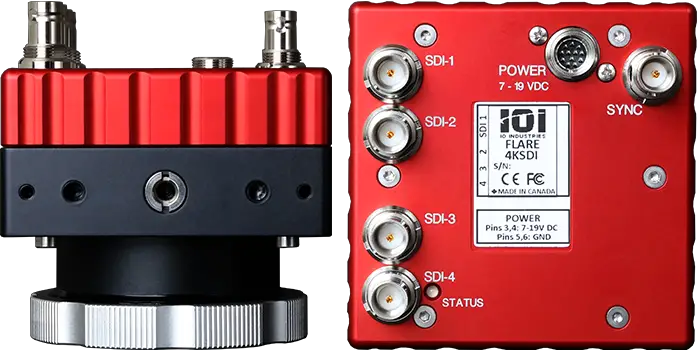 IO Industries have another remote cam – the 2KSDI – footage from which can be seen in their showreel below.
2KSDI Showreel 2013 from IOIndustries on Vimeo.

Production shots taken from the 2KSDI this year.
The 4KSDI can be used literally anywhere – from difficult to access areas, to crash/helmet-cams, underwater rigs, and unmanned areal systems. The 4KSDI should fit well with productions looking for optimal high resolutions and the flexibility of 4K Raw video, which can be easily intercut with high-end A-cam's whether they'd be Alexa's, Epics or F55's. The interchangeable mounts and Super35 global shutter CMOS sensor is a perfect combination for using high-end lenses for optimum results.
Those of you attending IBC 2014 in Amsterdam, head over to Hall 11, and check out IO Industries at Stand D67.
PRESS RELEASE
IO Industries Launches Compact 4K Camera at IBC 2014
London, ON, September 10, 2014 – IO Industries Inc. announces that their new 4KSDI camera will be shown at IBC 2014, in Hall 11, Stand D67. The 4KSDI is a single-piece 4K/UHD camera head with 3G/HD-SDI outputs for connection to separate recorders and monitors. It features a Super-35mm global shutter sensor, interchangeable lens mount, and multiple output formats to support various applications. Designed for use in professional broadcast and production environments, it also suits remote video applications with unmanned aerial or underwater vehicles.
The 4KSDI is the first 4K camera designed to get the tight shots in difficult locations that are otherwise impossible with larger camera systems. Despite its size, this small form factor camera delivers the same image quality demanded by professionals. Flexible lens mount options including PL, Nikon F and Canon EF, allow familiar lenses to be used, while an integrated Optical Low Pass Filter helps remove moiré artifacts.
With four 3G/HD-SDI outputs, connection to peripheral devices is made easy. Depending on the output format, either two or four cables are needed to connect the 4KSDI to a growing selection of 4K/UHD field recorders, monitors, and live production switchers. For multi-camera configurations, either stereoscopic or panoramic, precise camera synchronization is possible using a tri-level sync reference.
Features of the 4KSDI include:
• 4K global shutter CMOS sensor, APS-C / Super-35mm size (22.5mm x 11.88mm)
• DCI 4K 4096×2160 and UHD (3840×2160) output formats
• 10-bit 4:2:2/RAW up to 60p, 10-bit 4:4:4 up to 30p
• Multiple lens mount options (PL, Nikon F, Canon EF)
• Remote settings control with RS485 serial interface or handheld remote control and on-screen menu
• Tri-level sync input for multi-camera synchronization
• Small size: 90x90x60mm, approx. 730g (not including lens mount)
Visitors at IBC 2014 will have a chance to see this new camera on display for the first time, in Hall 11, Stand D67.

Claim your copy of DAVINCI RESOLVE - SIMPLIFIED COURSE with 50% off! Get Instant Access!