Nowadays, imaging and data transfer technology is progressing really fast. There is a great demand not only for inexpensive 4K cameras and work stations, but for accessible higher resolution monitors and displays as well.
Why do we really need to shoot in 4K if we can't monitor properly what we've actually shot?
The display connectivity protocols are essential for transferring faster data rates, however the ones that exist today are simply not powerful enough to support both higher resolutions and higher refresh rates at the same time. The only interface covering those requirements is the recently released DisplayPort 1.3.
DisplayPort is a digital display interface developed by the Video Electronics Standards Association (VESA). As rule of thumb, the interface is primarily used to connect a video sources to a display devices, though it can also be used to carry audio, USB, and other forms of data.
DisplayPort was designed by VESA to replace the older interfaces such as VGA, DVI, and FPD-Link etc. DisplayPort is backward compatible with VGA, DVI and HDMI through the use of adapter dongles. In the video below we'll see the differences among the standards briefly explained including the new features of DisplayPort 1.3 as well.


The latest version of the interface 1.3 increases overall transmission bandwidth to the impressive 32.4 Gbit/s which is a 50% increase from the previous version of the DisplayPort standard. This bandwidth allows for 5K displays (5120×2880 px) in RGB mode, and 8K television displays at either 7680×4320  or 8192×4320 pixels using 4:2:0 sub-sampling. Furthermore, DisplayPort 1.3 not only offers support for 4K resolutions at 120Hz, but can also be used to connect two 4K 60 Hz DisplayPort 1.3-enabled monitors.  The latest version 1.3 was released earlier this month.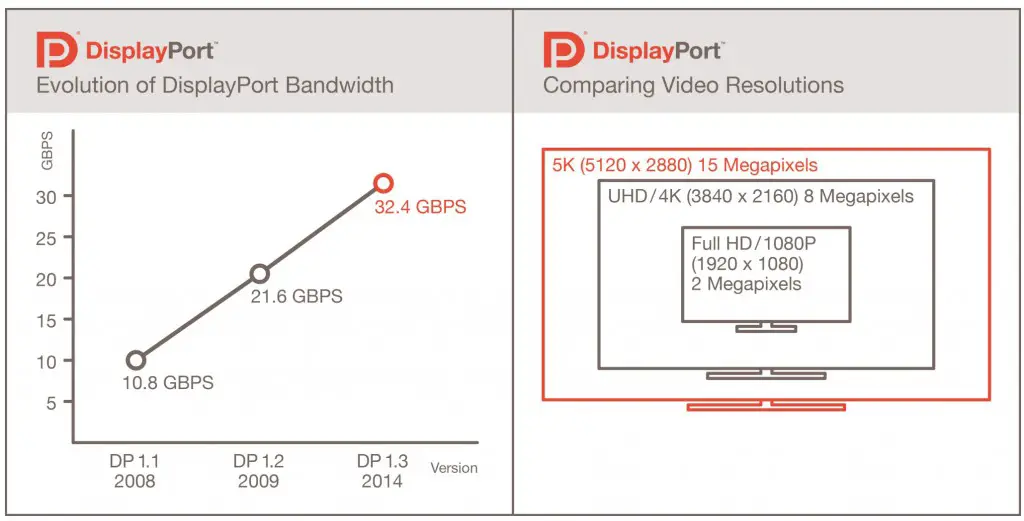 The new standard features HDMI 2.0 compatibility mode with HDCP 2.2 content protection. It also supports VESA Display Stream Compression, which uses a visually lossless low-latency algorithm, to offer increased resolutions and color depths, and reduced power consumption.
VESA has made the DisplayPort 1.3 standard available for free to all members of the association which means that we'll see the latest version of DisplayPort integrated into many consumer devices in the near future.
Apple is one the companies that has been rumored for some time to be working on Retina iMacs and displays, but connectivity bottlenecks have been one of the factors slowing progress in that area.
The previous DisplayPort 1.2a standard offered enough bandwidth to support 4K displays without compression, but pushing resolutions to 5K and beyond has presented difficulties for connectivity. With the new DisplayPort 1.3 standard, which will presumably be built into future Thunderbolt implementations, computer manufacturers such as Apple will be able to fully support the new high-resolution displays set to hit the market in the coming months.
All of those technical enhancements are extremely important for the development of the new technology and for the accelerated adoption of the higher resolution formats and growing demands of the filmmakers community in particular.
[via www.vesa.org]

Claim your copy of DAVINCI RESOLVE - SIMPLIFIED COURSE with 50% off! Get Instant Access!