Throughout the '60s and '70s, D.A. Pennebaker and his wife Chris Hegedus created some of the most prolific music films of the counterculture era, inspiring an untold amount of musicians and filmmakers alike.
They captured unforgettable performances from the likes of Otis Reading, Jimi Hendrix, Bob Dylan, Janice Joplin, David Bowie, and many more.
While the scenes and stories captured in the emulsion are what inspired most, something else inspired Peter Schnider and David A. Ford:
"The cleanliness of the footage in regards to motion and stability."

"I keep thinking of that great shot of Otis Redding in Monterey Pop captured by D. A. Pennebaker. As Otis rocks back and forth the spot light emerges from behind his sweat soaked head and blows out the frame, the shot is at once fluid and fixed, it has to be a pretty long lens but Pennebaker holds it steady. Even though our DSLR's capture a wonderful image they suck when it comes to ergonomics and the handheld rigs that are out there do little to help." – David A. Ford, in his Ergocine Blog
Otis Redding's Monterey Pop performance, shot by Pennebaker Hegedus:
Ford had been conceptually struggling to create a stability system for modern cameras that he was happy with, until he looked at his retired Aaton LTR 7 for inspiration. The classic "cat-on-the-shoulder" design created by Jean-Pierre Beauvala some 35 years prior was exactly what he needed to bring his first Ergocine system to life: the Lion R.
Conceptual Image of the Lion R System: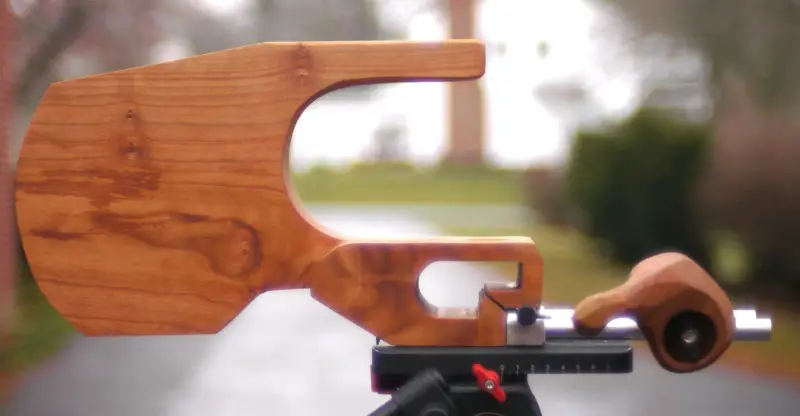 The concept images were sent to Beauvala, who approved so much of it that he asked the Lion R be labeled an "Honorary Shoulder Cat". Ford's design had the blessing of the man who inspired it.
Ergocine has been in operation for two years now, with two systems currently offered: the Flyweight package (aptly-named for it's smaller size and design for lighter systems), and the Lion R2, which has been applied to such cameras as the GH4 and 5D Mark III all the way to the Canon C300/C500, RED Epic and Sony F5/F55.
BlackMagic Cinema Camera mounted to a Lion R system:
Here are some more totally awesome rigs from Ergocine:
The Lion R and Flyweight systems are currently available for purchase and rental exclusively at http://www.ergocine.com.
Claim your copy of DAVINCI RESOLVE - SIMPLIFIED COURSE with 50% off! Get Instant Access!