Picking the right accessory for your personal gear kit could be a quite overwhelming task, simply because there are so many tools on the market these days. It's getting even harder to choose one after taking into consideration the budget constraints, availability, built-in quality, features provided and many other factors that could influence your final decision.
This is true, especially if you are a DP/cinematographer who is in the market for a new EVF as this is probably the most important and essential accessory in your kit (after the camera and the lenses, of course), so you should approach this decision-making situation wisely. Framing and exposing a scene could turn into a nightmare and be a quite frustrating experience if you pick the wrong tool, so this is another reason to be extremely cautious before you decide to go for one.
Recently, the UK-based cinematographer and filmmaker Den Lennie from F-Stop Academy was one of the first people to get hands on with the Zacuto's flag-ship Gratical HD Micro OLED EVF. We've already covered the tool. However, it is always good to have another opinion and look at things from a different perspective, especially when a particular tool is recommended by a professional as experienced as Den Lennie.
Zacuto Gratical HD Micro Oled EVF First Look from Den Lennie on Vimeo.
Den Lennie points out that the Gratical HD EVF is a genuine professional tool and it's not an entry-level device by any means. It's a sturdy and robust, and matches or outperforms the quality of many other high-end professional EVFs and can be used with any available camera on the market today. The Gratical  HD EVF provides impressive features such as an extremely sharp image and optimal field of view, a built-in -1 to +4 diopter range and the ability to monitor Zebra, Histogram, Waveform, Vectorscope, Battery Life and Audio Meter and other essential settings during shooting in the open area of the display without overlaying the actual video image.
The EVF also provides an LUT support which means that Gratical HD EVF users will be able to load and create Custom LUTs for better and more accurate viewing experience when shooting in S-Log. One can also adjust RGB, Saturation, Brightness and Contrast of the image independently within the EVF, which is also a great add-on feature.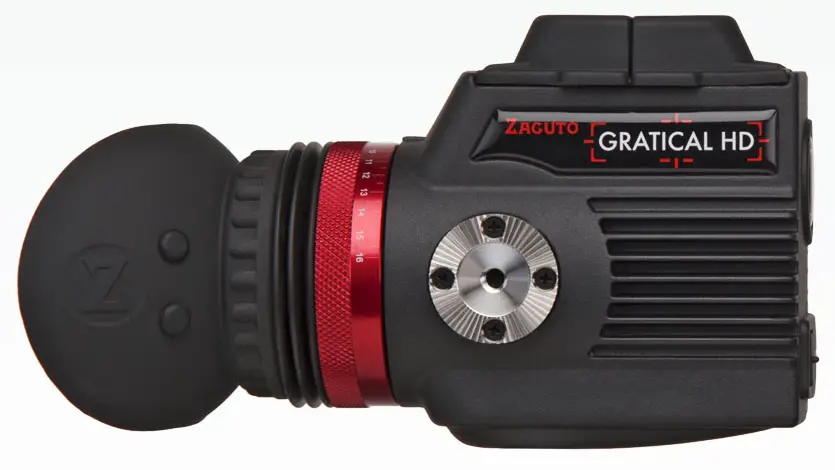 Here is a brief look at the main Gratical HD EVF features:
0.61″ OLED EVF
24-Bit RGB 1280 x 720 Resolution (Full display is 1280×1024)
HD-SDI & HDMI Loop-Through & Cross Convert
Zebra, Vectorscope, Waveform, Histogram
Peaking, False Color, Test Pattern
LUT Creation and Import
Audio Meters
Four Programmable Buttons
Built-In -1 to +4 Diopter Adjustment
ARRI Rosette & 1/4″-20 Mounting
Powers from Included LP-E6 Battery
The Gratical HD EVF also provided great Scaling custom options built-in as well as presets for existing cameras and DSLRs. The device could be easily updated with the latest firmware software available and is powered by a standard Canon LP-E6 battery, which is also a very nice feature. What makes this unit unique, though, along with the robust built-in quality, is the ability to customize fully it to fit your needs perfectly no matter what camera you use. In case you want to get the 1280 x 1024 Micro OLED EVF you still could pre-order it for $2,900 ($700 off of the original retail price) for the next couple of days, as the offer will end up on 15th of January.
The Gratical LT EVF, which is the budget version of the original one, will also be released some time later this year, probably for the half of the price of the HD model, which is still to be confirmed.
[via fstopacademy.com and www.noflmschool.com]
Claim your copy of DAVINCI RESOLVE - SIMPLIFIED COURSE with 50% off! Get Instant Access!