Samyang, makers of budget friendly photo and cine lenses, recently expanded their Cine lens line-up with their new Cine-DS line of cinema prime lenses with colour matched optics and uniform focus and iris gears however, the question begs – what is the difference between the Photo, Cine and new Cine-DS line of lenses? Mathew Ducloses did a fantastic write-up on his blog back in September on the Rokinon cine primes (Rokinon, Samyang, Bower – all same thing, just different brands the lenses are sold under) the gist of which you can read below and my thoughts on these budget lenses from my experience. For those just getting their feet wet into cinematography or for those who've been using modern electronic stills lenses, such as Canon EF, Nikon F or Sigma/Tamron equivalents, chances are you've been in situations where you've been pulling your hair out dealing with extremely short focus ring rotations without hard stops leaving you guessing where your focus mark etc.
This is where the Samyang/Rokinon Cine lenses come in handy. They are cheap enough to warrant a purchase for even those working on shoe-string budgets, and yet deliver features usually found on much higher spec and much higher price point Cine lenses from Zeiss for example.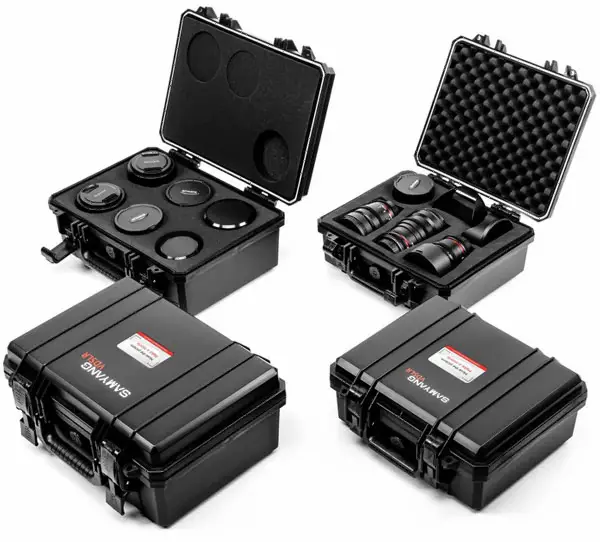 Originally, the Samyang/Rokinon Cine Primes were designed as manual focus photography lenses by a company called Samyang, then released under different brands like Samyang (EU/Asia), Bower (US), Rokinon (US), and others to accommodate different markets such as Europe, North America, Asia etc.
Due to their image quality and low cost, many cinematographers/filmmakers turned to adapting the orginal photo versions of the lenses them for cinema use, as they already had manual aperture rings – a feature long gone on modern electronic photo lenses from Canon, Nikon, Sigma etc.
Samyang eventually released redesigned versions of these lenses with permanent focus and iris gears as well as a click-less aperture movement for fluid aperture control in mid shot – all features found on professional cine lenses costing many times more than the Samyang/Rokinon equivalents.
The original Cine lenses from Samyang were 24mm, 35mm, and 85mm. Wider focal lengths followed such as the 16mm the 14mm and 8mm. You might have seen these lenses sold on ebay under the VDSLR range under the Rokinon/Bower/Samyang badges. It's worth to note that out of the wider lenses below 24mm, only the 14mm covers a full frame (24 x 36mm) sensor, with the 8mm, 10mm, 12mm, and 16mm covering up to Super35/APS-C sensors.
The 7.5mm T3.8 Fisheye is an exception as it is designed to cover only Micro Four Thirds sensors and smaller. See the table below for coverage of all lenses (except the 135mm, which was released afterwards, more on that lens below).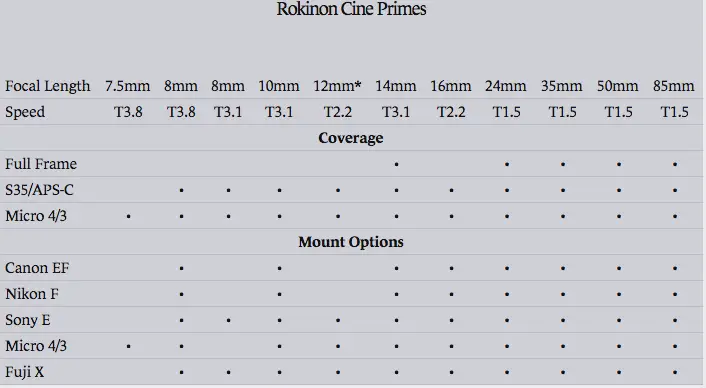 Image by: Matthew Duclos
In the Fall, Samyang released the much needed 50mm T1.5 lens enhancing their full frame prime set. And just earlier in January, Samyang announced a 135mm t2.2 full frame lens completing the 5 prime set and offering cinematographers and fillmmakers on a budget a powerful cine lens kit consisting of the most commonly used focal lengths in a standard cine prime set – 24, 35, 50, 85, and 135mm. Some would say that having a 100mm would be nice, and I agree – a 100mm f2.8 or T3.1 Macro would be immense – I own a 100mm f2.8L Macro Canon EF and it is just sublime.
For those using Super 35mm/APS-C sensor size cameras like the Sony FS7, the Metabones Speed Booster line of focal reducer optical adapters will bump up the FOV and allow you to achieve a depth of field of as you'd get from a full frame 35mm sensor.
Mathew Duclos, also points out an important trait of the The Rokinon Cine Primes – "they do really come into their own when used on a Super 35 format sensor due to the range of available focal lengths and mount options.

Also, considering the lenses that are designed for 35mm FF will really only be using the "sweet spot" of the produced image, shooting on a Super 35 format camera with these lenses makes so much sense.

If you're a Red owner and you're under the impression that there's some giant sensor under the scales of your Dragon, you're mistaken. Even Red's Dragon 6K sensor is just a tad larger than Super 35. So just about all of the Rokinon Cine Primes will work fine on a Red Dragon at full 6K."
Image by FilmBakery
For GH4/BMCC MFT or BMPCC shooters, it makes more sense to get the Rokinon wider cine lenses (10mm, 12mm, 16mm) and the 24mm, 35mm, and 50mm for a  nice set covering all standard focal lengths. However, it would be more beneficial to those shooters to get the lenses not in the native Micro Four Thirds mount, but either in a Nikon F or Canon EF mount, as this way they can be "speed boosted" for an additional stop of light and a more Super 35mm field of view from the camera.
It can be a bit counter-intuitive to do it this way, but the added sharpness, increased FOV and additional stop(s) of light boost, can offer significant benefits. More budget oriented filmmakers, who'd prefer not to use adapters, can of course go for the MFT native mounts, but this way the use of such lenses would be limited to only MFT mounted cameras.

Image by: Matthew Duclos
One quick note on the newest "Cine-DS" line that Mathew mentions in his blog, is that the DS stands for "Dual Scale" meaning there is a smart and dumb side scale for operating the lens from either side of the camera, instead of the top side position that the other versions offered. The focus and iris gear positions have been moved along the axis in order to maintain a consistent position from lens to lens assisting with lens swapping when the camera is rigged with a follow focus or lens motors.
Each of the Cine-DS lenses is carefully colour matched for a uniform look. The new DS-line Cine lenses from Samyang/Rokinon will gradually replace the existing Non-DS lenses throughout this year.
Either way, from my experience personally, I have grown quite fond of especially the 24mm and the 35mm Cine version of these lenses, as I've used them on a few jobs and found them to be solid and sharp. I am looking forward to trying out the new additions to the lineup in the face of the 50mm T1.5 and the newest 135mm T2.2.
[via Matthew Duclos]
Claim your copy of DAVINCI RESOLVE - SIMPLIFIED COURSE with 50% off! Get Instant Access!