Lately, I've been researching various brands offering LED lighting solutions to upgrade my existing predominantly tungsten based lighting kit. My tungsten kit consists of a couple of ARRI 650 Plus fresnels, and a 300w Arrilite (really old), and although I love them, they've been around for some ears and frankly I am tired of lugging them around all the time. I also have a 3 light kit from Ianiro (again good old tungsten 150's I used for interviews as rim and background lights as they ain't too harsh), but even with softboxes all my tungsten lights are adding a lot of bulk to my kit and heat on set.
I've experimented with some cheap LED's but never gotten satisfactory results. I do have a MicroPro LED on-camera light form Litepanels, which I've used for many years and I've used it on all my music videos and the feature film I directed last year. It's a small and versatile light that never leaves my kit bag. They're not perfect, but they do the job. I am not a huge fan of the fact that it requires 6 AA batteries and constantly recharging those can often be a rather boring, unnecessary, and frustrating experience, one which I'd like to avoid in the future.
I remember seeing a video from NAB a year or so ago so I decided to revisit the phosphor LED lighting options from CINEO.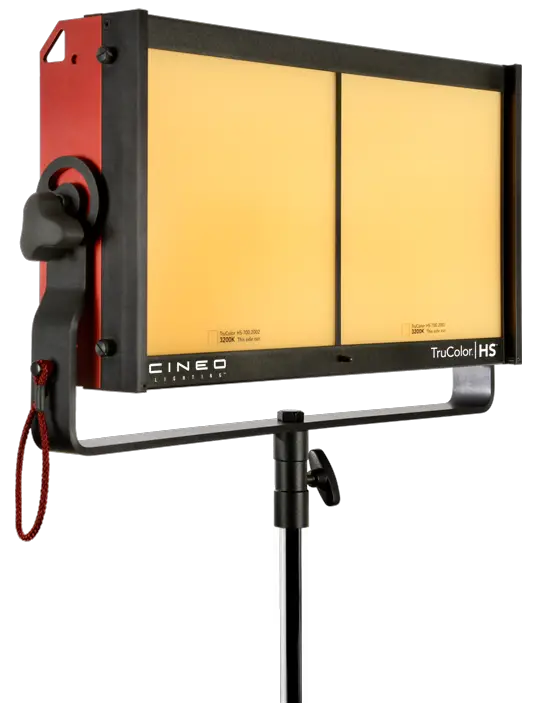 The TruColor® HS™ from Cineo Lighting (pictured above) is remote phosphor based LED light of high colour accuracy. It's an interesting light, very soft, and multiple shadows stemming from multiple LED diode units found in common LED 1×1's and other LED film lights are avoided here. It's quite a powerful light for its size – it produces more than twice the output of a 2K incandescent soft light, and has a high CRI of over 95, generates a 160-degree beam spread, and uses less than 500 watts of AC power.
Remote Phosphor Technology (RPT) eliminates the color-accuracy limitations inherent in LED fixtures. Instead of relying on LEDs as the source of illumination, TruColor HS' independent phosphor panels emit high-quality light when excited by the high-frequency wavelengths from blue LEDs.

The interchangeable phosphor panels allow you to achieve a variety of color temperatures with a single fixture. The CCT of the TruColor HS is extremely consistent fixture to fixture, and will not change over time like other lighting technologies.
Features
Color Rendering:
CRI 97 @ 2700K,
CRI 96 @ 3200K
CRI 96 @ 4300K
CRI 91 @ 5600K
CRI 93 @ 6500K
* Super Bright, Hyper Soft: Over 700 lx @ 3m with a 160° beam spread
* Dimmable: Local and DMX dimming from 20% to 100% with no color shift
* Flicker-Free: No flicker at any frame rate
* Passive Cooling: No fans, no noise
* Field Replaceable Components: Modular design for easy servicing
* Designed and manufactured in the USA.
The video below is a nice presentation of what Cineo LED lights can do.
Remote Phosphors from Cineo Lighting presented by Trisha Maas at DCS Lighting Event 5-31-14 at Hollywood Rentals from Digital Cinema Society on Vimeo.
You can read up more on remote phosphor LED technology here. The Cineo TruColor HS light might be out of my budget (over $4,000), but definitely something to think about long-term as phosphor LED technology I see as evolving and something to pay attention to as I slowly move away from using tungsten for key. The other light from CINEO Lighting that I am interested in is the little Matchstix – which can be used as an in-car light (I tend to use my MicroPro and other small LED's for that) laptop screen lights, and for any other situation where an inconspicuous light source is required. Music videos and narrative drama can benefit significantly, I've seen variations of similar lights used in some pretty tight spaces to give that extra fill or even key in certain instances – such as in-helmet lights for astronaut space suits or similar.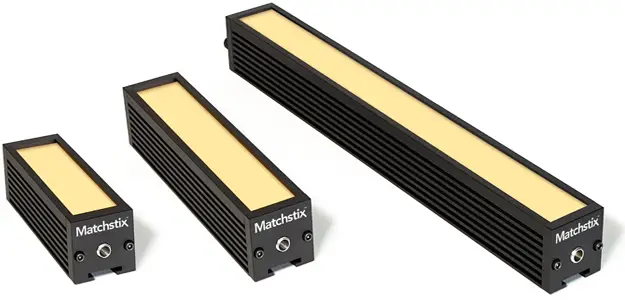 The Matchstix operate from any DC power source from 11.5 to 16 Volt DC, including many battery options – such as via D-tap from a V-lock style brick battery. Matchstix are optimized for flawless, flicker-free control with Litegear Litedimmers. Only 35mm wide, Matchstix are available in 3″, 6" and 12" lengths and are surprisingly bright for their size. The Matchstix are available in all Cineo color temperatures of 3200K, 4300K, and 5600K (via remote phosphor panels) and are colour match to all other Cineo soft lights.
Cineo Matchstix 12 inch version – $467
Cineo Matchstix 6 inch version – $299
Cineo Matchstix 3 inch version – $182
Claim your copy of DAVINCI RESOLVE - SIMPLIFIED COURSE with 50% off! Get Instant Access!