If there's one thing that I am not a huge fan of on the GoPro Hero4 (I just received my Hero4 Black) or any other GoPro I've had is that you can't really use it in low light situations. But honestly what more can I want from such a tiny and yet very capable camera provided you feed it enough light. The sensor is tiny, but that's the whole point of the GoPro, that its small enough to be mounted anywhere, while producing a good enough image for even Hollywood motion pictures.
No wonder it's the most popular camera on the planet. With the latest GoPro Hero4 Black we finally got usable 4K video at 30p and even more slow motion with the latest update. However, the inherent issue is that this camera needs plenty of light. If you flood the sensor with enough light, it will produce lovely images.
Unfortunately, in light deprived situations this is not possible you are stuck with heavily pixelated and noisy imagery. Thankfully, the folks at Light & Motion are working on resolving this issue. They are running a Kickstarter campaign to raise funds for a really versatile and useful tool for your GoPro – the Sidekick LED light.
What is Sidekick?
Sidekick is the perfect companion light for GoPro cameras. It is the smallest, lightest, most powerful light ever designed to mount with a GoPro.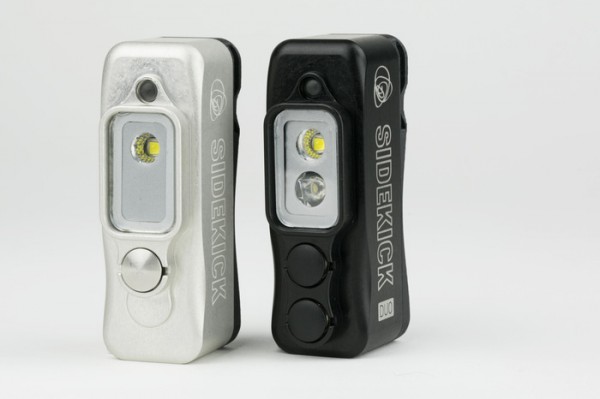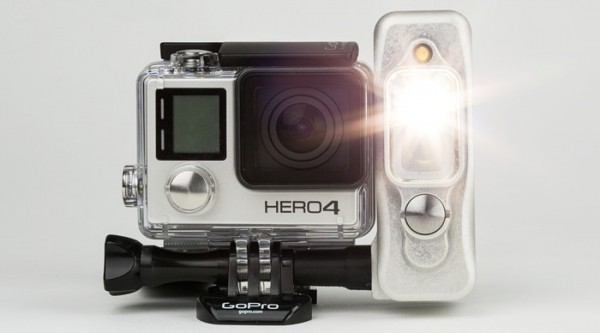 Here's more info on the Sidekick:
Sidekick is a companion light for GoPro cameras that provides a wide smooth 600 lumen beam to complement the camera in low light or backlit conditions where a strong fill light can make a huge difference in the quality of the images.
The key design drivers are light weight, powerful wide flood beam, and seamless mounting to allow Sidekick to go wherever a GoPro camera goes. To keep it lightweight, Sidekick uses Li-ion rechargeable battery delivering the best power to weight ratio and top of the line Cree XM-L U2 LED. In order to handle the wide range of environments the Sidekick is completely waterproof and can handle pressure up to 200 feet underwater. Charging is external so the user never needs to open or compromise the light's seal.
Variations on Sidekick include the addition of a spot beam for navigation on the Duo model and an accessory mount that allows the light to mount on top of the camera specifically for underwater imaging.
Features
Sidekick delivers a powerful 600-lumen flood beam for a full hour and is certified to the FL-1 standard.
Sidekick mounts next to the camera with a simple, secure, low-profile arm that works with all existing GoPro mounts.
The Sidekick Duo adds a 400-lumen spot beam that is great for navigation. The two-button control makes adjusting on the fly fast and easy.
The flood beam is super smooth and wide for capturing great images.
Sidekick is factory sealed and waterproof to 200 feet. You never need to open it. Charging is external with a slide-on USB adaptor.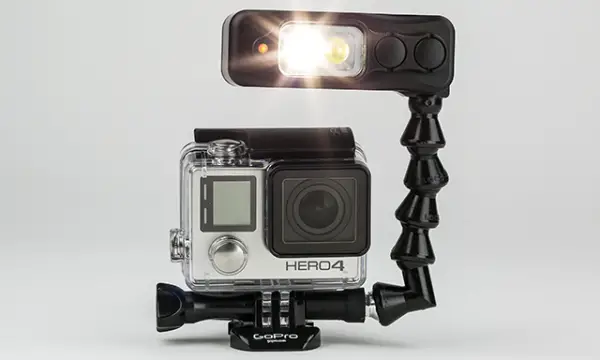 There aren't many dedicated lighting options for the GoPro cameras and this new LED offering from Light & Motion, might be just what I need. The neat thing about this light is that it's waterproof and it also offers a wide beam angle spread to accommodate the wide angle of view coming from the GoPro. I also like the mounting compatibility with basically all GoPro models via the standard GoPro mount.
To want to claim yours they start from $100 and up (special backer price) and you can do so by heading over to their Kickstarter campaign. You'd need to hurry up as the campaign ends in less than 30 hours.
Claim your copy of DAVINCI RESOLVE - SIMPLIFIED COURSE with 50% off! Get Instant Access!