Sony have jam-packed their latest Super 35 4K FS7 with so many features and functionality that it's getting difficult to keep track. Ever since its announcement at IBC 2014 in Amsterdam, we've known the camera will eventually get a free 4K DCI (4096 x 2160) recording option via a free firmware update in early 2015. Well, the time has come and as BVE 2015 in London is in full swing, Sony managed to announce firmware update 2.0 for the Sony PXW-FS7 and the XDCA-FS7 extension to be released in March 2015.
Firmware update 2.0 will also enable 4 channel 24-bit 48 KHz audio recording on the FS7, as well as address some major issues reported by users such as fixing the "magenta cast" issue in WB preset mode. The firmware update will also allow FS7 shooters to record ProRes HQ & 422 in 1080p internally on XQD cards (requires the XDCA-FS7 extension unit).
See all details of the upcoming firmware from Sony update below.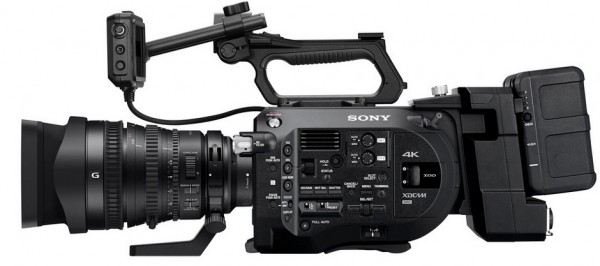 PXW-FS7 Firmware V2.0
Upgrade is free of charge and will be available March 2015
PXW-FS7 Firmware Update 2.0 Release Notes
New Features & Improvements:
Support for 4K (4096×2160) XAVC-I Recording
The FS7 now supports XAVC-I 4K (4096 x 2160) recording, a capability that opens up new possibilities not only for the production of documentaries and programs, but also for a wide range of professional applications. The corresponding frame rates and bit rates are listed below.

Support for ProRes Recording
The FS7 now supports ProRes recording* (ProRes 422 HQ and ProRes 422)**, providing an easy-to-use environment for those accustomed to the ProRes workflow. The corresponding frame rates are listed below.
* ProRes recording requires attachment of the optional XDCA-FS7 extension unit and a compatible optional power supply (BP-FL75 V-mount battery, etc.)
** This function does not support simultaneous recording, S&Q recording, Picture Cache Rec or other special shooting functions.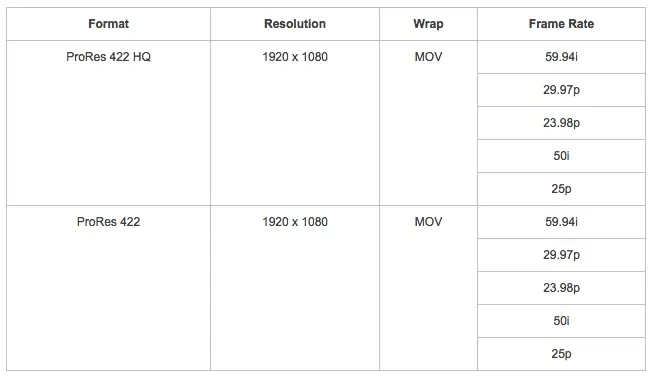 Support for 4-channel Audio Input and Recording
The FS7 supports 4-channel audio input. In applications such as an interview, this function enables the simultaneous use of an external microphone for recording ambient sounds, the built-in microphone for voice memos by the operator, and two optional UWP Series wireless microphones for voice of interviewer and interviewee.
In addition, the use of optional XLR adapter XLR-K1M or XLR-K2M provides additional 2 XLR inputs to further expand the range of possible applications.
The "4K ready" Sony PXW-X70 will be also getting a 4K firmware update, but it won't be free unfortunately. Sony did say the 4K firmware update for the X70 would be paid in early 2015, so no complaints here. Would have been nice to get it free, but this camera is cheap enough as it is, and it already does 10bit XAVC Long-GOP on board at very manageable 50Mb/s.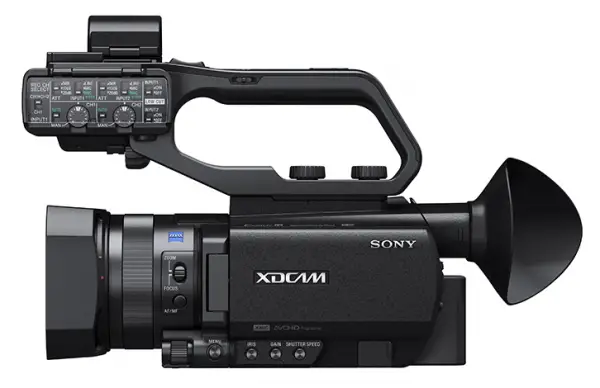 PXW-X70 Firmware V2.0
Upgrade includes chargeable element and will be available June 2015
New Features & Improvements:
Support for 4K (QFHD) Recording (optional)
This 4K recording update provides support for QFHD shooting at 30p/25p/24p, allowing the X70 to capture scenes with stunning quality and at high resolution*.
Furthermore, for projects finalized in HD, 4K recording greatly expands the creative possibilities by enabling digital panning, camera-shake correction and other post-production effects.
NOTE: 4K recording requires purchase of the 4K Upgrade License (CBKZ-X70FX).

*We are looking to support a higher bit-rate recording mode than 60 Mbps for 3840×2160 XAVC-L in the future.
Proxy Recording
Proxy recording supports the use of a low-bit-rate video file in place of an XAVC-format, high-bit-rate file with the same timecode. The low-bit-rate proxy file, being smaller in size, can be used in many ways to increase efficiency. For example, the smaller file can be more easily transmitted to remote locations, while editing is greatly facilitated by the use of the smaller file, which is replaced at the completion of editing with the high-bit-rate file).
FTP Transfer
This feature supports FTP file transfers on the PXW-X70, allowing content files recorded with the XAVC Proxy Recording feature, and other content files shot in XAVC (4K/HD) and AVCHD formats, to be sent via the Internet for remote storage on an FTP server).
Streaming
This feature allows images to be streamed live from the PXW-X70 for viewing at a remote location. Data transfer rate, specified by two image quality menu settings (9Mbps and 3Mbps), can be selected to suit the network environment being used.
Wired LAN Connection
When wireless LAN is unavailable, this feature allows the PXW-X70 to be connected to the Internet over a wired connection via separately available USB adapter cable VMC-UAM2 and Network adaptor CBK-NA1R which is included in CBK-NA1 Network Adaptor Kit, allowing files to be streamed or transferred by FTP.
4K Upgrade License "CBKZ-X70FX"
CBKZ-X70FX Upgrade License enables 4K recording on PXW-X70. Please note CBKZ-X70FX is an optional item that will be available for purchase soon. Firmware version 2.0 is also required for use of the Upgrade License.
PXW-X70 V2.0 Firmware will be downloadable here in June 2015.
Claim your copy of DAVINCI RESOLVE - SIMPLIFIED COURSE with 50% off! Get Instant Access!