Shooting a super-slow motion video can be a real fun, especially if you have a chance to play with one of those fancy Phantom cameras that can shoot some impressive 3,000fps. One can achieve а decent results by also using the overcrank mode of the Red Dragon, Arri Amira or Sony F55, however, the most useful results can be accomplished with a dedicated camera capable of shooting 1,000fps at least.
Naturally, like any other aspect of filmmaking, there are certain rules you should be aware of when you tend to shoot super-slow-motion video. The following tutorial produced by The Slanted Lens team will reveal more details about the overall process. The guys also include a very detailed explanation of the main principles of capturing slow-motion.
What is Slow Motion?
In short, it's a commonly used filmmaking technique invented by the Austrian priest August Musger in the early 20th century whereby time in the video appears to be slowed down. Typically, this effect is achieved when each film frame is captured at a rate much faster than the one it will be played back. When the video is played back at normal speed, time appears to be moving more slowly. When we watch a normal playback, we usually see 24 frames for each second of time in the video.
However, when we put the 60fps video clip onto the timeline that is set to playback at 24fps, that one-second video now takes 2.4 seconds to play, and the motion is slowed down. On the other hand, If you take a one second of this 24p clip and slow it down to 2.4 seconds, the movement will be jittering and blurred since there is not enough data to fill the gaps between each frame. That is the main reason we typically shoot higher frame rates to get an actual slow motion effect. In other words, the higher frame rates you shoot, the slower and cooler slow motion you will get.
Remember also the rule that when you are shooting 25fps your camera shutter speed should be set at twice of that or 1/50th of the second to get a natural looking motion in your video. Well, the same rule should be applied when shooting at 1,000 or 2,000 fps. Now imagine how the image would look like at 1/2,000 or 1/4,000 of the second. You'll need a powerful light source, especially if you are going to shoot in studio environment.
That is the main reason the guys from The Slanted Lens utilized two 2Ks as rims from both sides of the camera, a 1K on camera left with a layer of diffusion, and two reflectors in front of the product for their set up. That is also something you should take into consideration when you shoot slow motion in places where there are many practical lights.The odds are some flickering may occur due to the electrical frequencies and the type of the practical light sources that might get in the frame.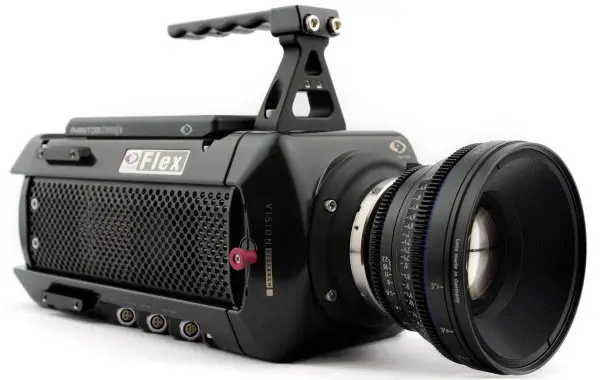 Slow motion always looks appealing to the eye and it's a great asset for various projects, especially for commercial and music videos where it's so commonly used. Unfortunately, for most of us, Phantom cameras are still out of our budget range. However, the number of the accessible tools providing similar capabilities is steadily increasing.
It may sound like a bold prediction, but I won't be surprised if we see not only affordable cameras but even smaller devices capable of shooting insane high frame rates in the near future. It's just as bold as the crazy assumption back in 2007 that there would be a phone capable of shooting 4K video only seven years later.
[via Wolf Crow]
Claim your copy of DAVINCI RESOLVE - SIMPLIFIED COURSE with 50% off! Get Instant Access!