I've been in the market for a new camera mounted LED light since I sold my trusty Litepanels MicroPro a few months back. I had the MicroPro for more than 2 years and loved it, but it was getting old and pretty banged up. I wasn't too keen on the fact I had to use AA batteries with it, but nonetheless it did the job. However, LED technology has come a long way since I bought the Litepanels MicroPro and it was time to move on to something with better build quality, colour rendition and output.
Then I noticed that Alphatron, popular makers of a really good EVF also were bringing out a top camera mounted LED light to market called the TriStar 4 LED light. This thing is build like a tank, and from a recent demo I saw with the light at BVE, its probably going to be my next LED light purchase. Here's more on what the light can do, features and specs.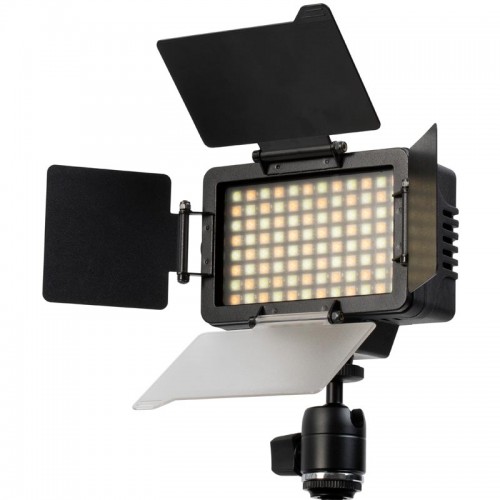 The Alphatron TriStar 4 Bi-colour on-camera SMD LED light with 3200K to 5600K colour balance is an ideal addition to any camcorder, video capable DSLR or ENG-style camera. The fact that its fully dimmable and goes from 3200 kelvin to 5600 and in all increments in between in a smooth fashion is an excellent feature. I was really impressed by the build quality as well.
The High-Brightness SMD LED technology (3 light sources per module instead of the usual 1) provides an enormous bundle of light with great dimming control (100-10%) and smooth colour balance from Tungsten to Daylight, or anywhere in between. Together with the detachable metal barn door and diffusion filter you can create the perfect lighting conditions for your shoot.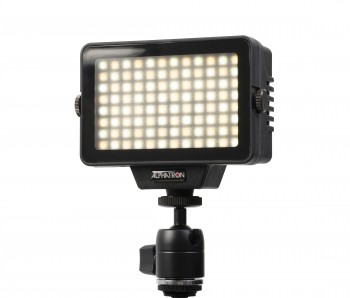 Alphatron TriStar 4 LED Features
96 long life High-Brightness SMD LEDs
Robust but lightweight and compact design
100-10% dimming without noticeable colour shift
Fully adjustable from Tungsten to Daylight
Easily mounts on cameras, stands or handheld
Powered by 4-Pin Mini XLR or Sony NP-F Battery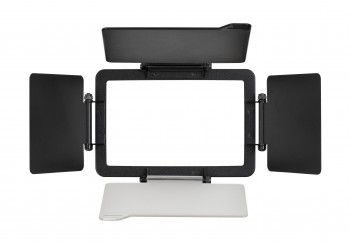 Included in the package:
1 x Alphatron TriStar 4 Bi-color on-camera SMD LED light
1 x  Detachable metal barn door system & diffusion filter 1 Robust ball head with 1⁄4"camera screw
1 x D-Tap to 4-Pin Mini XLR power cable
Specifications
Color temperature: 3200K – 5600K
Beam angle: 120°
Color rendering: > 85
LED life: approx. 10.000 hours
Power draw: approx. 12W
Operating time: approx. 1 hour (based on 100% with NP-F570)
Power input: Battery: NP-F style (e.g. NP-F570 or NP-F970) Mini XLR-4: 5V DC to 18V DC
The price of the Alphatron TriStar 4 is about £185 + VAT in the UK and is available to order from authorised dealers. Visit Holdan's website for more info. In the US the Alphatron TriStar 4 is available at B&H for $249.
[via Cinescopophilia / source HOLDAN UK]
Claim your copy of DAVINCI RESOLVE 16 - SIMPLIFIED COURSE with 50% off! Get Instant Access!