NAB 2015 was buzzing with announcements from gear makers as usual, and leading external recorder/monitor makers Atomos announced the Shogun 'Bare Bones' version of their flagship 4K recorder at an even cheaper price point of $1,695. The Shogun Bare bones version includes the Shogun, AC power supply, soft carry case, and an SSD caddie. It's basically the most minimal kit for the Shogun. If you have NP-F batteries and HDMI cables of your own you can save yourself around $400 by getting this more streamlined version. Same features, just less accessories. The HPRC hard case and all other accessories from the full version can be purchased separately for around $400.
And now, the rest of the Atomos family including the SDI Samurai Blade, HDMI Ninja Blade and the Ninja 2 are also getting the "Bare Bones" treatment. This of course means, now these recorder/monitors are even more affordable. The Samurai & Ninja Blade Bare Bones are now $795, and the Ninja 2 Bare Bones is $395.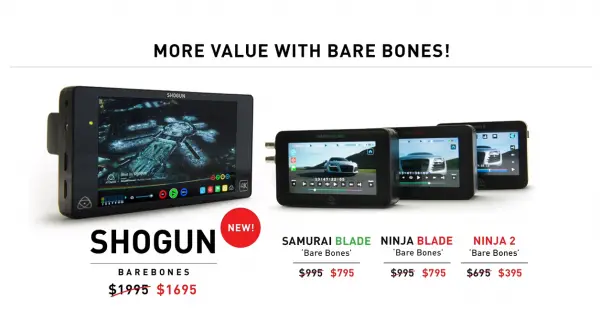 The Atomos continuous power solution for stills cameras and camcorders – the Atomos Power Station will come in two forms – the Power Station Photo (at $295) and Power Station Video ($395) with the difference between the two being the larger capacity batteries supplies with the Video version.
More on the Power Station below:
Power Station consists of 2 batteries mounted side by side that operate together using a continuous circular power system. When one battery gets low it can be removed and charged while the system switches across to the second battery uninterrupted. This patented design by Atomos is used to power up to 3 DC streams (for cameras, monitors, recorders or lighting) as well as 2 USB products such as smartphones or tablets. With a DC input as well, it doubles as a super-fast charger for your batteries – up to 3 times the rate of conventional chargers.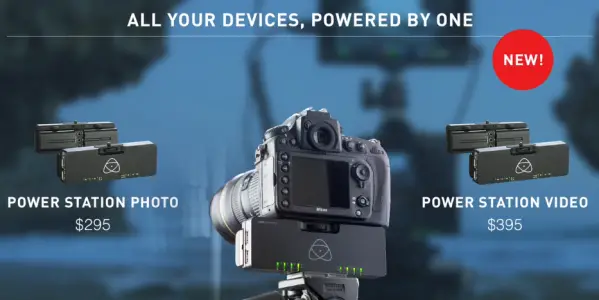 Features:
• 2 DC out and included splitter cable to give connection for up to 3 DC devices.
• 2 USB terminals to power 1A and 2A USB devices for fast charging of USB cameras or to power any USB device.
• DC input with fast charging capability to charge the connected batteries and provide continual AC power for connected devices.
• Independent left and right LED front display to give a quick 5 step visual guide on the power remaining for each battery from 100% down to 10%.
• Dummy batteries are available to power popular cameras including Sony A7s, Sony FS Series, Panasonic GH4, Nikon D810 and Canon 5DMKIII.
• Total power capability up to 5A (DC plus USB), with maximum 3A for USB connections.
Atomos just released a few demo videos showing off the new upcoming 2015 updates in AtomOS 6.3/6.4/6.5 including Sony FS Raw, Uncompressed 10bit 422 v210, 4K Anamorphic de-squeeze, and much more.
And last but not least, the NAB 2015 Atomos 4K Demo Reel with Footage shot by Atomos users. Enjoy!
Here's a reminder of the Firmware update release schedule for AtomOS 6 for 2015 from Atomos below.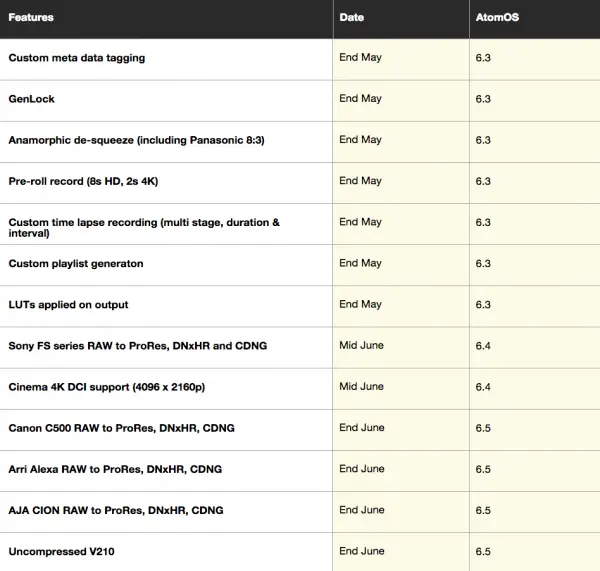 With the above free updates and especially the free Raw options, the Atomos is really becoming an even more attractive proposition for 4K shooters considering upgrading their internal 4K or just looking for more options.
B&H Links:
Atomos – Power Station – $295
Atomos Shogun 4K (with Case and Accessories) – $1,995
Atomos Shogun 4K Bare Bones Version – $1,695
Atomos Ninja Blade Full Version – $995
Atomos Ninja Blade Bare Bones – $795
Atomos Samurai Blade Full Version – $995
Atomos Samurai Blade Bare Bones – $795
[via Cinescopophilia / Source: Atomos]
Claim your copy of DAVINCI RESOLVE 16 - SIMPLIFIED COURSE with 50% off! Get Instant Access!