Inevitably, shooting in 4K comes with the rapidly growing demand for faster and more reliable drives, that can provide enough speed for seamless media transfer on and off the set and also that can handle the huge chunks of data when dealing with various ultra-high definition Raw video files and formats. This is where SanDisk brings to the table a brand new line-up of portable SSDs that might come in handy.
The company is mostly known for its budget flash storage solutions, finally entered the portable SSD market with a family of high-performance drives, including the SanDisk Extreme 900, the world's fastest line of USB Type C-based portable SSDs, and the SanDisk Extreme 500, the company's new pocket-sized, rugged portable SSD drives.
If you are looking for a solution that provides extremely fast transferring data rates along with greater capacities to keep up with your 4K workflow requirements, these SSDs seems to be a viable option.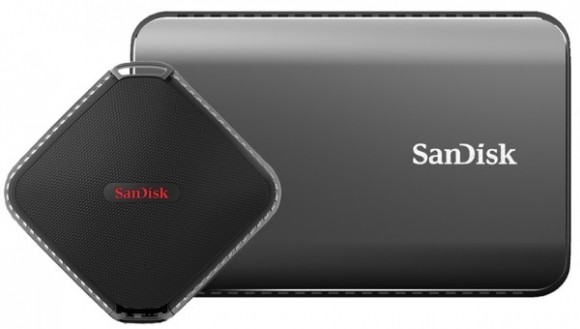 The SanDisk Extreme 900 Portable SSDs will be available in storage capacity up to 1.92TB featuring transfer speeds nine times faster than a conventional portable spinning hard drive. These SSDs have a durable aluminium case and provide super-fast transferring speeds of up to 850MB/s.
They also will ship with both USB Type-C and Type-A cables and 480GB, 960GB, and 1.92TB flavours with expected retail price of $399.99, $599.99, and $999.99 respectively. Even working with 4K content directly on the drive through the USB 3.1 port will be significantly more efficient compared to traditional spinning drives.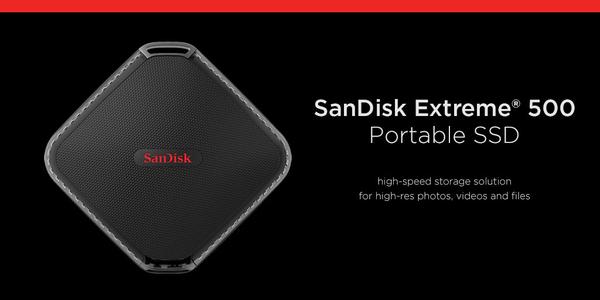 The Extreme 500 SSDs, on the other hand, are half the size of a smartphone and allows users to transfer files at up to 415MB/s. Designed for ultimate portability and durability, the SanDisk Extreme 500 Portable SSDs feature a sleek black finish with unique rubber bumpers and a metal ring that easily clips into a bag.
The latter are more suitable for various run-and-gun situations where you need to offload your camera media card quickly in the field and create an instant back up of your data in no time. In terms of storage capacity, Sandisk offers three different options for the Extreme 500 series, 120GB, 240GB and 480GB included costing $99.99, $149.99 and $239.99 respectively.
These new portable SSDs are built to sustain the most challenging environments, featuring both temperature and impact-resistant materials, ideal for many work scenarios and situations. For а better protection of your data and keeping it away from unforeseen losses and further damages, the new family of SanDisk Extreme Portable SSDs also feature SanDisk SecureAccess software with 128-bit encryption to secure files.
The new line-up of SanDisk Portable SSDs are compatible with both PC & Mac computers and also come with 3 years warranty.
[via: Redshark News, Source: SanDisk]
Claim your copy of DAVINCI RESOLVE - SIMPLIFIED COURSE with 50% off! Get Instant Access!