After months of speculation and rumours, just a few hours ago, Sony announced their latest flagship mirrorless full-frame camera – the Alpha 7R II. The new model boasts some significant upgrades compared to the previous model, namely in our favourite video department. The Sony a7R II is not only Sony's first, but also the world's first mirrorless full-frame camera to feature internal 4K UltraHD recording (3840 x 2160) derived from a massive, and also brand new and world's first 42.4MP back-illuminated Full-Frame CMOS sensor for some gobsmacking photos screaming detail and image clarity. Low-light performance also gets a boost with ISO expanded to 102,400, however albeit significantly improved according to Sony, I wouldn't expect crazy five digit low-light "noise free" video capabilities form the a7R II "a-la" the Sony A7s.
Nevertheless, this is a pretty clever camera which has a few more tricks up it's sleeve in video mode. More on those below.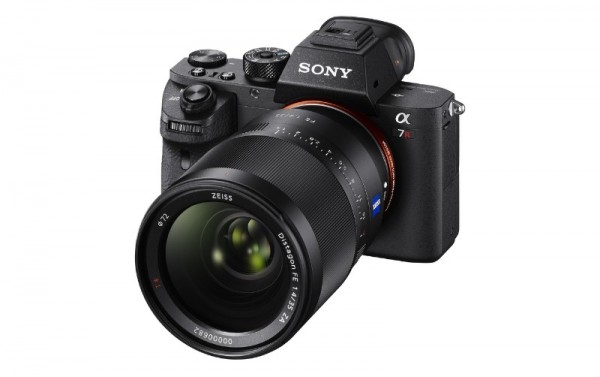 Of course, for the purposes of this article the two big upgrades compared to the A7R and even the A7 II, is the in-camera 4K recording, which even the video optimised A7s doesn't have. In addition, the 5-Axis In Body Image Stabilisation (borrowed from the A7 II) completes the package and allows for significant improvements when using manual lenses without image stabilisation in hand held situations.
So that's definitely huge for us video guys – 4K internal recording with S-log2 (yes, for the pixel peepers and tech spec nazis out there – it's UltraHD and not "True 4K", but for the purposes of this article I'll refer to it as 4K) combined with IBIS sounds like a combination made in heaven. There is also a new 4K XAVC-S codec as well, this time at 100Mb/s upped from the 50Mb/s XAVC-S found on the A7s.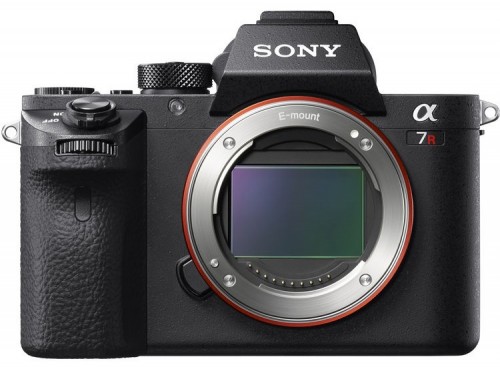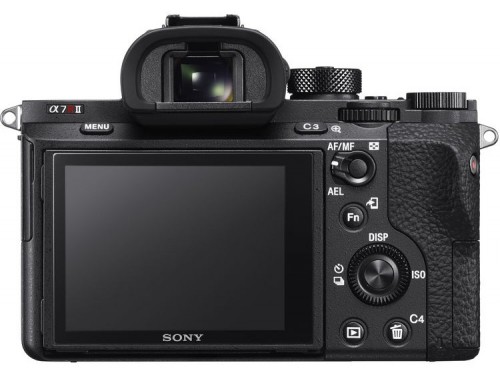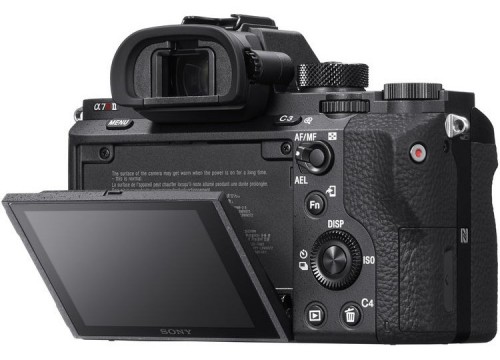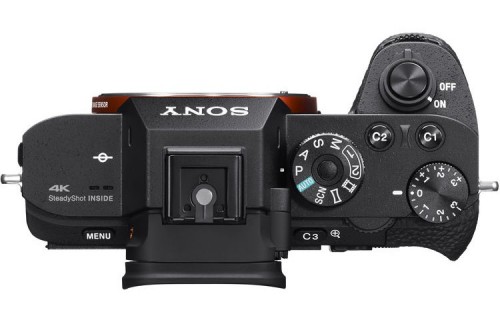 While the press release doesn't go into too much specifics regarding frame rates in 4K, I think it's safe to assume they won't go over 30p in UHD, and 1080/60p. However, the press release does mention 120fps slow-motion in 720p. I kind of wish the a7R II would do 1080/120fps, but I guess this is asking the world. This is a 42.4 megapixel sensor after all. In addition, just like the A7s, the Alpha 7R II can output 4K via the HDMI port to external recorders like the Atomos Shogun and Odyssey7Q+.
Speaking of the full-frame sensor, in video mode, there are 2 options – Full-Frame and Super35 mode (similar to the APS-C crop mode in the A7s) the latter of which, according to Sony, doesn't use pixel binning and "collects a wealth of information from approximately 1.8x as many pixels as 4K by using full pixel readout without pixel binning and oversamples the information to produce 4K movies with minimal moire and 'jaggies'." This will help quite a bit with the dreaded "rolling shutter" effect and also help minimize aliasing.
While the combination of internal 4K recording at 100Mb/s in a Super35 mode enhanced by a 5-axis In-Body Image Stabilisation may sound like the dream camera to some, and it certainly is impressive, A7s shooters may feel a bit jealous, but I wouldn't expect them to flock their A7s' and Shoguns/Odyssey7Q+ on eBay upon reading this as the A7R II is expected to sell for $3,200 ($700 more than the Sony A7s at the moment).
Whether internal 4K recording and In-body Image Stabilisation is worth the extra $700 we'll have to wait and see, but I can see a valid argument that it's less than the cost of an external 4K recorder at the moment.
Features & Highlights
42.4MP Full-Frame EXMOR R BSI CMOS Sensor
BIONZ X Image Processor
Internal 4K XAVC S Video & S-Log2 Gamma
5-Axis SteadyShot INSIDE Stabilization
399 Phase-Detect AF Points & 5 fps Burst
0.5″ 2.36M-Dot XGA OLED Tru-Finder EVF
3.0″ 1,228.8k-Dot Tilting LCD Monitor
ISO 102,400 and Silent Shutter Mode
Durable Reduced-Vibration Shutter Design
Built-In Wi-Fi Connectivity with NFC
The new Sony a7R II ticks all the right boxes and is a massive step forward for video shooters – internal 4K, Full-frame/Super 35mm mode, manageable 4K codec and in-body stabilisation, and despite being more stills oriented given the gigantic sensor and improved AF performance rivalling DSLR's (according to Sony) the new Sony mirrorless beast should be very capable tool for 4K video productions.
From the awesomeness the a7R II brings to the table, I would go out on a limb here and say it's safe to assume the A7s II (whenever it comes out, most likely early 2016) will possibly have IBIS and internal 4K – now that XAVC-S allows for the very manageable 100Mb/s bit rate just like on the rival Panasonic GH4.
The Sony A7R II is expected to start shipping in August, with pre-orders starting on June 17th.
Pre-Order Links (from June 17th, 11:00 AM EST):
B&H: Sony Alpha a7RII Mirrorless Digital Camera (Body Only) – $3,198
Adorama: Sony Alpha a7R II Mirrorless Camera (Body Only) – $3,199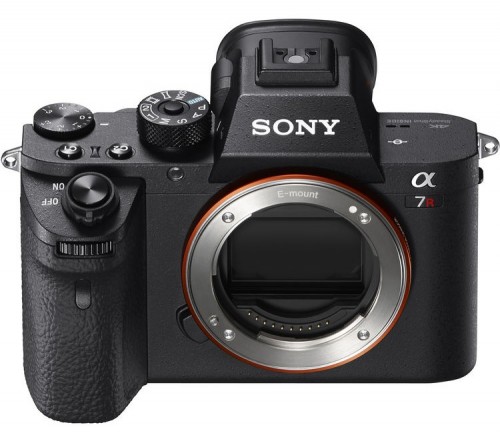 PRESS RELEASE
NEW YORK, June 10, 2015 – Sony Electronics, a worldwide leader in digital imaging and the world's largest image sensor manufacturer, has today introduced their new flagship full-frame mirrorless camera, the a7R II (model ILCE-7RM2).
The new a7R II interchangeable lens camera features the world's first back-illuminated full-frame Exmor R CMOS sensor, which realizes high resolution (42.4 MP approx. effective megapixels), high sensitivity (expandable up to ISO 102400) and high speed AF response up to 40% faster than the original a7R thanks to 399 focal plane phase detection AF points.
The camera also includes a 5-axis image stabilization system borrowed from the acclaimed a7 II model and can shoot and record 4K video in multiple formats including Super 35mm (without pixel binning) and full-frame format, a world's first for digital cameras.  Additionally, it has a newly refined XGA OLED Tru-Finder with the world's highest (0.78x) viewfinder magnification.
"Sony continues to deliver game-changing imaging products that are changing the way imaging enthusiasts, hobbyists and professionals can see and capture the world," said Mike Fasulo, President of Sony Electronics.
Kimio Maki, Senior General Manager of Digital imaging Business Group for Sony Corporation, added "By harmonizing high resolution, sensitivity and speed, we're delivering a high-level full-frame imaging experience unlike anything else in market today, with Sony's newly developed, world's first back-illuminated 35mm full frame CMOS sensor."
High Resolution, High Sensitivity and High-Speed Response
The newly developed 42.4 MP back-illuminated CMOS sensor is the most advanced, versatile and highest resolution full-frame image sensor that Sony has ever created, allowing the a7R II to reach new levels of quality, sensitivity and response speed.  In the past, many photographers have been forced to choose between high-resolution and high-speed or high resolution and high sensitivity when selecting a camera.  The new a7R II eliminates that sacrifice thanks to its innovative image sensor.
The 42.4 MP sensor combines gapless on-chip lens design and AR (anti-reflective) coating on the surface of the sensor's glass seal to dramatically improve light collection efficiency, resulting in high sensitivity with low-noise performance and wide dynamic range.  This allows the camera to shoot at an impressive ISO range of 100 to 25600 that is expandable to ISO 50 to 102400.
Additionally, the sensor's back-illuminated structure, with an expanded circuit scale and copper wiring design, enables faster transmission speed and ensures content can be captured in high resolution without sacrificing sensitivity.  Data can also be output from the sensor at an approximately 3.5x faster rate compared to the original a7R.
An ideal match for Sony's extensive collection of FE lenses (35mm full-frame compatible E-mount lenses), the new a7R II features a high-speed BIONZ X image processing engine that allows images and video from the camera to be captured with supreme details and low noise.  There is also no optical low pass filter on the camera, ensuring that scenery and landscapes are captured in the highest possible resolution and clarity.
The a7R II has a new highly durable reduced-vibration shutter that realizes 50% less vibration from shutter movements compared to its predecessor, and has a cycle durability of approximately 500,000 shots.  The camera can also be set to Silent Shooting mode in order to shoot images quietly without any sensor vibration or movement.
The new image sensor features 399 focal-plane phase-detection AF points – the world's widest AF coverage on a full-frame sensor – that work together with 25 contrast AF points to achieve focus response that is about 40% faster than the original model.  The a7R II utilizes an advanced motion-detection algorithm combined with this Fast Hybrid AF system to achieve up to 5fps continuous shooting with AF tracking.
Additionally, the focal plane phase-detection AF system on the a7R II works well with Sony A-mount lenses when they are mounted on the camera using an LA-EA3 or LA-EA1 mount adapter.  This allows users to enjoy the wide AF coverage of 399 focal plane phase-detection AF points, high-speed response and high tracking performance with a wider range of lenses.  This marks the first time that the AF system of a mirrorless camera can achieve high performance with lenses originally designed for DSLRs.
5-Axis Image Stabilization Optimized for 42.4 MP
The new flagship a7R II model is equipped with an innovative 5-axis image stabilization system that has been fine-tuned to support its high-resolution shooting capacity.  Similar to the system launched on the acclaimed a7 II model, this advanced form of image stabilization corrects camera shake along five axes during shooting, including angular shake (pitch and yaw) that tends to occur with a telephoto lens, shift shake (X and Y axes) which becomes noticeable as magnification increases, and rotational shake (roll) that often affects video recording.  This camera shake compensation system is equivalent to shooting at a shutter speed approximately 4.5 steps faster.
Additionally, the 5-axis stabilization works cooperatively with Sony alpha lenses with optical SteadyShot™ (OSS) to provide maximum stabilization and clarity, while also performing admirably via a compatible mount adapter with Sony alpha A-mount lenses without on-board stabilization.  Effects of the stabilization can be previewed via live-view on the LCD or OLED viewfinder of the camera.
Unrivaled 4K Movie Shooting Performance
The impressive video credentials of Sony's new a7R II camera include the ability to record movies in 4K quality (QFHD 3840×2160) in either Super 35mm crop mode or full-frame mode.
In Super 35mm mode, the camera collects a wealth of information from approximately 1.8x as many pixels as 4K by using full pixel readout without pixel binning and oversamples the information to produce 4K movies with minimal moire and 'jaggies'.
In full-frame mode, the a7R II utilizes the full width of the 35mm sensor for 4K recording, allowing users to utilize the expanded expressive power of the sensor.  It is the world's first digital camera to offer this in-camera full-frame format 4K recording capacity.
The camera utilizes the advanced XAVC S codec during video shooting, which records at a high bit rate of 100 Mbps during 4K recording and 50 Mbps during full HD shooting.
Additionally, the a7R II model features a variety of functions to support a professional video workflow including Picture Profile, S-Log2 Gamma and S-Gamut, 120fps high frame rate movie shooting in HD (720p), time code, clean HDMI output and more.
Enhanced Design, Operability and Reliability
The new full-frame a7R II has an upgraded XGA OLED Tru-Finder™ with a double-sided aspherical lens that delivers the world's highest viewfinder magnification of 0.78x for crystal clear image preview and playback across the entire display area.  ZEISS®  T* Coating is also utilized to reduce unwanted reflections that interfere with the shooting experience.
The camera has an extremely solid, professional feel in-hand thanks to its light, rigid magnesium alloy design, and has a re-designed grip and shutter button compared to its predecessor.  There is also a new mechanism to conveniently lock the mode dial, and an expanded range of customizable functions and buttons to suit the most demanding photographers.
The new a7R II camera is Wi-Fi® and NFC compatible and fully functional with Sony's PlayMemories Mobile™ application available for Android™ and iOS platforms, as well as Sony's growing range of PlayMemories Camera Apps™, which add a range of creative capabilities to the camera.  For example, there is more creativity available now for time-lapse photography thanks to a new "Angle Shift add-on" app allows users to easily add pan, tilt and zoom to time-lapse images without any additional shooting equipment or PC software required.  Learn more at www.sony.net/pmca.
Sony has also introduced a new LCD monitor model CLM-FHD5, an ideal companion to the a7R II for video shooting.  A compact 5.0 type Full HD (1920x1080p) LCD monitor, the CLM-FHD5 features enlarging and peaking functionality for precise focusing, false color and video level marker for adjusting exposure and S-Log display assist to assist S-Log shooting.
Pricing and Availability
The Sony a7R II full-frame interchangeable lens camera will be available in August for about $3200 at www.store.sony.com and a variety of Sony authorized dealers nationwide.
The a7R II is compatible with Sony's growing lineup of alpha-mount lenses, which now totals 63 different models including 12 native 'FE' full frame lenses.  By early 2016, Sony will add an additional 8 new lenses to its FE full frame lineup, bringing the FE total to 20 lenses and the overall alpha-mount assortment to 70 different models.
A variety of exclusive stories and exciting new content shot with the flagship a7R II camera and other Sony alpha products can be found at www.sony.com/alpha, Sony's new community site built to educate, inspire and showcase all fans and customers of the Sony a brand.
The new content will also be posted directly at https://www.youtube.com/c/ImagingbySony
Please follow #SonyAlpha on twitter for the latest alpha camera news.
Claim your copy of DAVINCI RESOLVE - SIMPLIFIED COURSE with 50% off! Get Instant Access!