Samsung recently released firmware version 1.10 update for their NX500 4K camera. The "miniature" Samsung NX1 received some major improvements both in stills mode and in the video department as well. This is the first firmware update for the NX500, which shares the H.265 video capture from the NX1, the same 28 megapixel, back-illuminated APS-C size sensor, and 4K on-board recording. You can check out our write up from a few months back on the NX500 release.
The latest firmware update adds Cinematic, Memories, Gorgeous night, in addition to High Speed presets, simplifies the EXIF data preview, adds Selfie as Flipped mode, and sets Continuous AF as default in Selfie Timer.
The major updates in the stills mode is added Zone AF increasing the Autofocus to 5 steps in AF area size as well as enhanced Autofocus performance in low-light, back-light and spot light and Face Detection.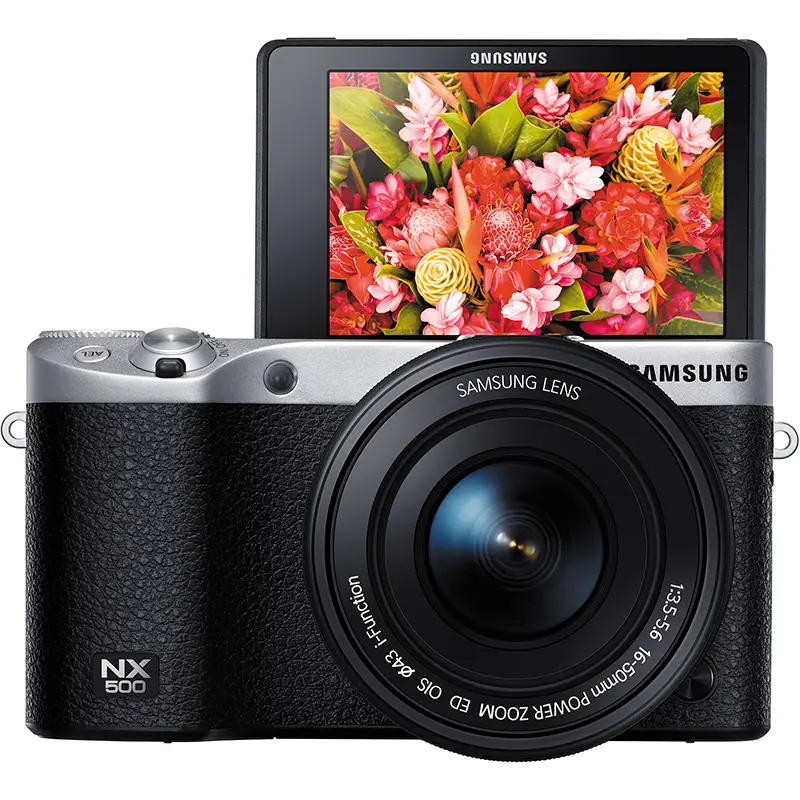 The new firmware also adds significant updates to video recording, with the inclusion of the new Pro mode which bumps up the bit rate to 70Mbps, adds a new Manual Focus Responsiveness mode, allows capturing individual 4K frames from a video stream, and implements several other changes which you can see below.
Whats New in Firmware version 1.10
1. Still Photo Updates:
* Improvements to the overall Auto Focus:
Enhanced AF performance in low light condition
Enhanced AF performance in backlit and spot light
Enhanced AF performance in the corners when utilising the kit 16-50mm PZ lens
Enhanced Face Detection AF performance
Enhanced AF performance in movie mode
* Added Zone AF mode
* Increased the size of AF to 5 steps in AF Area Size
* Increased the Face Detection Area of the sensor
* Includes 4 most popular Pro Suggest presets (Cinematic, Memories, Gorgeous night, and High Speed)
* Added Selfie as Flipped mode
* The image is flipped to capture as in the preview.
Improved Selfie AF function in Timer mode
* Continuous AF is default in Selfie Timer.
Simplified EXIF data preview
2. Video Recording Updates:
* Added Pro mode in movie quality and increased the bit rates for movie size and quality (up to 70Mbps)
* Movie Recording Time changed to 25 minutes at FHD 60P/50P
* Larger sensor read out data size with improved FHD quality up to 60P
* Remains in Stand By mode after recording
* 1280×720 (120P) setting in the Movie Size Menu for easy access
* Sound recording is available
* Capture individual 4K frame forward & backward with precision
* Embedded EXIF data in jpeg
– Added NEW MF Responsiveness mode
(Capable of setting to Low, Medium, High focus angle in manual focus mode)
3. Overall fixed minor bugs
Samsung NX500 4K Video: Beijing Games from Mark Rosenzweig on Vimeo.
While this is great news, that Samsung is giving the NX500 a higher bit rate and a larger sensor readout for 1080p/60 the size-able crop in 4K mode (1.6x to the NX1, which is about 1.5x from FF) still remains translating the 16mm widest end of the 16-50mm lens to around 38.5mm in Super 35mm terms, which is not wide enough for most shooting situations. Even though the NX500 is priced at $799 with the 16-50mm lens, this market segment has become quite crowded with the new Sony RX100 IV, which despite having a fixed lens and a smaller sensor boasts super slow-mo frame rates and Slog-2 XAVC-S recording internally.
Samsung is doing a great job with implementing new firmware updates and giving their 4K cameras new functionality, but with even more 4K cameras coming to the segment in the near future (namely rumoured compacts from Sony and Panasonic), they would have to do even better if they are to stay competitive.
Download Firmware Update 1.10 here.
B&H Links:
NX500 Mirrorless Digital Camera with 16-50mm Power Zoom Lens (Black) – $800
Samsung NX1 Mirrorless Digital Camera with 16-50mm Power Zoom Lens – $1,700
Sony Cyber-shot DSC-RX100 IV Digital Camera – $948
Claim your copy of DAVINCI RESOLVE - SIMPLIFIED COURSE with 50% off! Get Instant Access!