As every other aspect of the creative process, editing and transitions, in particular, are an extremely powerful and important asset of every production. Moreover, they become a film language that has a rich and substantial meaning all its own. The concept behind professional editing though isn't limited only to picking up the right transition and switching from one shot to another. Every time we try to put together a scene, a sequence of scenes or a whole film we should think about the structure of our editing on a bigger scale.
Generally speaking, editing shouldn't call attention to itself without a really good reason. That's why you don't see those fancy transitions in most of the professional productions out there. People shouldn't notice the editing instead of the message that has been brought by the editing. So, using transitions such as Cross Iris, Swing, Zoom, Page Peel, Squeeze, Stretch etc that you can easily find in the Effects Panel of your NLE makes sense only if they actually mean something and contribute to the story you are trying to tell.
In other occasions, using the commonly used transitions will be more than enough for your day-to-day workflow.
A great takeaway from the above video is the possibility to consider the motivation behind sentence punctuation as a model for editorial punctuation. The natural feel of your workflow is something that you should always be looking for when you are bringing together your story. Think of the various type of transitions as your grammar assets that you usually use when you are structuring a sentence, a paragraph, a chapter or a whole book.
Speaking of transitions, here are some of the basic ones that every professional editor uses 99% of the time.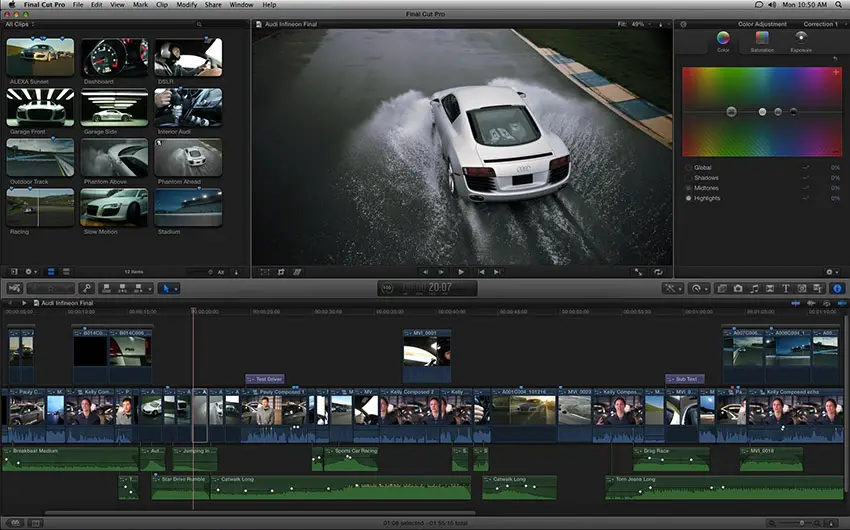 Undoubtedly, utilising cuts are the most ubiquitous technique in editing known from the early stages of filmmaking. On screen, a cut happens when one shot instantly replaces the other. It's the most natural way of jumping from one shot to another without attracting attention to the editing technique itself. In a nutshell, cuts allow for a better flow of the movie.
Fade ins and fade outs are another common type of transition. Fade outs happen when the picture is gradually replaced by a black screen or any other solid color. Traditionally, fade-outs have been used to conclude a certain scene or the piece itself whereas fade ins are used to achieve the opposite effect. They usually signal the beginning and end of a scene.
It's pointless to say that L-cuts and J-cuts should also be on the list as well. A J-cut occurs when the audio from the next clip is heard before the video. An L-cut is when the video switches before the audio. The names of these cuts come from the shapes they make on the cutting timeline.
Speaking of essential editing techniques, we can't miss dissolving too. Also known as overlapping, dissolves happen when one shot gradually replaces by the next. One disappears as the following appears. A good example of commonly used dissolve is signifying the passage of time. It even was used as a special effects technique in the past. You can also use dissolve as a substitute of a certain cut that just won't work no matter where you cut your clip.
Furthermore, if you want to add some dynamics to your edit then you can use wipes. They happen when one shot pushes the other off frame. This is rarely used technique, yet still popular among the majority of editors.
Utilising the above methods of transition between shots have been the basics of professional editing for decades and are still a great way to tell a story and convey emotions and messages on the big screen. Simply don't forget to use them intentionally and only if they serve the plot in the best possible way.
[source: Jamuura]
Claim your copy of DAVINCI RESOLVE - SIMPLIFIED COURSE with 50% off! Get Instant Access!