Welcome to my series of posts in which I share my experience with the Sony RX10 II, which I recently bought. Today I want to share some Slog-2 footage I shot recently in 4K and how I went about grading it quickly in post. The more I shoot with my new RX10 2, the more I love this camera. Sure it's not perfect and it does have its quirks – like the Super Slow motion (ready my blog post from yesterday about it here) Here's a really quick and basic grade on some stuff I shot last week on the RX10 2. All shot on the Sony RX10 II in S-log2 in 4K XAVC-S 25p/100Mb/s. Edited & Graded in Premiere Pro CC 2015. This footage was shot between 18:30 and 19:45 as to get the magic hour light, which sadly we don't get too often here in Britain.
Sony RX10 II 4K Slog-2 to Rec.709 800% LUT Quick Grade from 4K Shooters on Vimeo.
My S-log2 workflow so far:
I imported the footage in Premiere Pro CC 2015 and laid over a basic LOG to 709 LUT via Lumetri. To start the grade I used a LUT which transforms the Slog2 gamma into Rec.709 called AC A7s709(800%) 3 Over.cube which was created by Alister Chapman. This LUT basically brings down an Slog2 footage 3 stops down to normal exposure and brings it into a Rec.709 gamma so the colours can correctly be interpreted in the NLE. A good starting point for a more robust and complicated grade, it is included in one of the zip files from the link below. I opted not to do any further grading by adding more LUT's or anything as I simply wanted a normally saturated image with legal colours and levels for a quick Slog2 turnaround.
From then I adjusted the exposure via 0.5 to 1 stop +/- also bumped up contrast and adjusted highlights and shadows accordingly. I found S-log2 to grade very easy with this LUT, I didn't want to add on additional LUT's or do secondary, as I just wanted a decent 709 look. I am not comfortable yet grading Slog2 more in depth as I am just learning the camera still. Have had it for about a week. Keep in mind that no de-noising, nor post stabilisation or sharpening was done. Exported into 1080p for Vimeo from the UHD original footage.
From Alister's blog:
709(800) = Rec-709 gamma with 800% (high) dynamic range. Will be slightly low contrast but deals much better with over exposure or bright highlights than vanilla 709.
Get this LUT as well as others here: alisterchapman.com/2014/08/16/set-of-20-cube-luts-for-the-sony-a7s/
My Notes:
Camera – Sony RX10 2
4K (UHD) 25p XAVC-S at 100Mb/s
Lens: – used between 100mm – 135mm and 200mm mostly wide open f2.8 to f4.0-4.5
PP7 Slog-2
Built-in ND – ON on most shots
WB: 6500
ISO: 800 to 1600 depending on shots (the latter are at ISO 1250-1600)
Handheld, no stabilisation / All manual focus
Card: Lexar 1000x UHS-II U3 150MB/s SDXC 64GB ($68 for a 2 pack at B&H)
Some shots were soft – example at 0:23 – the flags and facade of the building – missed focus there as I had peaking in Yellow, then switched to RED, easier to see at least for me in red. I used manual focus throughout, which contributed to a few soft focus shots. I need to get the hang of the Autofocus, but need to shoot more with it to get more used to it. Coming from manual zooms and primes into a fixed lens proposition (and a fly-wire one) has presented some challenges, but overall it has been a very positive experience so far.
I did try and shoot more high dynamic range shots mixed in with harsh backlight and people's faces to stress the camera as much as possible and see how it retains detail in the shadows and how it handles steep highlights. For a small 1-inch sensor, I found it to behave quite well. Some of the highlights are either blown or close to clipping on the harsh backlight at 0:12 to 0:16especially on people walking by with white or light coloured clothes but I was mainly exposing for the coffee vendor and people walking by.
1:11 to 1:14 – this was a wide dynamic range shot in which you can spot some purple fringing on the top near the bridge and clouds as i did over expose with 2+ stops, which was how I shot most of this footage. I found there is a sweet spot between 2 and 3 stops over in Slog2 on the RX10 II where I can pull back some of those highlights and bring up the shadows without too much noise and clipping.
Although at 1:56 you can see the clouds are brittle as I tried to pull as much highlights as possible, overdoing it in the process – the difficult part was, the shot then continues to the Ice Cream van vendor, for which I needed to be at 2.8 and also rack focus.
At 2:20 you can see moire pattern on the bridge guard rails as the shot was pretty wide and also at an angle on purpose to get those diagonal lines which are stressful for any sensor and most of the times can induce moire and aliasing as in this case. However, Dynamic Range-wise it held up quite nice as it was about 3 stops over and I had to pull all those clouds back. Surprised how much info is in that 4K XAVC-S at 100MB/s.
At 2:54 there is some weird green artefacts on the two green water jugs on the floor to the right… will have to review the original file and see if there or its something from the grade. Either way, I am in love with the Slog2 and 4K on the RX10 II and the camera overall, it feels like a complete package for run and gun docu stuff, which is what I love doing. Add on a quality audio pre-amp like the Beachtek DXA-SLR Ultra or any other quality pre-amp and you're all set. In the setup below I am simply switching the GH4 for the RX10 II, all else is the same.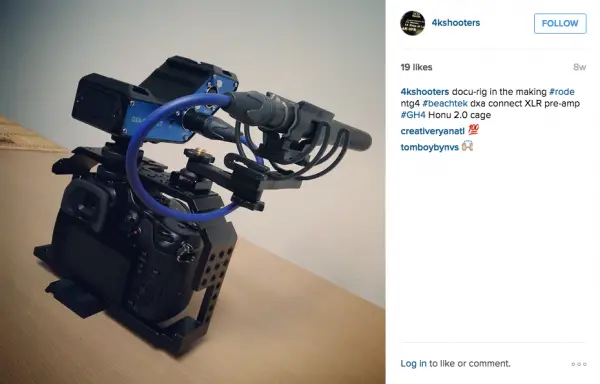 Here's a few screen grabs of some of my favourite shots from the above clip. I still feel as if I am getting more pleasing images in terms of colour depth, texture and more accurate skin tones I ever did with my Panasonic GH4. Maybe its the fact that I may have been totally shooting wrong with my ex-GH4, but with it I constantly struggled with yellow-greenish skin tones. White balance is key with any non-raw camera, and with the RX10 II, I found it a bit more forgiving in Slog2, but not quote, as if you blow your WB completely, there's no fixing it. At least not without spending a ton of work in the grade, which I am not fond if doing.
Nailing the white balance is very important on the RX10 II (as in with the GH4 and any other camera) even in Slog2, probably more so there, as you'll see a colour shift and a nasty tint if you start adjusting it too much by more than 200-300K each way. Slog-2 is not Raw, but it does give the best image and most dynamic range out of the camera.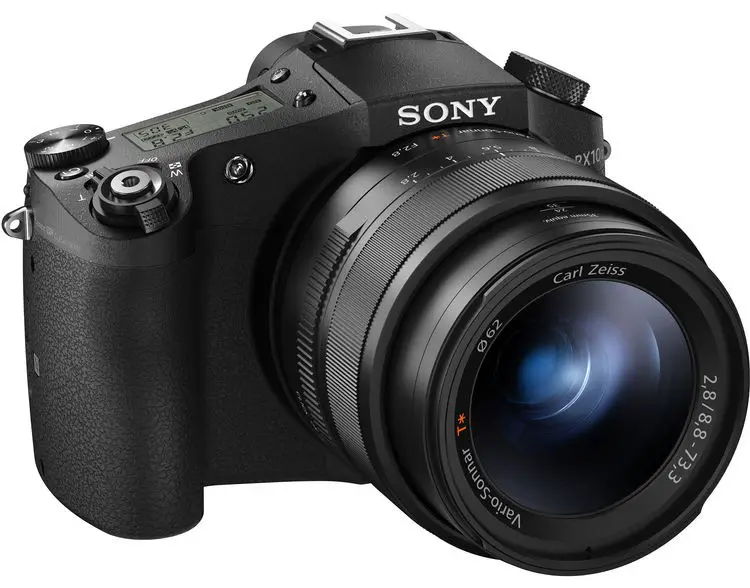 For those still unfamiliar with the Sony RX10 here are some quick highlights from B&H:
20.2 MP 1″ EXMOR RS BSI CMOS Sensor
BIONZ X Image Processor
Internal UHD 4K Video & S-Log2 Gamma
Carl Zeiss 24-200mm f/2.8 Lens (35mm Eq)
Slow Motion Video at 960 fps
3.0″ 1228K-Dot Tilting Xtra Fine TFT LCD
XGA OLED Electronic Viewfinder
Built-In Wireless and NFC Connectivity
Low-Light Sensitivity to ISO 12,800
Super Sonicwave Motor for Fast Autofocus
For £1,199 /$1,300 the RX10 II packs more usable features than cameras costing twice as much. I suddenly feel very excited about a camera I thought I'd hate when I first heard announced… And also having a fixed lens is not bad either, especially when it's a very well made Zeiss one. Not only that, I may actually prefer this camera to any other interchangeable lens camera I've owned… maybe it's the fact that I can just grab it and go shoot without having to think about what zoom or prime to pickup.
It may not be a camera for everyone, but so far it feels like a solid run and gun out-of-the box solution that has quite a few tricks up its sleeve – namely the beautiful Slog-2, 4K internal recording, and that awesome 240fps slow-mo. Oh, yeah and that 120p at 1080.
Claim your copy of DAVINCI RESOLVE - SIMPLIFIED COURSE with 50% off! Get Instant Access!