Media management is often an underrated and overlooked aspect of the creative process, yet many seasoned professionals would agree that it's one of the most important assets of every post-production workflow. If you don't have the habit to organise your media upfront before you start working on your project, there is a real possibility to turn your life in the editing bay into a real nightmare later on. Not to mention the possibility to get files misplaced and make the later process of organising them virtually impossible, especially when media comes at different stages of the editing process.
This is where this simple, but a highly effective app called Labelr comes in handy. In essence, it's the easiest and fastest tool for batch renaming media available out there. And, here is a brief video where Casey Faris showcases how it does work in reality.
Virtually, there are no limitations for the app when it comes to renaming even tens of thousands of files in a single batch. Anything from your camera media to audio files, to stills can be renamed in no time and it's just a matter of a click or two. Just throw like media in folders, drag them onto The Labelr, and let the app do its work.
Labelr is smart enough to rename your media based on the folder it was in. You can either keep the files in the folders or throw everything into one directory. You can also set a custom name, prefix, suffix and set a certain number to start your files' name with.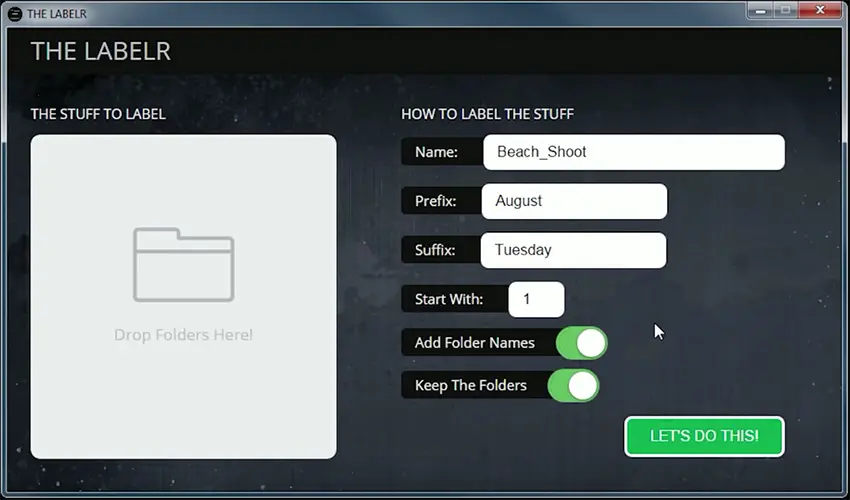 Furthermore, the Labelr figures out how many files you have in your folder and renames them in a sequence that can be later opened in Adobe After Effects, Davinci Resolve, Adobe Premiere, or any other platform you choose to work with. So it's really super convenient and easy way to organise your timelapse files even before you open them in your NLE.
It also an excellent option when you need to rename hundreds of thousands of files for generating your DCP or organise any other type of image sequence, for instance. It's extremely useful application and definitely saves a ton of time. If media management is still one of your biggest struggles in post the Labelr might save you the headaches. The app costs $34,99 on Ground Control Color website where you can find both the Windows or Mac OS version of the software.
[via Casey Faris]
Claim your copy of DAVINCI RESOLVE - SIMPLIFIED COURSE with 50% off! Get Instant Access!