GoPro cameras are everywhere. I seem them strapped to cyclists helmets, bikes, cars and even dogs. Why not, they're so small and produce lovely images. And now, Hollywood A-list director and total legend – Ridley Scott is taking about 28 of them to shoot his latest Hollywood blockbuster – "The Martian". They may not have been used as A/B cams (which were RED Epic Dragon and Scarlet Dragon), but the tiny GoPro's are an integral part of the story. Production began in early 2014, and back then he assumed that a GoPro camera would make for a cool prop to be worn by the astronauts in the film as a part of their space suit. At that point, he didn't consciously consider the GoPro Hero4 as a solution to a challenge he faced with the screenplay.
"The Martian" Technical Specifications from IMBD:
The underlying novel by Andy Weir on which the film is based, was written in the first-person voice of astronaut Mark Watney (played in the film by Matt Damon). With an abundance of one-way dialogue, Scott had to get creative to keep the film interesting.
In a recent interview with Entertainment Weekly about the challenge of adapting The Martian from a book into a movie, the director said, "Our solution was the GoPro that is everywhere he is. They record everything – they're like the black box on an aircraft. So if you have a GoPro present and no one else to talk to, it suddenly becomes a buddy. Matt was able to talk to it that way." 
With that solution, Scott delivers a companion to Watney, similar to the volleyball "Wilson" that kept Cast Away (2001) main character played by Tom Hanks.
"I ended up using these cameras in a way I didn't expect," reflected Scott. "They became a character in the movie; they were mounted on the astronauts; Matt's character actually records all of his video logs on them in the habitat. Small details that helped drive aspects of the story forward and gave the world an extra layer of authenticity and familiarity."
In addition to giving Watney a companion on Mars, the GoPro footage made for an interesting discovery –  the miniature capture device unlocked unique perspectives, enabling a completely new way to showcase the astronaut's struggle, and while the story is fictional, the footage captured from these GoPro cameras was very realistic.
Even NASA uses GoPro's in space, as depicted in the video below:
"We used GoPro cameras in several of our biggest scenes … and they really allowed us to capture not only the intensity and suspense of these moments, but also the intimacy of the characters themselves," said Scott.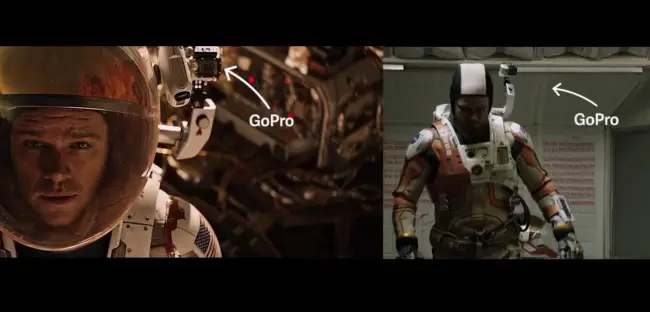 According to GoPro, the use of GoPro cameras in the production of "The Martian" is the largest cinematic integration of GoPro in a Hollywood release. "New technologies like GoPro give filmmakers the opportunity to really push the language of cinema forward and introduce audiences to new perspectives and layers of storytelling that can really be quite engaging," added Scott.
You can check out "The Martian" is in a cinema near you from October 2nd.
[via GoPro]
Disclaimer: As an Amazon Associate partner and participant in B&H and Adorama Affiliate programmes, we earn a small comission from each purchase made through the affiliate links listed above at no additional cost to you.
Claim your copy of DAVINCI RESOLVE - SIMPLIFIED COURSE with 50% off! Get Instant Access!