The Sony A7s took the world of video production by storm more than a year ago in a way reminiscent of the way the 5D Mark II did six years ago. Sony pumped out an astonishing amount of full-frame Alpha7 cameras since then – the A7II, the Super 35mm 4K optimised A7RII and more recently at IBC 2015 – the successor to the mighty A7s – the Sony A7SII. With the ability to shoot 4K internally, insane low-light capability, increased slow-motion in Full HD, and in-camera Image Stabilisation the Sony A7sII is due to start shipping in November to a wide range of full-frame lenses that can be adapted to its short-flange distance E-mount.
Sony have been upping their game in the lens department by announcing some new native glass like the FE 90mm f/2.8 Macro G OSS Lens, but third party manufacturers like Zeiss with their fully manual Loxia range, alongside newcomers Veydra – with their Mini primes now in E-mount, have been the predominant lens preference for many shooters.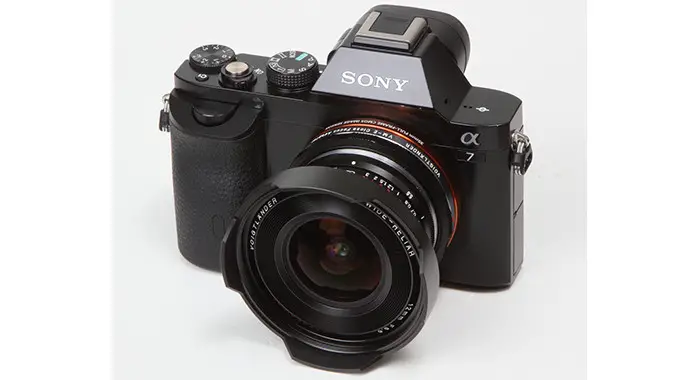 Samyang's DS range for example and the Veydra's Mini Primes are designed for video (with Super 35mm coverage for the Veydras, whereas the Samyang's offer Full-Frame coverage) with manual aperture rings and geared focus rings for follow focus use making them very desirable for video professionals. Voightlander is joining the full-frame Sony E-mount club by announcing 3 new ultra wide manual lenses for E-mount.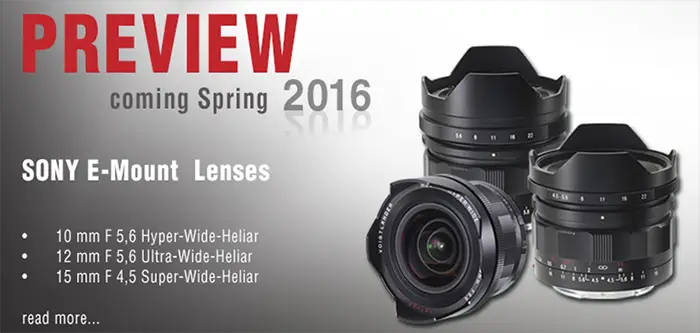 10 mm F 5,6 Hyper-Wide-Heliar (new design)
12 mm F 5,6 Ultra-Wide-Heliar (based on 12mm M mount)
15 mm F 4,5 Super-Wide-Heliar (based on 15mm M mount)
Voigtlander lenses are well known for their world class robust design and optical quality – I have shot with my friend's Nick Barulov's 17.5mm f0.95 Micro 4/3 lens on my Panasonic GH4 and was amazed by the lens sharpness, colour rendition and built quality. The new Voigtlander lenses will have a similar feature like the Zeiss Loxia's in that you can de-click the iris ring for fluid changes in aperture during video use.
They are not cheap, but if you want to invest in lenses that will last you decades, Voigtlander is a good place to start. The new lenses should be available in Spring 2016. Pricing is yet to be confirmed, but will most likely follow suit with the pricing on their other 12mm and 15mm Leica M mount lenses (the 12mm M mount goes for $699 on B&H).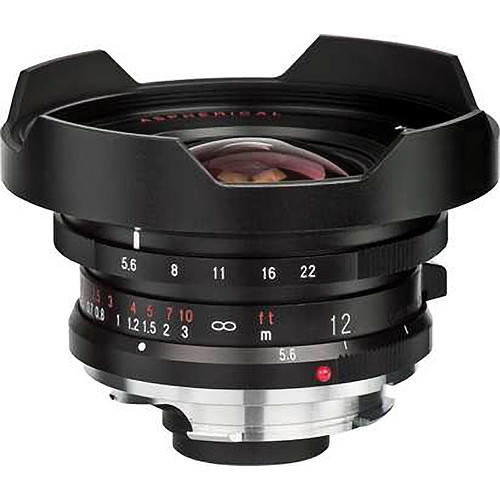 PRESS RELEASE
Committed to highest quality—Lenses, that support latest camera technologies with high precision mechanics: the brand new Voigtländer lenses.
Sony E-Mount
In Spring 2016 Voigtländer will release a brand new, much-anticipated line of Sony-E-Mount lenses, that can be used on Sony E-Mount cameras without an adapter. According to the tradition of Voigtländer the first three lenses of this new lines are covering an extreme wide angle range and are perfect for landscape and architecture photographers:
• 10 mm F 5,6 Hyper-Wide-Heliar
• 12 mm F 5,6 Ultra-Wide-Heliar
• 15 mm F 4,5 Super-Wide-Heliar
While the 12 mm and 15 mm lenses are already available with a VM-Mount the 10 mm focal length is completely new. As these extreme wide lenses are challenging a fast and smooth communication between lens, camera and photographer, which is extremely important.
If enabled the camera changes automatically in magnifying mode during focusing which allows highest accuracy. All lens-relevant data such as focal length, aperture and focal distance are transmitted to the camera. This data is  shown in the view finder/display and used for metering and image stabilisation.
The selective aperture control system for full frame is used for the first time in this lenses—a vital feature for film makers as it allows a step-less and  soundless aperture control.
VM-Mount
Voigtländer continues its VM-Mount digital optimization with the new 12 mm F 5,6 Ultra-Wide-Heliar III. Additionally Voigtländer will also release the new 10 mm F 5,6 Hyper-Wide-Heliar with VM-Mount.
Release date:
All new lenses will be available in Spring 2016. For further information please visit our website again at a later date.
[via SonyAlphaRumors / source Voigtlander]
Claim your copy of DAVINCI RESOLVE - SIMPLIFIED COURSE with 50% off! Get Instant Access!